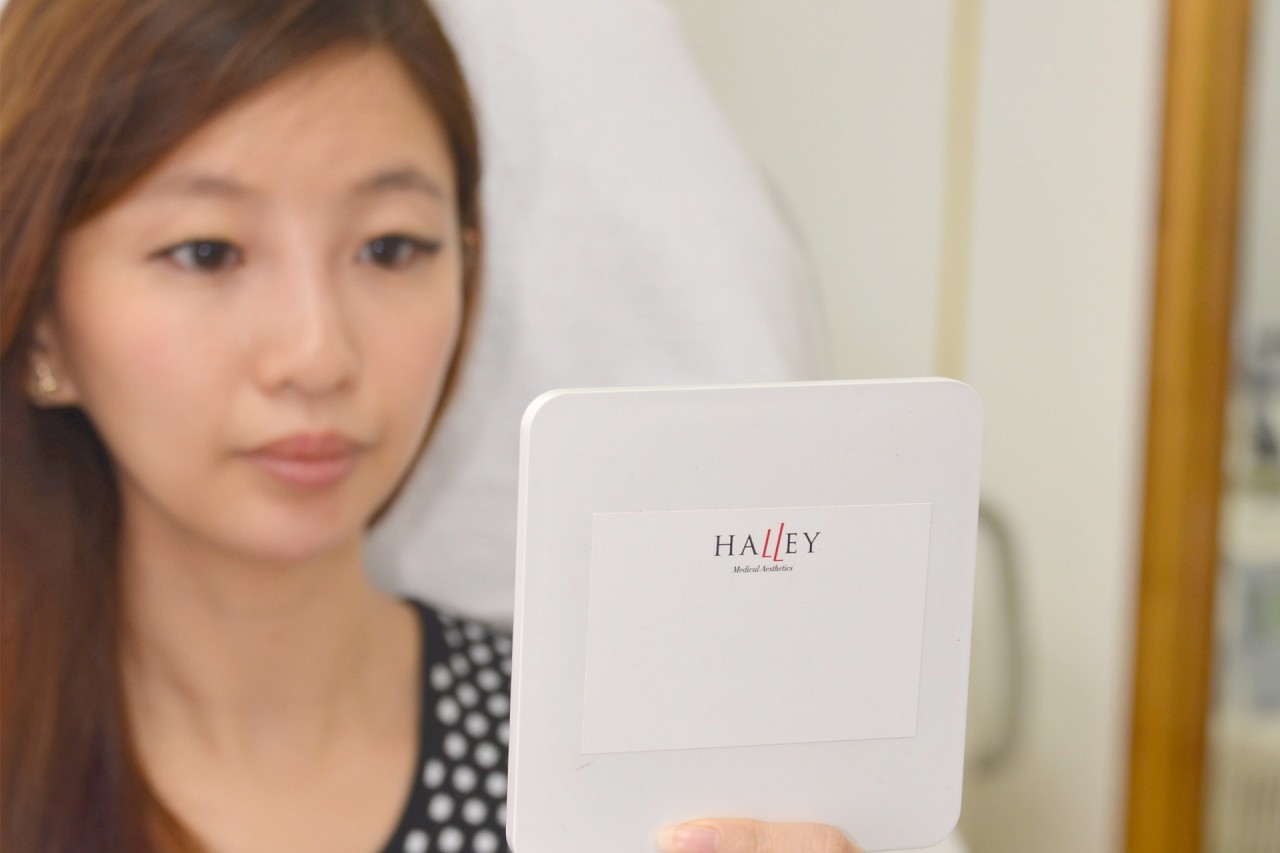 In my last post about face shaping with Halley Medical Aesthetics, I touched on how I entrusted Dr. Terence Tan to bring out my best features. He had suggested dissolving my existing nose fillers with Hyalase as they were making my nose wider. Although I was so much happier that my nose is much slimmer and more proportioned to my face after removing the fillers, Dr. Tan said he can further improve it by adding just a little at the places that would give the greatest effect. With this in mind, I went back to see him 2 weeks after my fillers were dissolved.
Using Juvederm Voluma and his preferred tool for injecting nose filler, the Magic Needle, Dr. Tan chose to focus on adding some volume to my nose tip to give me a sharper nose without too much discomfort. In fact, I didn't feel any pain at all during the process.The Magic Needle is a micro-cannula that Dr. Tan inserts and slides under the patient's skin so that the filler can be applied evenly with minimal pain or bruising. With this method, he inserts the micro-cannula only once to the treatment area compared to multiple injections of filler along the patient's nose bridge.
Numbing cream was put on my face 20 minute prior to the procedure as an added precaution towards any pain I might feel. Those of you who have a higher pain threshold may even skip this step.
The Juvederm Voluma comes with added Lidocaine which works as local anesthetic agent to minimise any pain.
Finally, by using the Magic Needle that has that perfect balance between rigidity and flexibility, Dr. Tan is able to control the movement without damaging the skin. The Magic Needle slides into my skin without traumatizing it. I love how it means there is less need for multiple needle entry points and a much greater recovery period for the skin.
I never realised how much effect having a higher nose tip can do to increase the sharpness of the entire face!
While I didn't need too much Juvederm Voluma for my nose, I did however, need lots of volume for my chin. I have always had a extremely tiny face that just wasn't proportionately balanced as my bottom half is a little short. Dr. Tan noticed this problem on my very first consultation with him and told me that I'll benefit greatly from having more volume at the tip of my chin. I couldn't agree more as I'm in love with the results. Photographs speak louder than words and you can clearly see how balance the proportions of my face are now.
Changes are so subtle but effective. I didn't walk out of Halley Medical Aesthetics looking unrecognizable but I had that extra bounce in my step and a radiance to my face. My features are more prominent compared to before and for some reasons, these little tweaks made my other features stand out a little better too. If you are not the sort that faint at the sight of blood and needles and would like to see the full treatment, you can view the video of my procedure here.
Took a wefie with Dr. Tan right after and as you can see, there is no downtime at all! In fact, I headed straight out to meet my friends for dinner that night and no one noticed anything until I told them about my quick little enhancing session with Halley Medical Aesthetics.
Before photo (above) : Even with filter and makeup, you can see how much shorter my chin is and that the very tip of my nose is round and flat.
After photo: (above) : selfie photo taken right after the procedure in the car with zero editing and zero makeup. Nose is more balanced from top to bottom and the chin fillers elongates my whole face. You can choose to put concealer if your are not comfortable with having any marks but I much prefer to let my skin breathe and heal without any interference. I've got pretty sensitive skin so you can spot a couple of red dots on my nose tip and on the tip of my chin. These disappeared within a few hours.
Taken in Spain about a week after my fillers with Halley Medical Aesthetics. Thank you Dr. Tan for being so good at what you do! If you want to look for Dr. Tan for a consultation, here's the address.
Halley Medical Aesthetics
248 River Valley Road #01-01
Singapore 238302
Tel: 6737 8233
http://halley.com.sg
Thanks for reading!