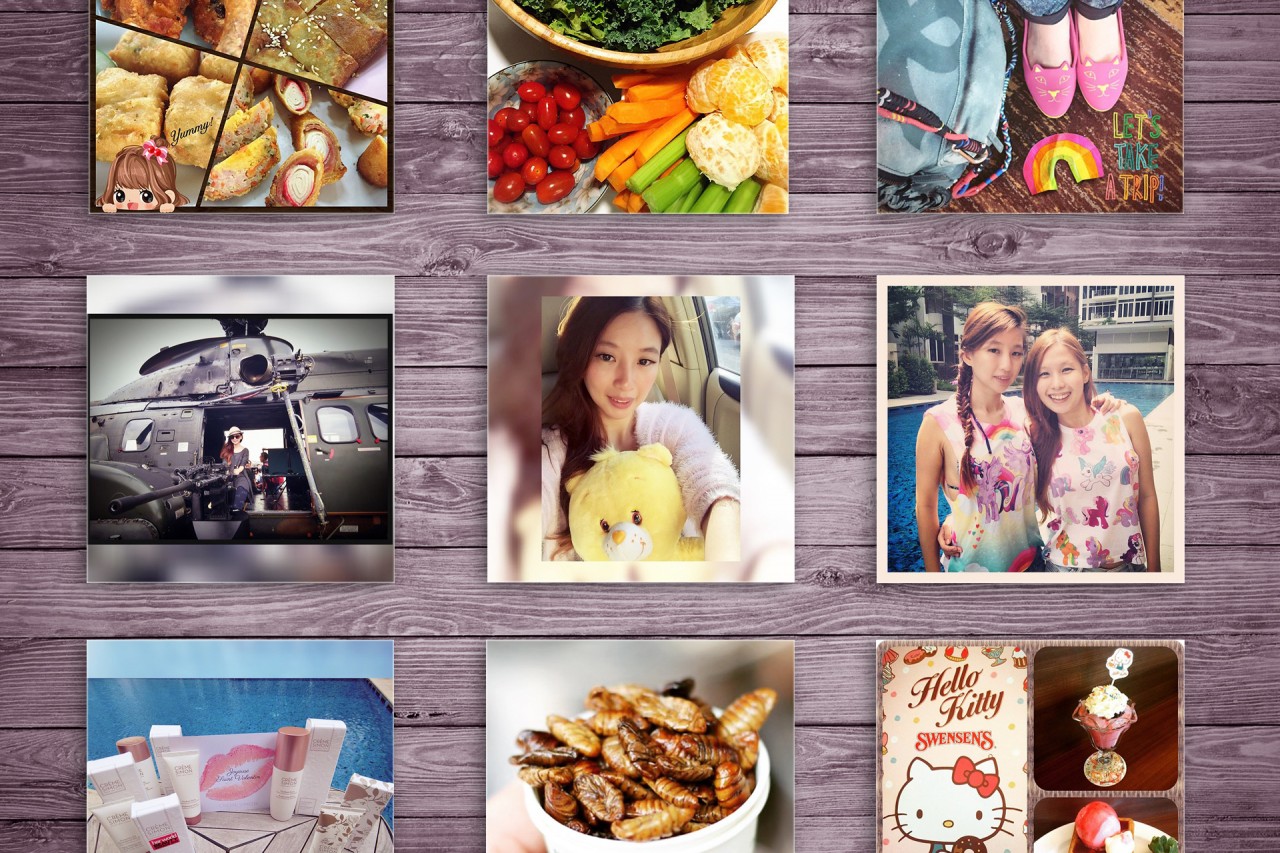 Hello! I'm currently sitting in my Dubai hotel struggling with the slow wifi. I had originally intended to upload some blog posts that I had drafted earlier on but the weak wifi that keeps disconnecting me every now and then makes it too frustrating for me to upload anything image intensive. Thus, I decided to do a throwback of my February moments taken via Instagram since these photos were backed up online a long time ago.
A lazy weekend morning spent swimming with my sister. It was a terrible work loaded week and I didn't have any free time till that morning. My sister has this amazing ability to make me take photos with her when I am totally not in the mood for any snaps so here we are with our little pony muscle tees that I got for us sometime back.
Went for some Swensen's Hello Kitty desserts after the swim before heading home to pack for my flight out that very same day.
If you don't know it by now, I'm a fan of Kiki and LaLa of  Little Twin Stars. Here are just 3 of my favourite phone covers which I have been rotating the last 6 months or so.
Airport OOTD for my red-eye flight to Japan.
A selfie with my new carebear from MM after I realized that 3 out of the 14 mini Care Bears I had in my car went missing after valet parking.
Raphael brought me to brunch at Bridges. I had truffle honey french toast with a side of truffle mash that Raphael promised to recreate for me and hasn't lived up to his promise!
Traditional Teochew yusheng with Melva, Raphael, Clara and the Hwang family. Food was sooooo good and I miss having all my close friends together enjoying a good meal happily.
After Raphael's recommendation, tasting it at my Christmas dinner and Audrey's recent temptation, I finally made another trip to grab these yummy chicken wings with my sister before my dance class.
Casual OOTD: a simple black silk top, mini braid in my hair, Charlotte Olympia kitty flats (gift from my girls, Regina and Sushi), swallow ear studs and my cute milk carton sling bag.
Random 'Just Because' gift from my sister which is the sweetest type of surprise present one can get.
Feeling festive with the all the CNY decor around town. I was busy snacking on all sorts of goodies and polishing them off even before CNY arrives.
Made scallop egg noodles with vegetable balls , spam strips and a side of greens for lunch with my sister.
Had a very educational and and interesting lesson on the different types of bird's nest from Richard of Royal bird's nest at Chinatown. In the photo there are unwashed bird's nest from cave, buildings and even fake ones. Can you tell the difference? To find out more, read my post on " 10 Tips I learnt from Royal Bird's Nest".
My dear friend, Bernice dropped me a lovely gift! So sweet!
One of my favorite photo from the visit to SAF50 event with local celebrity, Pat Mok, my little sister, Janice, and friends. Feeling totally at home in a Super Puma on the RSS Endurance.
My cold drip coffee that made my weekend ! 8 hours of ice drip to get this liquid gold . Thanks to Raphael for the magic, Master Ken for supplying and my bestie Clara, for carrying the beans from Melbourne to Singapore. All for this beaker of awesomeness!  If you are wondering, it's Ninetyplus  Semeon Abay coffee beans roasted by Monk and just looking at this picture reminds me of the cold drip coffee waiting for me back in Singapore. Ah! If only I could have some while I am here in the Arabian desert.
The gorgeous set of Creme Simon skincare I received in the mail in time for Valentine's Day. Missing from the photo is the Aalst chocolate which didn't last too long before it ended in my tummy.
Didn't have time to make pineapple tarts for CNY 2015 as I was just traveling around too much. I did however managed to make my other favorite CNY snack, cornflakes honey clusters which were so easy and satisfying.
Back at Changi Airport again and this time to KL, Malaysia.
So unhealthy but sooooooo yummy ! My favorite is the minced pork ball with salted egg . The homemade tofu is also really good! Thanks Aikee for braving the traffic and fetching me from the KLIA airport.
Selfie during CNY celebrations. I had violet highlights in my hair then!
Craved for fried nian gao so MM and Aikee fired up the wok for me! Used fresh 年糕 and the insides are so creamy it's like the Asian version of fried mars bar.
Early morning at the airport waiting for my flight home to Singapore. I was bored so I tried using a selfie cam on full makeup mode for the very first time. How scarily fake. LOL.
A mixture of fresh fruits and vegetables to detox after all that CNY feasting! It's been more than half a year and I really need to find time to do another detox.
One of the strangest and weirdest food in Korea is beondegi silkworm ! Read my verdict on this creepy street snack on my post "Street Food In Korea".
Had a healthy homemade japanese curry lunch made by Sushi. She's a super mom and super friend. I'm blessed to have her there for me even though I haven't been around much this year due to constant travels.
Learnt about videography and creating webseries with ciNE65sg on a weekend.
Ended the month with delicious Sunday ba kut teh brunch with my family at Far East Square. They serve all 3 types of ba kut teh – dry style, Klang style and teochew style. We really love the KL hokkien noodles here which is limited to 30 plates a day and fried after order. The wok-hei taste is distinctive. It's the local delights that always warms my tummy. Read my post " B.K.T by Kong Kee" for full review.
That concludes my throwback for February 2015. Have a good week ahead and I hope I can find more stable connections wherever in the world I may be so I can update the blog more often.