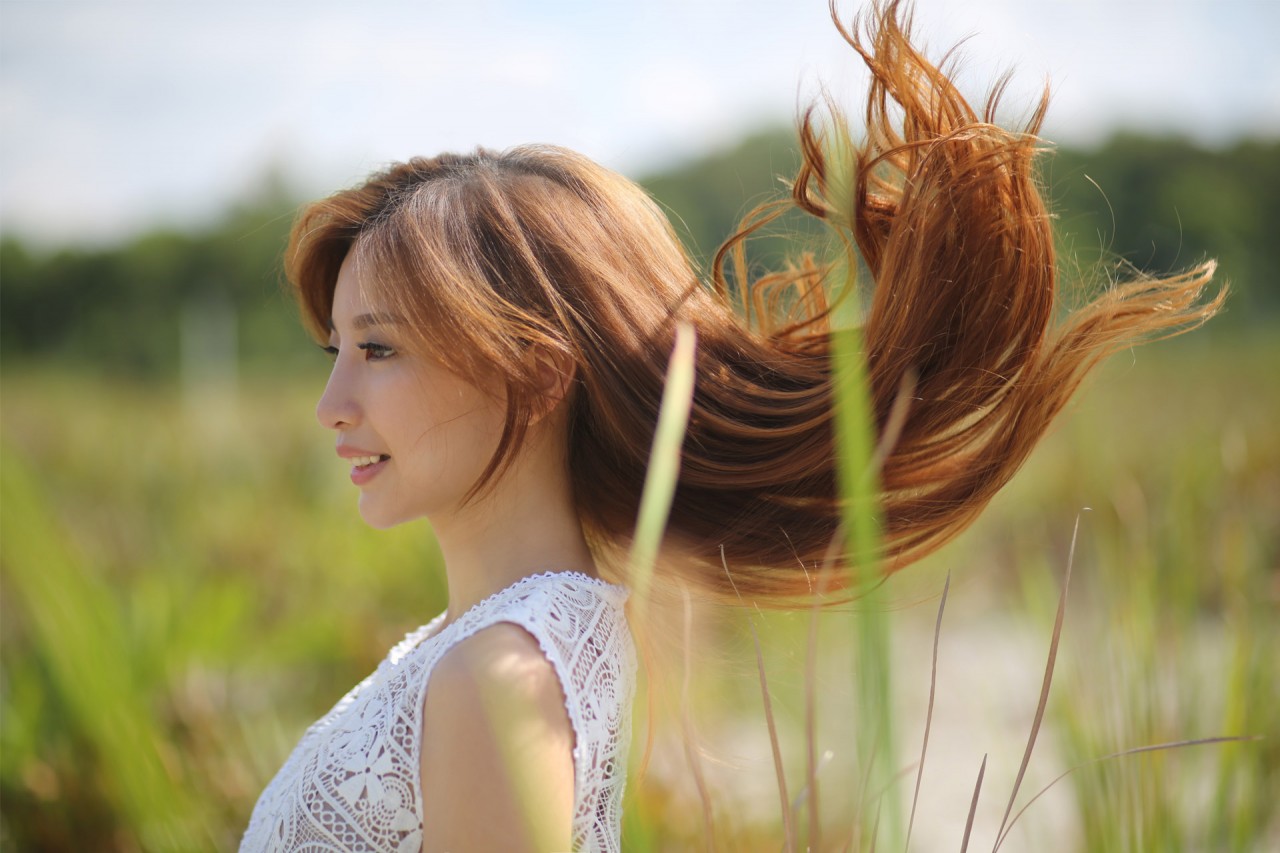 I'm terrible to my hair on a daily basis. I abuse them through neglect. Yet, waking up with a bad hair day really ruins my mood so something needs to be done.
I've been relying a lot on my regular hair stylist to help me maintain my tresses but daily maintenance is just as important. I'm taking a deeper look into the types of hair products that can help me to keep my hair as healthy as possible till my next visit to my hair stylist. Luckily, I had a whole range of ErucA hair products to kick start my search for Utsukushī kami. That's "beautiful hair" in Japanese.
Hailing from the land of beauty and innovation, ErucA utilizes 12 different types of botanical oils that provides a luxurious and thorough clean while being skin-friendly. I love how the range is free from surfactants, mineral oils and artificial colors. These components are usually found in many other shampoos and hair products to create the image of smooth silky hair but in the long run, they will clog up the hair follicles or cause irritation to the scalp.
Instead of using harmful silicon, ErucA works with plant based seed oils to give you the same smooth and silky effects without the destructive side effects. The seed oils  (from broccoli, cowberry, bilberry, milk thistle, etc ) is the hallmark of their moisturizing and shine-inducing formula. Other rich botanically-sourced oils such as argan, virgin prune and marula oil helps rejuvenate your tired tresses.
I'm not entirely new to the Japanese concept of using oil based hair care and have tried using camellia oils since 2006. However, beauty technology and education is always improving. With ErucA, I'm able to better incorporate the benefits of hair oils without the messiness of dealing with pure bottles of oil. As an added bonus, I really love the pretty packaging! Japanese companies always put effort in making their products look good so you feel happy displaying them and would remember to use them often.
Here are the 3 different ranges of ErucA to suit different hair types.
1. Moist and Repair
The Moist and Repair range is infused with the next generation botanical oil extracted from selected seed oils to restore water and oil balances in your hair and scalp for frizz-free hair. Repairing your hair from inside out, it will leave your hair with an all natural shine, luster, and silkiness. Perfect for those with damaged hair, after using, you will find that your hair is clean but not dry. There is a fresh floral and lychee fragrance I like.
Here's a tip for shampooing – if you have short hair, use only small amount of shampoo (about the size of a 10 cents coin). Use a 50 cents coin size amount for average length and two 20 cents coins size amounts if your hair is past your shoulders.
2. Scalp and Volume
The Scalp and Volume range is my personal favourite. I have very fine hair and oily scalp so I need a shampoo and treatment routine that can give me silkiness while retaining the lightness in my hair. For those with very fine hair, using haircare that is too heavy can cause hair breakage and limpness. The all-natural botanical oil extracted from cowberry seeds and bilberry seeds works to restore balance to my scalp. Moisturizing ingredients like hyaluronic acid repair the scalp and alleviate common scalp problems like itchiness and dandruff.
On days that I go swimming or hit the beaches, I need an extra dose of TLC for my hair so instead of using the treatment conditioner, I'll use ErucA Scalp and Volume Hair Mask instead. The applicator head of the hair mask allows me to squeeze out a controlled amount of hair mask.
 When I was in Bintan island recently, I applied this to my wet hair ends and let it work its magic while I took a soak in the hotel's bathtub. I had a whole day out in the sun, having fun basking on the private beach and swimming in the resorts' pools while my poor hair slowly turned extremely dry and brittle after exposure to strong UV rays and salt-filled seawater (or chlorine filled pool water).  However, this hair mask worked wonders in restoring moisture to my hair ends and managed to keep my hair soft and smooth even after all the damage I've done to it.
3. 3D Volume Up
The ErucA's 3D Volume Up range is what I currently have in my gym bag. For times when I need a quick wash and go, I use this All-In-One Shampoo for extra volume and bounce. The specially formulated volumizing ingredients in the shampoo wraps each individual hair strand in a thin veil that stays after you rinse it. These ingredients enables your hair to stand up from the roots after it's dried so you get maximum volume!
The clear liquid shampoo lathers very well even though it contains no SLS or other toxic surfactants. Both All-In-One Shampoo and Volume Up Foam also contains a unique anti-aging ingredient, which cares for hair and scalp.
Sometimes I wake up with pretty good hair or I just want to keep my blowout for another day, I'll use the ErucA Extra Volume Up Foam on my dry hair to keep the hair volume-boosted all day. I apply by rubbing it from my hair roots to mid-hair then lightly blow drying my hair (away from the roots) to result in a voluminous but natural style. The hair doesn't harden up the way it gets when you use hair spray which is perfect for me. The foam also provides a balance of oil and moisture inside the hair, adjusting it to a healthy condition and making the surface of the cuticle smooth. I love how the foam doesn't leave my hands feeling sticky after application.
At an affordable price point (S$18.90 -S$22.90), you can find ErucA at Guardian outlets and Tokyu Hands. For online purchases visit Maimee's Corner. You can also get your hands on a FREE sample on SampleStore.com if you want to test the products out for yourself. Alternatively, 'Like' ErucA on Facebook to participate in their weekly contests to WIN prizes!
Thank you for reading and I wish you a wonderful week ahead.
This is an advertorial but my opinions on the product is still fair and honest. Maintaining the integrity of renzze.com and  creating a positive influence will always be my piority.