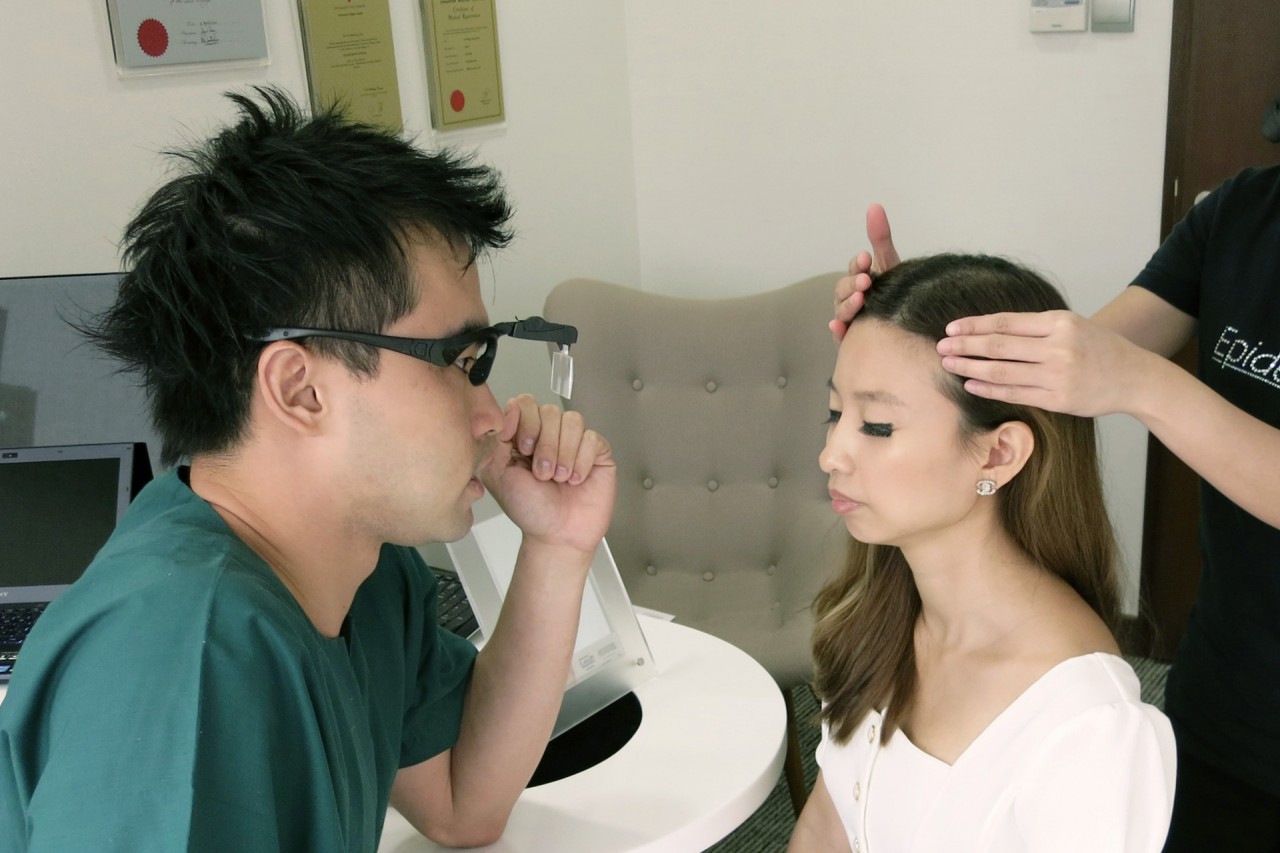 I first met up with Dr. Melvin Tan at EPW Laser + Medical Aesthetics Clinic about 2 months ago. EPW Laser + Medical Aesthetics Clinic is founded by Medical Director, Dr EP Wong and has over 20 years of experience in medical aesthetics. The clinic came highly recommended to me. My first appointment with the doctor was simply a consultation and nothing more as I wasn't ready to jump start on anything. I just really wanted to check out the clinic as well as to get a first impression on the doctor before deciding. I wanted to gauge the doctor's ability and see what he would recommend as the best course of action for my concerns. Located at the top of Tong Building in Orchard Road (beside Paragon and opposite Ngee Ann City), I was immediately impressed by the clean space and comfortable layout of the clinic. I would have taken more photos to show you but there were other patients around and I understand how important privacy is to both the clinic and patients.
At my appointment, I presented to Dr. Melvin Tan my biggest concern of having enlarged pores near nose and cheeks. This is an issue that has plagued me since I was a teen and I can find no solution for it despite trying a million (ok, exaggerated here) pore refining or minimizing products. I generally keep my face clean so the enlarge pores are less visible but when you look at my face closed up, you can see the huge pores! Since I generally stay away from applying foundation, there really isn't any way to cover them up.
Dr. Tan did a through examination of my skin condition and discussed about my lifestyle, my concerns, needs and expectations. He initially recommended fractional laser but since I couldn't afford the downtime, the alternative to improve my skin texture as well as to target those enlarged pores was to use Nd:YAG laser treatment followed by MicroBotox® treatment. I kept an open mind about any other treatments and after Dr Tan checked my concerns and studied my facial structure, he said he could put some fillers for my nose and chin while he was at it give my face more volume and sculpt the proportions better.
I love how easy it was to approach and share my concerns with Dr. Tan and how he offered several alternative for me to decide on. He answered all the questions I posed with professionalism and never rushed or pressured me to decide. Having a doctor that is a great listener and can understand your needs, social concerns and facial worriment helps to get you started on the right footing. When I left the clinic, I was well informed with the choices I had and lost all apprehensions. In fact, I was toying with my schedule to see if I could afford to do fractional laser for a more lasting and definitive outcome.
I took some time to think about how I was able to fit these procedures into my lifestyle as well as my own personal willingness to accommodate downtime. Eventually I scheduled a visit back to EPW Laser +Medical Aesthetics Clinic a month later. This time, I was prepared and decisive about what I wanted to do and told Dr. Tan that I would like to proceed with all that we had discussed previously except for the fractional laser as I couldn't afford the downtime required. We would proceed with the alternative treatment for my enlarged pores which involved a Nd:YAG Laser treatment followed by a MicroBotox® treatment.
I had some lovely chilled tea while getting prepared for my procedures. Somehow the clean, wide spaced office overlooking the hustle and bustle of Orchard Road was very relaxing. I wasn't worried at all because I knew I was in great hands. It's not just about the equipment, it's the discerning eye, experience and skill of the specialist that matters and Dr. Tan is an experienced, highly skilled and qualified doctor who will administer all the procedures for his patients personally.
Here's a last look at my "before" treatment face (above) ! The clinic also took several photos for them to keep as documentation of my aesthetics journey.
I love the treatment rooms with the lovely views! Each treatment room has been designed like a mini operating theatre contributing to the whole professional experience.
This was also the point whereby my camera battery died so the rest of the photos are taken with my phone.
The first procedure I did was the Skin Rejuvenation with Nd:YAG Laser to combat my dull skin and uneven complexion. Dr. Tan adjusted the laser for my skin needs and assured me that it wouldn't hurt at all. Having the right doctor for such procedures is very important because you need an experienced and trained eye to discern what is the intensity that is most suitable for your skin concerns. Using a micropulse mode, the laser light energy penetrated and rejuvenated my skin. It wasn't uncomfortable or painful at all. Just a little targeted heat and light prickling is felt as the light penetrated into my skin to help stimulate collagen and elastin production. Nd:YAG Laser is really good for tightening pores, reducing oiliness and fine lines to give a more refreshing appearance. It was really quick and only took about 5 mins for the whole procedure.
Next, we moved on to the MicroBotox® treatment.
Since my main concern is the enlarged pores near my nose and on my inner cheek area, Dr Melvin Tan used the MicroBotox® treatment to ensure quick and speedy results.The photo above shows my terrible enlarged pores taken before the treatment.
MicroBotox® is one of the most immediate treatments you can do that targets open pores.Instead of injecting Botox into the facial muscles, it is injected in tiny amounts all over the surface of the skin itself where there are super fine muscles that control the pore size. These fine muscles are the ones that gives the "hair standing on ends" feeling or goosebumps. They also control the sweat and oil production of your skin. Since Botox is only injected in minute amounts on the surface of my cheeks, it would not affect my muscles that control facial expressions.
The nurse applied a layer of numbing cream over my face and left me for 10 minutes to wait for the surface of the skin to numb up. Next, Dr. Tan came in to prepare the MicroBotox® procedure. I have to admit that MicroBotox® is a little painful (though still very bearable). It's a similar feeling to having small ant bites over the surface of my cheeks. Thankfully though, the doses are quite small and Dr. Tan worked really efficiently and precisely allowing the procedure to be over in a jiffy. My skin turns really red easily because it's very sensitive but the redness cleared in less than an hour.
Like most Botox treatment, the effect isn't immediate but it took a week or two to show. Here's the result of my enlarged pores slowly reducing after MicroBotox® treatment.
Photos are all taken with my iPhone 5 with no editing or filtering for a fair comparison. In all the photos, there is absolutely no foundation on the skin.
The photo above on the left shows my original enlarged pores. The photo above on the right was taken after 10 days. Isn't it amazing! I'm really happy about the results. The other side benefits of  MicroBotox® is that it controls oil and sweat on the same areas as well. This treatment is good for at least 4 months. I wish that it'll last longer but it's a good trade off since there is no downtime at all.
I'm gonna show you another comparison of my face (below). The original enlarged pores on the left and my face after 25 days on the right.
I think the pore size is pretty stabilized now but I don't mind if it shrinks even more. *fingers crossed* I've been having enlarged pore problems since I was 13 and this is the first time I've seen my pores so nice and refined! The skin also has a matte and powdered look even though I don't put on foundation.
Let me take you back to the clinic, where I had other procedures all done on the same day. Since my face was already prepped with the numbing cream, Dr. Tan also administered fillers for my nose and chin.
When I first told friends and family that I would be doing fillers for my nose and chin, their immediate reaction was to tell me that I do not need to do anything to my face because I look great and very young for my age. I think I look okay for someone in my early 30s but a little help from fillers to shape the contours of my face wouldn't hurt right? Besides it's not really invasive and not permanent so I can always contour my face again anytime I feel like I want something different.
In terms of fillers and Botox applications, the doctor and his experience in aesthetics is the most crucial factor. In aesthetic procedures, the doctor must not only be a man of science but he must have the right talent to artfully sculpt the face. The best result is not a totally different you but an enhanced natural version of yourself. In other words, after the procedures you are recognizable to your own friends and family but still look somehow better.
Dr. Tan marked my face to see the general alignment of how and where the fillers should go then started with my chin. The chin is one of my worse features on my face because it's really recessed, making the top part of my face seem longer than the bottom half. Dr. Tan used JUVÉDERM® Voluma fillers to help give my chin more projection.  JUVÉDERM® Voluma (with Lidocaine) is a hyaluronic acid based derma filler. It is safe because the soft injectable gel is tissue-friendly and closely resembles the hyaluronic acid that exists naturally in the body. It is non-permanent, and can last up to 18 months.  The fillers are biodegradable, which means they will naturally disappear in the body over time. It was quick and quite painless since according to Dr. Tan, I had a pretty small face and only need a touch of fillers at the chin to make it fuller rather than longer. After injecting, Dr. Tan slowly moulded the chin till it was perfect.
Next, he moved on to my nose to give my nose bridge more height.  As with the chin, Dr Tan used a syringe containing JUVÉDERM® Voluma (with Lidocaine), a hyaluronic acid based derma filler. He moulded the filler with precision, examining my nose from the sides and front. I'm really grateful for his discerning eye and skill. Once again, it was quite painless and I was handed a mirror to check out the results. All throughout the procedure, Dr. Tan was very detailed in explaining clearly each step in his plan of action. His meticulous uncompromising execution of the surgical technique made it very comfortable and reassuring.
This "non-surgical nose job" is almost painless, very fast and totally non-scary or invasive. It's a great alternative compared to great risky surgical Rhinoplasty. Since fillers are non-permanent and are very easy to correct, you can always adjust the finer aesthetic requirements whenever you want. This is an important feature since fashion, media and social tastes do change subtlety every few years.
I have rather sensitive skin and I bleed quite easily so there was some bruising on my nose bridge as you can see from the photo above. Luckily that too cleared! There wasn't too much down time other than the bruising and swelling I had which could be easily covered by some BB cream. The only advisory I got was to not wear any eyewear for 2 weeks. It's been about a month now and I really love how my contoured face is looking.
Here's a comparison of my face before the fillers (top) and my face after the fillers (bottom). It's so much sharper and defined, especially the nose.
I still look really natural and retain my individuality with an improvement to my contours. My family couldn't tell much difference until I showed them a direct before and after comparison photo. Most of my close friends can tell that I had a higher nose bridge but don't really see the difference in my chin. Overall, I had many positive feedbacks about the changes. Quoting one of my girlfriend who met me recently but couldn't figure out what I did exactly, " You look like a perfect little porcelain doll!".
Much love and thanks goes to EPW Laser + Medical Aesthetics Clinic for this lovely change. Thank you also to Dr. Melvin Tan for his dedication in addressing my concerns every step of the way. I've been meeting him for reviews so that he can keep abreast with all the changes and he's told me that I can always alter or re-shape anything if I change my mind.
Another factor that made a difference to my overall appearance is my skincare. I'm not sure if you remembered but sometime ago, I had some horrendous skin issues.  I generally have pretty good skin (except for the occasional bump that happens during "that" time of the month) so you can imagine how frustrated I was that I had these horrible bumps on my face that wouldn't go away! I suspect that it's due to makeup because I normally don't wear any foundation (my makeup routine is just eyeliner and falsies or mascara) but due to a couple of important events that happened in the same week, I wore full makeup including foundation for 4 long days in a span of a week. My super sensitive skin started to give issues and the bumps started to appear and continued to spread all over, reaching a horrendous peak after 2 weeks.
The photo above I posted on my instagram (@renzze) and even after adding a layer of filter, you can still see that my skin was in bad condition. It's much worse without the filter!
The first step I did was to simplify my beauty routine and only used products that I knew for sure had no negative impact on my skin. That means for that time period, I stop trying out and reviewing new skincare products. During one of my review visits to Dr. Tan, he noticed that my skin wasn't as good as it should be so he recommended that I try using Epiderma range of products that is exclusively available at EPW Laser + Medical Aesthetics Clinic.
Dr Melvin Tan prescribed to me a whole series of in-clinic facial products to combat my bumpy issue.
There was the Epiderma Dermawash II (cleanser), Epiderma Acne Toner (Toner) and Epiderma Derma-A Forte Retinol Serum. I was warned that I should expect extreme peeling but my skin will heal in a jiffy and if I continue using, I'll be ensured sustained glowing skin. I've seen enough of the patients walking into the clinic with glowing skin for me to be convinced even before I started!
It was a simple enough cleansing routine but I really didn't want my skin to show signs of peeling at all (vainpot me!) so I used the Epiderma set of facial products only at night and I would use my normal skincare in the day. My skin showed visible signs of healing within the first 5 days of using Dr. Tan's prescribed Epiderma range and by Day 10, all my bumps disappeared!!! It's nothing short of a miracle. Let me show you the comparison of before and after.
The before photo (above) is taken with my iphone, posted on instagram (@renzze) and looks horrendous even with filter added.
The after photo (below) is taken with my iphone in the same room, same lighting but I didn't need to put any sort of digital filter because my skin is already looking great on Day 10!
I'm so excited that my skin is gorgeously glowing and bump free with minimal blemish! Okay, this may sound bimbotic and strange to you but having good clear skin that glows without having to put anything on it is one of the simplest happiness that I'm grateful for. If you have any aesthetic related problems at all, I highly recommend giving Dr. Tan a visit.
EPW Laser + Medical Aesthetics Clinic
302 Orchard Road
Tong Building #17-01
Singapore 238862 T

Tel +65 6235 5533
Email info@epiderma.com.sg 
*****