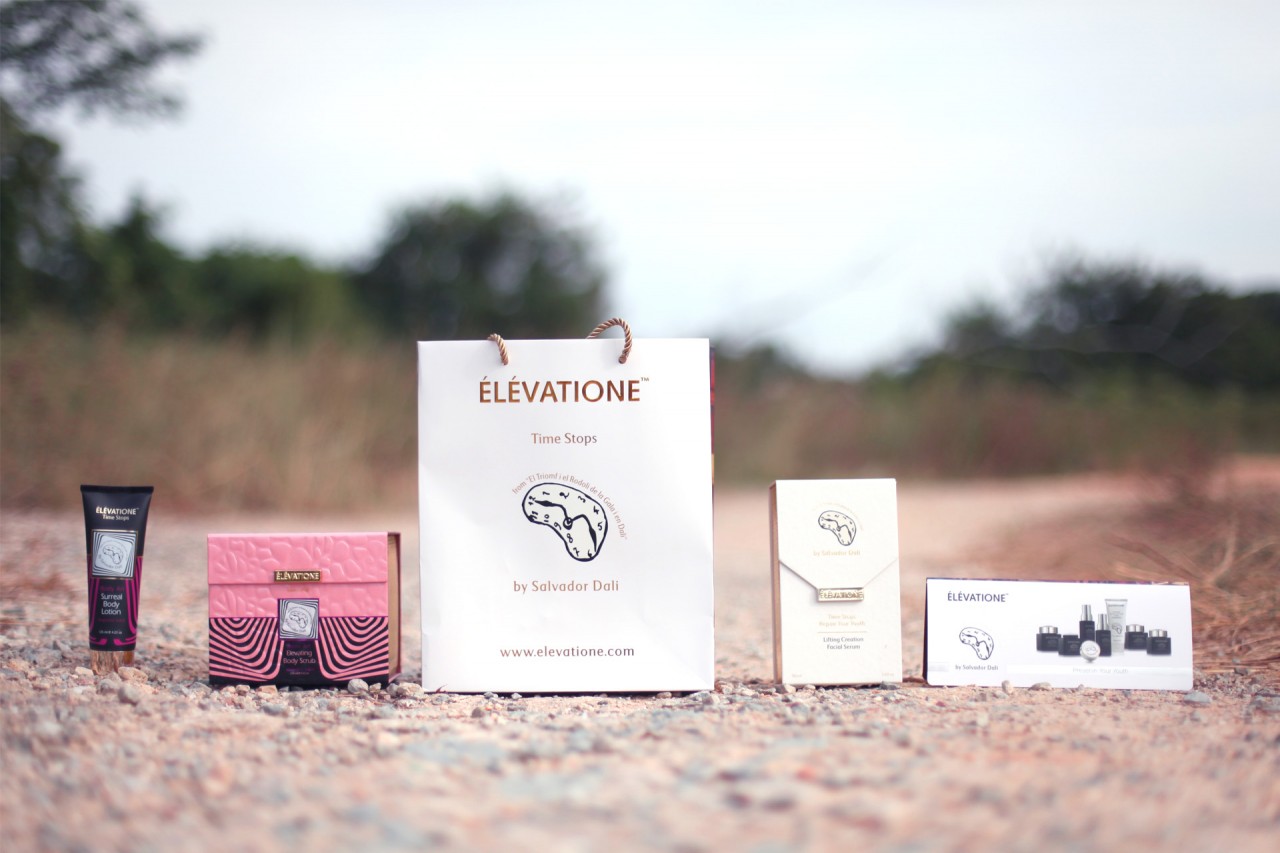 ÉLÉVATIONE, a leading international skin care brand, was born from the idea that beauty goes beyond skin deep, and radiates even more than an aura. ÉLÉVATIONE believes beauty is concept, a construct, and a method of expression. Beauty is art, art is beauty, and the ÉLÉVATIONE woman is a masterpiece.
Disregarding the rules of aging. Just as Salvador Dali never drew a straight line when he could create a curve, ÉLÉVATIONE refuses to play by the rules. Refuses to accept that anything that has been done can't be undone, and that youth lost can't be found. ÉLÉVATIONE is a luxury skincare brand that dares to wonder why aging gracefully has received so much acclaim. As Dali always knew, it's better to be rebel.
Dali dedicated his life to redefining conventions and defying expectations. Because of that, he is more than an inspiration for ÉLÉVATIONE. His life's works are a roadmap, his essence an infusion. In his honor, ÉLÉVATIONE will stop time, send the clock's hands ticking backwards.
Here I am at the quirky and fun store opening in Singapore earlier this year.
ÉLÉVATIONE will allow women worldwide to control their own destiny. Adhering to the rules of creation. While some art may be instantaneous, a work of true greatness requires dedication. To reconfigure the way the world was viewed, Dali had to commit himself to his creations, mind, body and soul. With that same spirit, ÉLÉVATIONE commits itself to perfecting the naturally-infused formulas that preserve, restore and repair youth, and enable women to experience time on their own terms.
The ÉLÉVATIONE experience is available to women all over the world, in major locations ranging from London to Hong Kong and is now found in Singapore as well.
One of the most enduring Dali images is that of the melting pocket watches in his painting The Persistence of Memory.
This softened, distorted and malleable interpretation of  time is everything ÉLÉVATIONE stands for. ÉLÉVATIONE believes, as Dali did, that time is not constant. With ÉLÉVATIONE's skin care, time can be stopped, reversed, or disregarded altogether.
The ÉLÉVATIONE luxury skincare brand uses only the finest natural ingredients, herbal infusions, vitamins and antioxidants, and leading anti-aging treatments. With premium ingredients and precise, patented formulas, ÉLÉVATIONE creates skin care products that are equal parts scientific and indulgent. With a full range of products for women in every stage of life, ÉLÉVATIONE preserves, restores and repairs youth.
The Gold Series is crafted for women who value their wisdom and life experience. Women who know that it is indeed possible to turn back the clock on fine lines and wrinkles to repair their youth.
I'm in love with each of their products, especially regarding the quality and thought that is given to the ingredients as well as packaging.
One of my favourite products from the gold series is the Lifting Creation Facial Serum.
It is a daily concentrated refreshing essence that moisturizes the skin and maintains a healthy balance of nutrients and hydration to promote skin renewal. The smashing creation serum is based on Tightox, a patented ingredient which provides the skin with the power to protect and regenerate itself, and improve skin quality. This brilliant recipe is formulated with an enriched combination of hyaluronic acid known for its moisturizing and age control benefits improving skin elasticity and their unique handmade herbal infusion of hibiscus, raspberry and rose. Every drop is brimming with Vitamin C antioxidant protection and helps replenish the hydration while restoring the smoothness and the softness of your skin to create the natural essence of youth.
The Silver Series is all about slowing down the march of time. It is designed to preserve youth, maximize vitality, and extend the prime of a woman's life. I had some samples from the silver series which I passed to one of my friends to try. She fell in love with the textures and the moisturising benefits and within the week, she marched down to the boutique and bought herself the full size bottle of Nurix Facial Serum.
It isn't just the face that requires anti-aging, and it isn't just the face that deserves to be indulged. The Special Body line of body products focuses on all-over luxury with all of the vitamins, antioxidants, and exclusive herbal infusions.
Their Ginger Joy and Magnolia Body Scrub is so pretty to look at, I almost couldn't bear to use it up. Just staring at the gorgeous pink hue with tiny shimmers makes every day feel like a special spa day. The special pre-bath recipe is designed from three layers of delicate exfoliation agents.
Two of these layers are based on rice powder, great skin polisher known to protect the skin from blemishes. The middle layer is based on apricot grains for gentle scrubbing of the skin, removing impurities and dead skin cells, keeping the skin hydrated, cleansed and clear.
 Body scrub boosted with Vitamin C, pomegranate extract and elastin, keeps your skin well moisturized, soft and resilient. The formula, based on a handmade infusion of hibiscus, raspberry and rose, superb antioxidants and Vitamin E, is the natural way to younger looking skin.
Using the Body Art Range, Surreal Body Lotion after the scrub for a soothing finish.
I haven't had time to try out their customised facials as I've been zipping in and out of Singapore too much these days but I'm sure it'll be as luxurious as their products have assured me.
ÉLÉVATIONE
Orchard Mandarin Gallery,
#01-17,
Singapore 238897
Tel: +65 6222 5962
Thanks for reading.