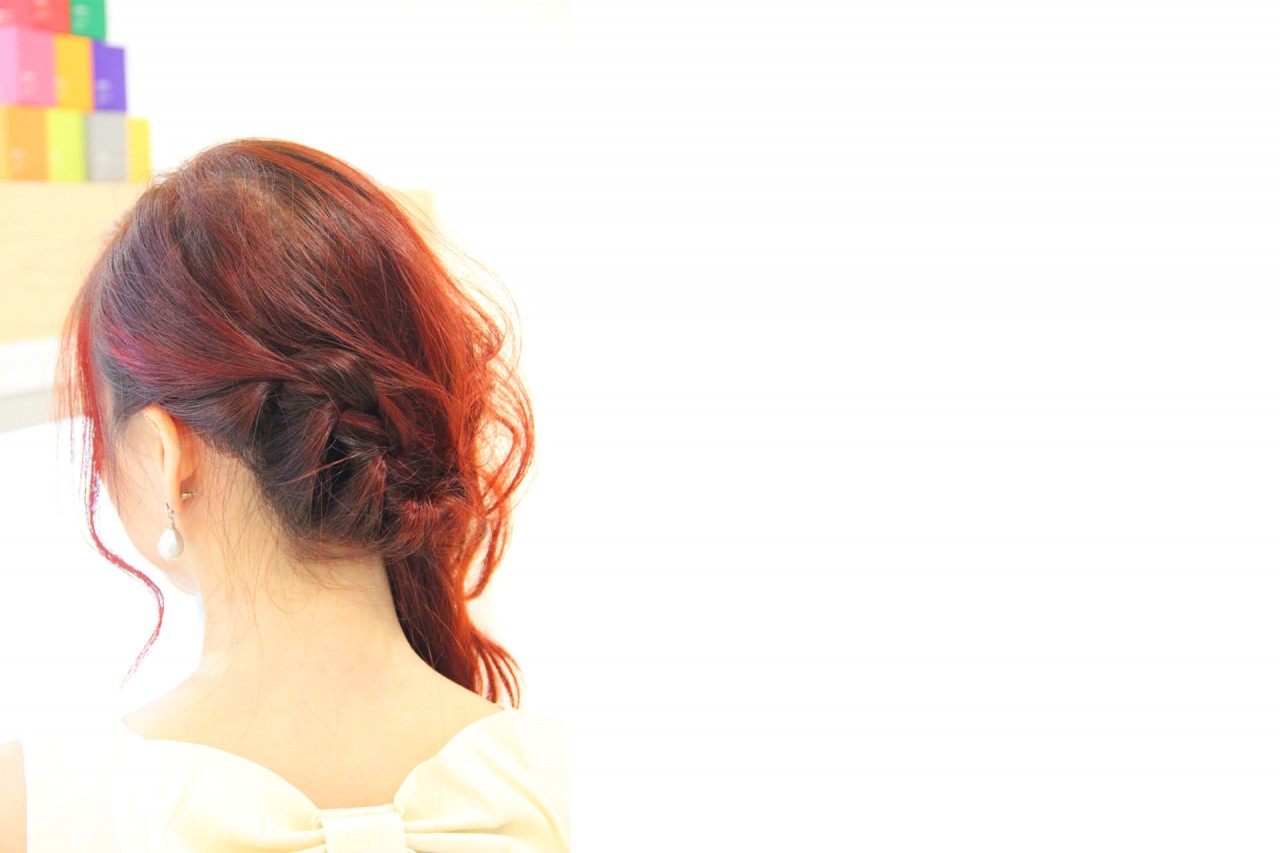 Besides getting fitter, one of my resolutions for 2014 was to take good care of my scalp. I've always had fine and thin hair and since it is something that I've inherited from my family, I usually don't think too much about it. Despite my lack of volume, my hair grows extremely quickly! It takes only eight months for my hair to grow from the length just below my ears to below shoulder length even though I trim my hair once every 5 weeks. I have to dye my roots very often because of my fast growing hair and my stylist, Masa-san of Naoki Yoshihara by Ash Salon, takes extra precaution every step of the way.
To improve my scalp condition and to strengthen the new hair that was growing, he started using Dr. Scalp treatments on me. Having a healthy scalp is the key to having healthy beautiful hair. All the products you use for your hair only helps to keep it beautiful on a surface level but by targeting the scalp, you are ensuring luscious glowing hair that doesn't need much effort to maintain.
Dr. Scalp treatment consist of both a scalp tonic as well as a unique hand held device.
Here I'm taking a photo before Masa-san starts working on my hair.
First he washes my hair to make sure that it is throughly cleansed. Next, he applies the Dr. Scalp treatment to my scalp and uses the hand held device all around my scalp, working slowly from one end to the other. He explains that improvement of volume, shine and texture can all be derived from having a healthier scalp as the new hair that grows out will also be stronger and more resistant to external damages.
The Dr. Scalp treatment is already very popular and garnered a cult following in Japan. Found in many Japanese hair salons, information and articles on Dr. Scalp is also seen in many top Japanese beauty magazines. Masa-san uses this on his Japanese clients in Japan and has specially brought the technology over to share it with his Singapore clients.
Using LED light technology, it gently stimulates the scalp without any discomfort or pain. The hand held device delivers light pulses that are most suitable for the scalp while Radio Frequency at appropriate wavelengths, generates heat to trigger better circulation. EMS technology  is utilised on your muscles to relax them and sooth your stresses away.


The whole process makes use of a unique painless electroporation and mesotherapy to increase the penetration efficiency of the Dr. Scalp treatment and will continue to support hair growth, hair growth, reduce grey hair, moisturise the scalp, improve hair shine and quality up to a week after the treatment ends. There are probably a lot more technology that goes behind Dr. Scalp that I couldn't decipher because it's explanation is in Japanese.
All I know is that it works and that this beauty device can help stimulate the blood circulation in my whole head to improve my scalp without irritating it. The titanium coated head is friendly for those with sensitive skin as well.
Many men and women with hair loss problems in Japan has tried and seen results in a short span of 3 to 6 months. Hair growth is healthier and more voluminous.
After doing Dr. Scalp treatment several times, my scalp has definitely improved and less irritated after any chemical treatments.
I even brought back a bottle of Dr. Scalp lotion and Dr. Scalp hair supplement to strengthen the results. Daily care for the scalp will lengthen the effects of the Dr. Scalp treatment and show progress much quicker. Instead of just putting hair products that essentially just sits on top of the hair, I am now focusing on using Dr. Scalp lotion to improve my scalp and work towards stronger and healthier hair. The Dr. Scalp supplement gives me all the added nourishment such as DHA, EPA, Isoflavone , Capsaicin and more, to make sure that I have the right nutrients to keep my hair healthy. I love that it is such a well thought out and complete scalp care program.
Much thanks goes out to Masa-san of Naoki Yoshihara by Ash salon for always taking such good care of my hair. Even though my fine and thin hair may not be the easiest hair to care for, I'm glad that it looks healthier and shinier under Masa-san's expert hands.
Naoki Yoshihara by Ash
177 River Valley Road
Liang Court  #02-15/16
Singapore 179030
Tel: 63335662