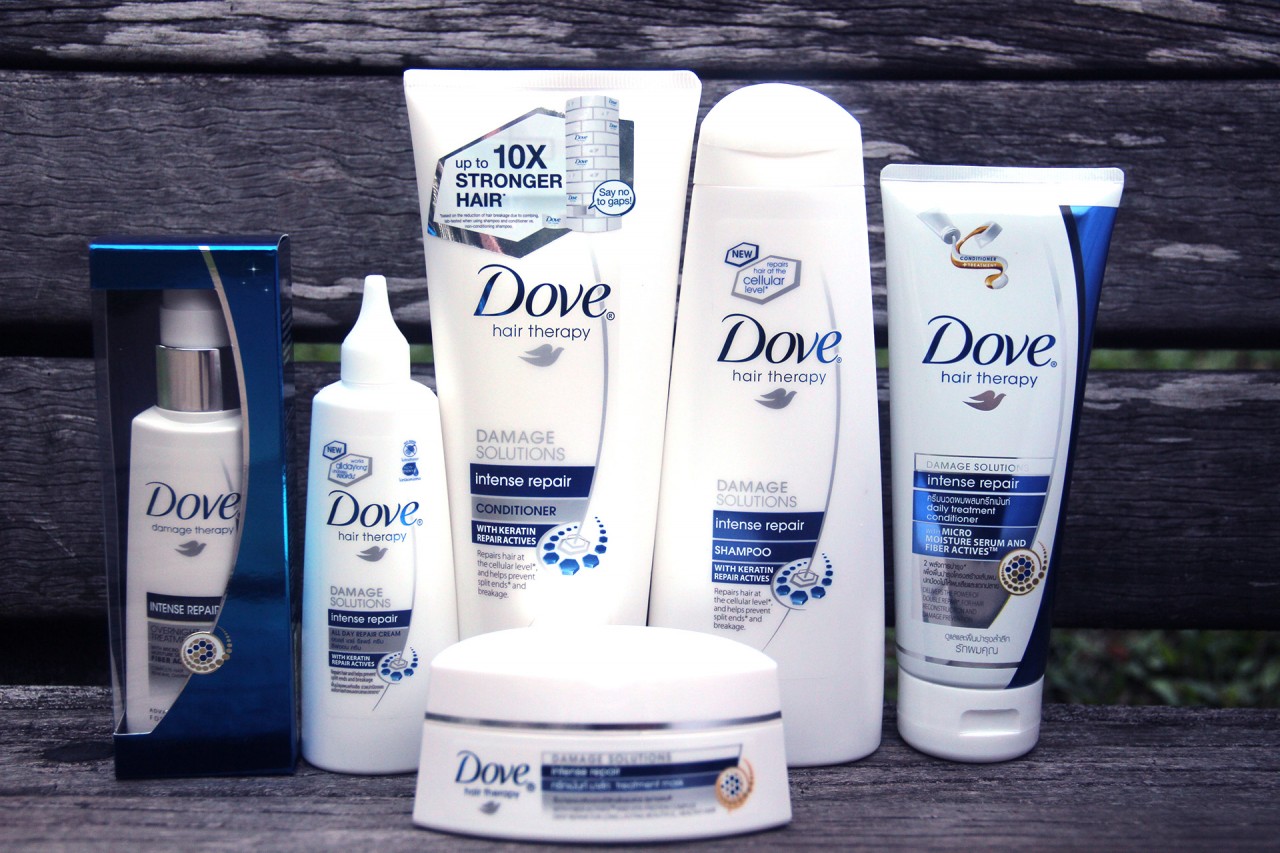 I'm sure most of us are familiar with the brand Dove and for the first time, Dove is introducing their new Intense Repair range which contains a patented blend of Keratin Repair Actives that stabilizes the proteins in your hair to make it up to 10 times stronger against damage.  In todays' world of many chemical processes, its natural that repair is a big factor when it comes to looking for good hair care and Dove recognizes that need. They have taken their hair care to the cellular level to replenish lost lipids and repair the hair both the surface and within individual hair strands ‒ so your hair becomes stronger and healthier.
I've had a first hand look on how effective Dove hair care is especially when it come to reducing breakage from combing your hair. It's no longer just a superficial quick fix on the surface but a more fortified hair structure. For the internal repair, Keratin Repair Actives penetrate deep into the hair fibre to stabilize proteins at the cellular level. By restoring the shape of the proteins, the symptoms of damaged hair are also reduced. Then to make the hair stronger from external elements, from the surface, the Dove Intense Repair range lubricates and smoothens the hair shaft with silicone deposits. Your hair is not only softer and smoother, it also becomes protected from further .
Results can be seen within 7 days, but I tried it for more than 2 weeks before writing this review.
Let me introduce the full range to you.
The Dove Intense Repair Shampoo (S$7.70 for 375ml, S$11,70 for 700ml) gently and throughly cleanses hair while giving it the nourishment it needs to repair itself from inside out. I love how the Dove range smells!
The Dove Intense Repair Daily Conditioner (S$7.70 for 375ml, S$11,70 for 700ml) delivers double repair with the dual action of a treatment in a conditioner. Just massage through wet hair after shampoo, leave on for a minute and rinse.
If you have badly damaged hair due to chemical processes, you might want to try  Dove Intense Repair Daily Treatment Conditioner (S$8.90 for 180ml). Unlike most treatment conditioners, this one is gentle enough to be used everyday and it is the star product of the range. This treatment conditioner strengthens and smoothens hair along with a new Microsheets technology. Massage through wet hair after shampoo, leave on for a minute and rinse.
Containing a UV blocker, the Dove Intense Repair All Day Repair Cream (S$7.05 for 120ml)  creates a light coat that shields hair against external damage all day. It's good for keeping your colored hair from fading as well.
For those who can afford extra time to care for their hair, you can consider the Dove Intense Repair Treatment Mask (S$10.90 for 200ml) which penetrates deep into your hair to repair damage and strengthen hair. Use once a week, leaving it on for up to five minutes before rinsing.
The last in this series is the Dove Intense Repair Overnight Treatment (S$12.90 for 120ml) which replenishes vital keratin and repair while you sleep. Use two to three pumps on damp hair and avoid the roots. No rinsing required.
With this complete range, your hair is constantly being repaired and taken care of every single moment of your day. Of course, hair care is only one aspect for healthier hair. You should also get an adequate amount of sleep each night, at least 7 hours, to allow hair to rejuvenate. Additionally, your diet should also include foods that contain protein, iron, Vitamin B, and essential fatty acids.
Thank you Dove for sharing so many hair care tip and showing me how I can minimize damage to my hair.  Thank you also for the awesome Carrie K. bracelet that I love!
There were so many colors to mix and match with but I went with one of the simplest colors and favorite coordination – White with rose gold.
I've been using my Dove range for whenever I go yoga and I love smelling so good after showering. As we age, sebum production starts to decline. This may result in drier hair and lesser protection to our hair cuticles so it's important we take more care with the products we use.