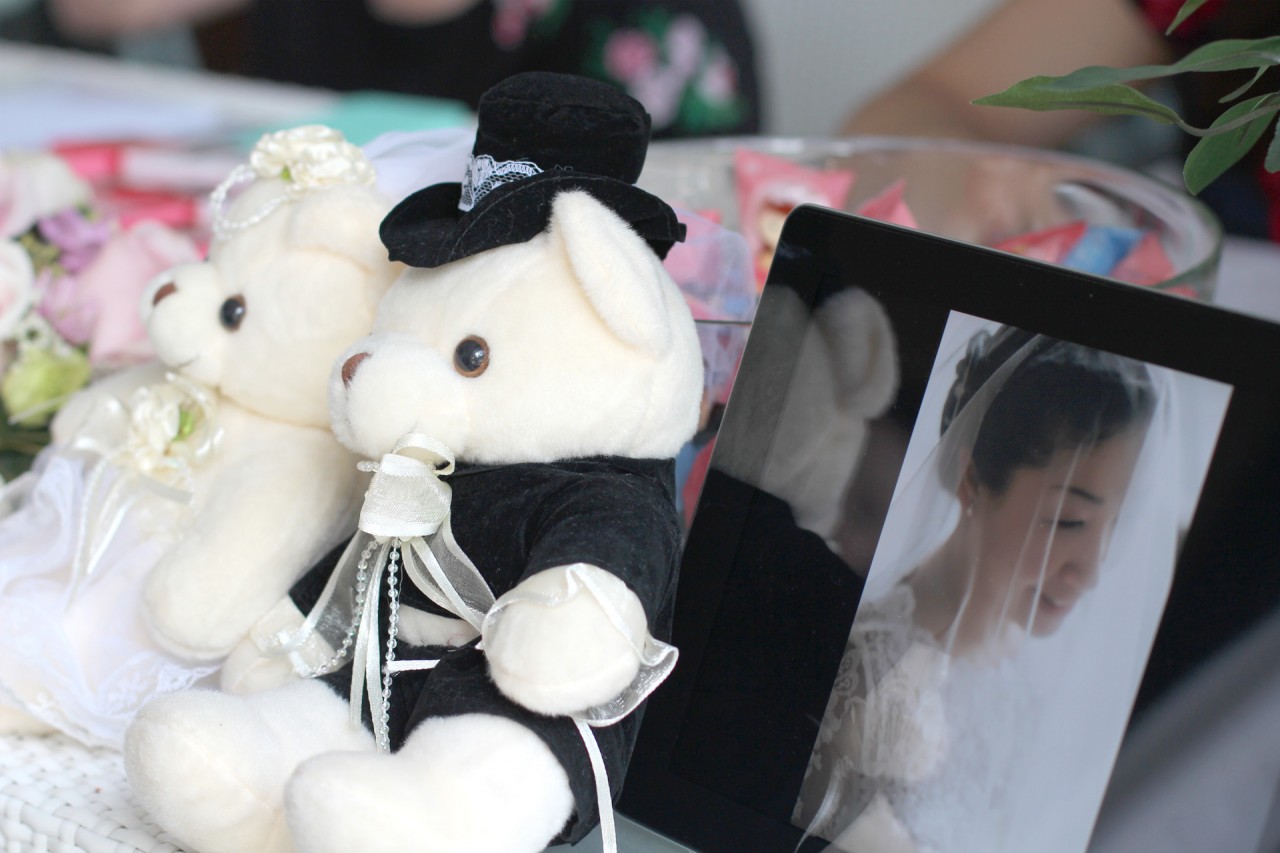 I've known Debra since I was 13. We used to take the same SBS bus 73 home and hang around the Lorong Chuan/Serangoon Gardens estate after school. Her laughter is perpetually infectious and fond memories of her attempting to teach me how to roller blade (resulting in us falling into a tangled heap after teetering uncontrollably down a steep slope) or chatting the day away with Yan about anything under the sun still brings smiles to my face. The good ole' days.
Debra has had her share of love encounters and stories and it was so sweet to finally see that she has found her one. Good guys are really hard to come by. I haven't got to know Daniel well but now that he's a fixture in her life, it's just a matter of time before I get to know him better.
Yan gave a lovely speech to the wedding couple including significant warnings to Daniel to never break Debra's heart. I sincerely wish the couple all the best wishes and gifts that life can offer.
The couple had their traditional church wedding and banquet dinner the day before and they planned an additional relaxing afternoon of mingling and catching up with friends. Given how busy and packed each of our schedules are, it was a blessing to be able to spend quality time with my girlfriends – Bernice, Yan and Debra. We were close childhood friends and even though each our lives went in completely different directions, when we get together, the feelings of love and familiarity are always the same.
After the main events of the wedding lunch was over, the girls decided that the pretty little garden outside was perfect for a photo op with old friends. Much thanks goes out to Raphael for braving the hot sun and playing cameraman for us that day.
My dearest friend, Bernice and I turned up for the wedding in Royal Blue. A lovely unplanned coordination.
This babe is a working mother to 3 adorable kids and a wonder woman in her own right! When we were teens, we would tease her about her crushes cause she was always so shy. I still keep the tons of handwritten letters from her (and my other girlies) which are a sweet reminder of technology-free days. Oh! How I miss hand written notes.
Yan is the smallest girl I know but she has the biggest strongest heart. Spontaneous, enthusiastic, brave and loyal. She brings happy vibes with her wherever she goes. Yan went through a harrowing experience not too long ago but she's back stronger and brighter than before. Her experience has taught me to be grateful for all the little blessings in my life and to not take my health for granted. I'm trying in small ways to take care of my body these days. I'm so relieved that Yan is fighting well (and winning!) and I keep her in my prayers all the time.
The wedding couple was in popular demand throughout the day but once the crowd waned a little, we grabbed the blushing bride for our little photoshoot.
Finally, the photo of the four of us after more than 20 years of friendship.
Debra is as goofy as ever. She's probably the most relaxed and unpretentious bride I've seen in a long while. Our gathering and impromptu friendship photoshoot was so cozy and enjoyable.
Let's meet up again soon girls. Once again, congratulations Daniel and Debra!
Dress – BCBG
Wallet (used as a clutch) – Hermes
Earrings – Louvisa
Sunnies – Ray Ban
Wedges – Pazzion
I actually had a pair of lovely Valentino nude lace pumps with bows that were a perfect match for the dress but sensibilities took over and I switched shoes in my car. I wore these encrusted crystal wedges instead as they were more suited for walking on the grass.
This last photo of me was taken by Yan and seeing how this is her very first click on a DSLR, I think she has the potential to be a fabulous photographer!
Thanks for reading. I know I haven't updated in awhile but I will. I blame it partly on the crazy CNY festivities and how those overeating, over-indulgent parties have led to me falling sick this week. I'm focusing on having more greens while I build my immune again and hopefully will be feeling great in no time.