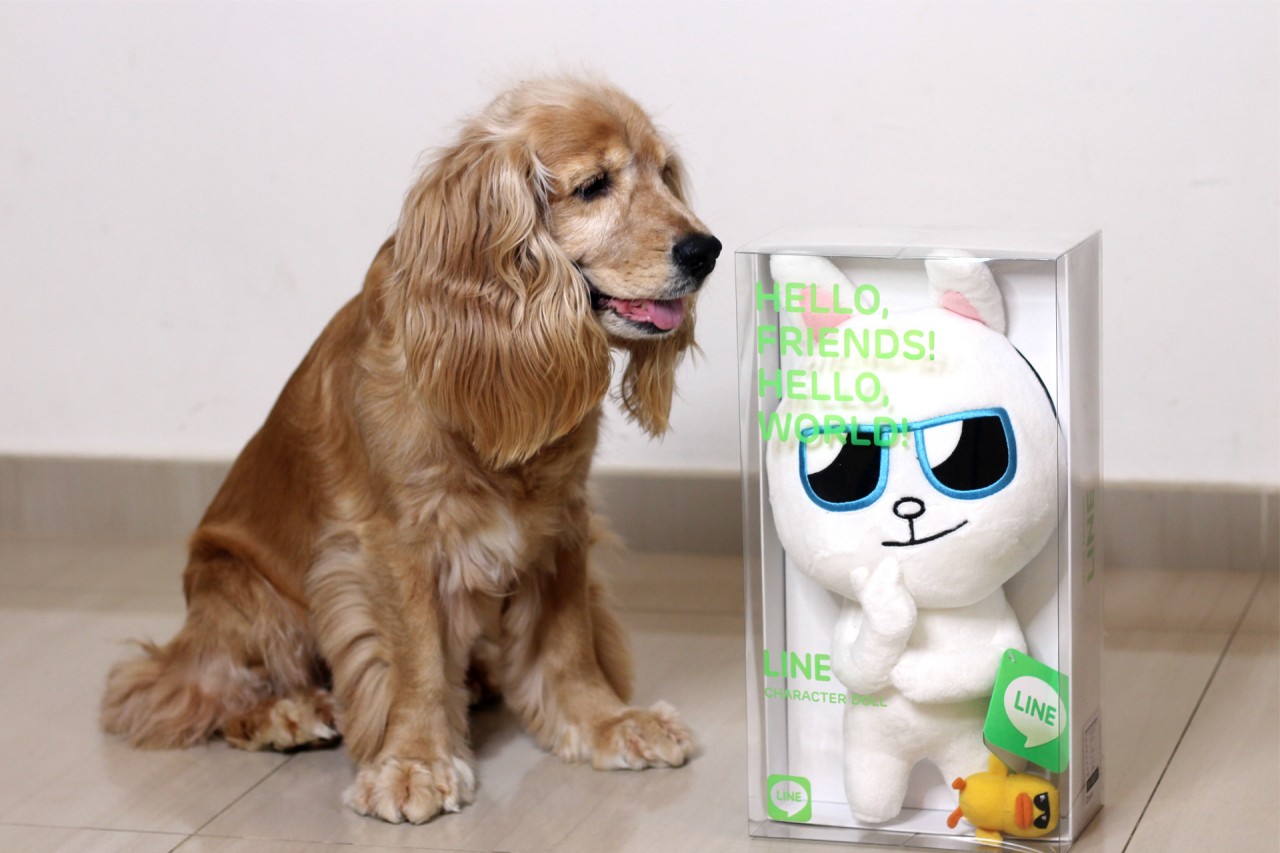 I've already heard of The LINE messaging app sometime ago but I didn't know how good, cute and popular it was until they announced their official launch of LINE and declared its full commitment to the Singapore market in April 2013. Together with some blogger friends and the media, I was invited to their official launch party to learn more about the world's hottest mobile messager and to meet the mascots, Brown, Cony and Moon. The only one missing was James 🙂
The LINE app offers free text & voice messaging, voice calling and group chatting up to 100 people, integrated with various interactive elements such as stickers, home & timelines and official accounts. It can be enjoyed across multiple platforms like iOS, Android, Blackberry, Nokia and Windows phone and can also be accessible on smartphone, tablets and even PCs. Best of all, it's completely free.
I'm really excited that they chose Singapore to serve as Asia's hub for LINE's new branding initiatives and will be collaborating with various Singaporean content providers to benefit users. The app is young, fresh and offers fun, social and convenient services for everyone. Move aside Whatsapp! This app has way more features then you can imagine and it's so much cuter.
Wanna know exactly how popular The LINE app is? This graph says it all! The popular free instant messaging smartphone app has achieved the 100 million mark of users globally as of January 18th 2013, less than two years from its launch in June 2011. Even the big boys like Twitter and Facebook had to take more than twice that time to reach that many registered users.
So get on it now!
The launch event was fun with lots of good food,fun mascots and endless drinking.Thank you to ICON for showing us such a great time that night 😉
I had a wonderful insight into the possibilites of LINE after meeting both Mr Simeon Cho (General Manager of Global LINE Business Office, LINE PLUS Corporation) and Mr Jinny Kim (manager of Global LINE Business Office, LINE PLUS Corporation).
I rely on my smartphone all the time and after using Line, I'm pretty impressed that the company has came up with so many awesome functions that I've always wished other messager apps would incorporate. In fact, the moment I logged on, I instantly found quite a lot of friends that are already using The LINE.
But other than just being able to connect with friends, you are also able to befriend you favorite celebrities, public figures and corporate brand to directly communicate with them and receive messages, pictures or even audio clips! As you can tell from my above screenshot, I've befriended Girls Generation and they would send me photos, tell me what they are going to be up to and when they are on the "On-air-mode", I can even interact with them so they can read and respond to my messages. It's almost like having the contact number of your favorite celebrity on you phone. I see lots of Japanese and Korean celebrities  and some western and chinese celebrities with official LINE accounts currently but LINE plans to add more local celebrities and brands in each country.
One of LINE's  distinctive features is that they have stickers. You can share cute and vivid emotions while chatting instead of limiting yourself to the usual emoticons. There are more than 4,o00 stickers available and you are not limited to just LINE's Brown, Cony, Moon and James.
In fact I'm very tempted to buy up tons of stickers especially the cute Hello Kitty and Disney ones.
There is also a Home and timeline feature (similar to Facebook) that allows you to share your most recent happenings and life stories with your friends.
What impresses me most about LINE however, is their foresight in incorporating its plethora of family brands and apps that makes it a lot more than just a communication tool.
These are just a few of the many tools and games that I've been using together with my LINE messager.
The 20 over LINE games have achieved a total of 100 million registered players worldwide. Since it's integration with LINE messager, you can easily communicate with real friends, send gifts and compare rankings.
Try your hand at LINE POP or LINE bubble and if you want more from your game, you can try LINE PLAY which allows you to personalize avatars and virtual space while meeting and sharing thoughts with others.
Even though I've been trying out LINE and its range of apps for a month now, I always feel that there are so many more to be discovered.
The LINE camera is very fun and useful and many of my friends a big fans.
It offers numerous decorating functions such as photo frames, stamps, unique filtered effects, brushes and font styles. You can share your photos immediately on LINE or save and upload it to Instagram or Facebook.
You can even use stickers from the Stamp Shop to find various famous characters such as Hello Kitty and Disney characters to perk up your photos!
There are so many different apps from LINE that I have yet to try but I want to share with you one more of my favorite LINE app.
LINE Tools is one of the handiest apps around. Whether you need to check measurements (ruler), angles (protractor), flashlight, mirror, QR code reader or even a spagetti scale,  it's all available in just the one app.Super handy!
There are so much more tools but I think the unit convertor and clothing size tables are highly useful especially for me.
Join the LINE family today and be at the forefront of a new lifestyle. It doesn't matter what smartphone you are using because LINE can be found across all platforms like Apple iOS, Android, Blackberry, Nokia and Windows Phone. If you like, you can even access it on tablets and PCs which is something most messagers don't allow for.
I've quickly grown to be a big LINE advocate and its not hard at all especially with their cute mascots.
I gave some of this LINE mascots out to winners of my giveaway hampers but I'm keeping these two for myself cause they are just too cute to resist.
Even Louis wants a LINE mascot but he knows better than to covet my toys!
If  you want to win yourself one of these mascots, like LINE Facebook page as they do run contests for prizes every once in awhile.
Cya on LINE!