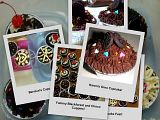 I pulled Bernice along to a cupcake class last week! The instructor was Mrs Fong and her home was lovely! Being engulfed by yummy chocolate smells while being perched high up on the 25th floor facing the East Coast Sea was kinda surreal. Met some really sweet gals like Bubblygal and Taradolphine there too!
It was pretty nostalgic for Bernice and I cause we used to bake cookies and cakes in school together. Reminded me of all the laughs we had especially over Carol Chia with her Chinese cleaver and weird antics.
All the cuppies were really delicious though I favored the chocolate fudge and black forest ones over the oreo cupcakes. Extremely sinful but oh-so-irresistible! Now that I'm convinced that baking them is a piece of cake (pun intended)… I'm gonna bake a whole lot with Bernice before Christmas at my place! Anyone who would like to join us is welcomed! Just drop me a tag or email yah?
Pictures of the cuppies and their creators….
Bernice and her cupcakes!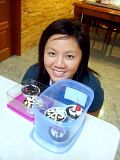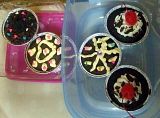 Me and my cupcakes!