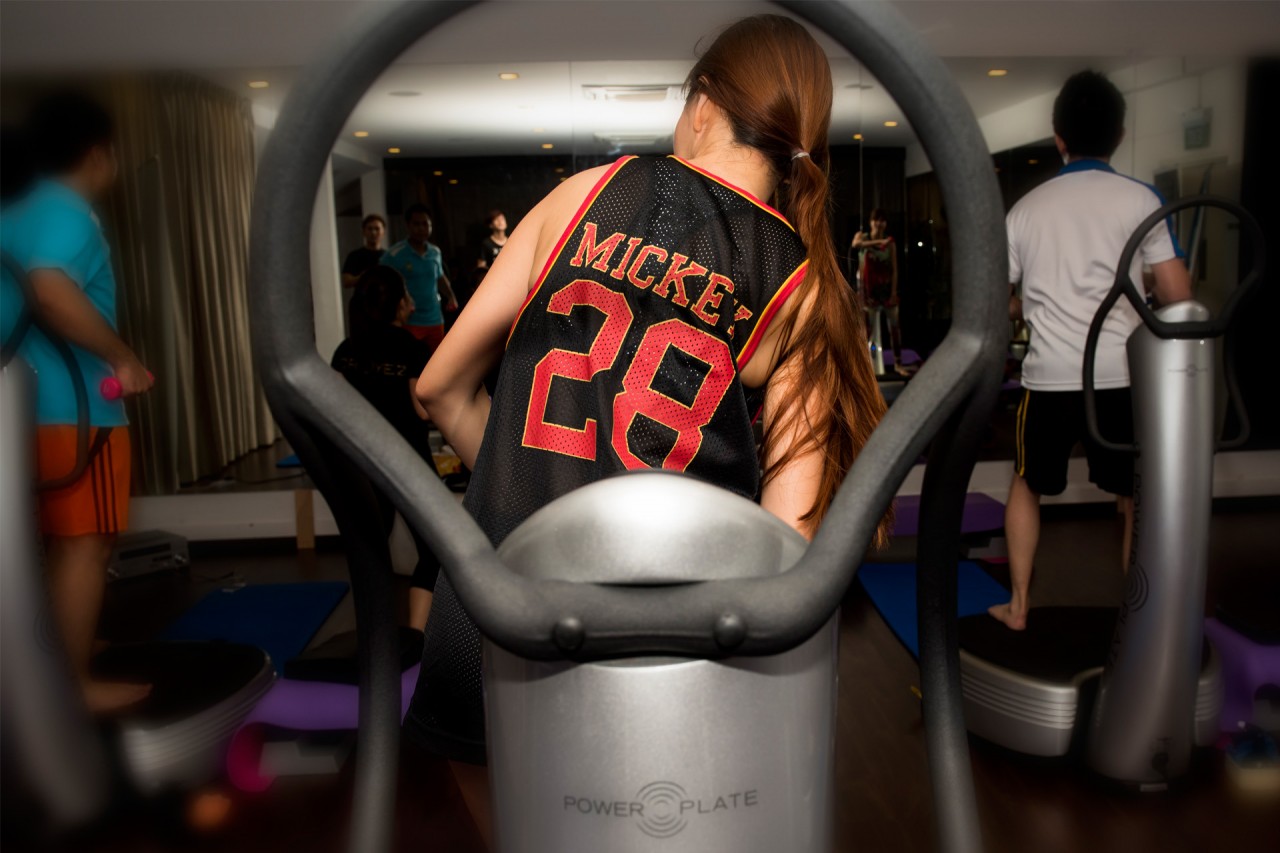 It's Friday again! This week has slid past me really quickly especially since I spent my mid-week nursing a fever. I'm so glad that I'm feeling much better now and can sit down to write a little more coherently.
Earlier this month, Raphael, Regina and I headed down to Croyez (pronounced 'krwah-yay' and means Believe) Studio at Dempsey to try working out using Power Plate®. I'm not exactly new to Power Plate® as I've tried it at a few other gyms before but this is the first time I've been to a fitness studio that specialises in it.
Personally, I've never seen so many Power Plate® machines in one studio before. In most gyms, you'll generally spot just one or two machines sitting quietly by the corner.
"Power Plate® equipment is the premium vibration device powering a new dimension in wellness solutions for all ages, lifestyles and physical abilities. It uses the principles of Acceleration Training™ to stimulate the body's natural response to vibration. These vibrations transmit waves of energy throughout the body, activating muscle contractions between 25 and 50 times per second, enhancing overall performance in sessions as short as 15 minutes a day, 3 times a week."
In a nutshell, if you want to maximise the effectiveness of your workout in the shortest amount of time, Power Plate® is perfect. The vibrations are said to break down fat cells, improve circulation, flexibility and metabolism and reduce the time you need to spend exercising.
Croyez Studio is the first and only authorized POWERPLATE® and NARL® studio in Asia offering both personalized training as well as interactive group workouts. This exclusive studio is perfect for individuals seeking frills-free workout with a view. Classes run for 7 days a week with many different variations depending on the type of workout you are looking for.
Since many of us were novices to Power Plate® equipments, the instructors gave us a quick run-through of the buttons and functions before we proceeded to 40mins of Croyez Studio most popular class – P Box.
Designed to get your heart pumping and your sweat glands activated, the P Box moves were inspired by Muay Thai, Taebo, Body Combat & MMA. While the non-stop cardio movements with the energetic music kept us focused, the 1kg weights on each of our hands and and the constant vibration of the Power Plate® tested our endurance.
Every part of my body felt the intense workout; especially my arms (my upper body has always been weaker). There were no breaks during the 40mins workout and you just had to keep going, pushing your limits and maximising your workout time.
The instructors enthusiasm were contagious and they successfully managed to keep everyone fully participated for the whole duration.
One of the interesting uses of the Power Plate® is that with the right settings, it can also help to massage our tired muscles at the end of the intensive session.
I think this was probably everyone's favourite portion of the workout!
We all took awhile to calm down before taking more photos around the studio.
If you have ever considered trying out Power Plate®, joining Croyoz Studio is highly recommended. Just remember that this is not suitable for lazy unmotivated people. In fact, it is structured for those who want results faster.
For those looking to lose weight, you might be pleased to know that the vibrations mean you can lose 50% more weight than people using more conventional gym equipment. And if that isn't enough, Croyez Studio also has the NARL® machine.
"NARL means NorAdrenaline ReLease.
A unique, safe and patented combination of ultrasound frequency and intensity enables a local release of noradrenaline, through a specific stimulation of the sympathetic nerve terminals. This local noradrenaline release will trigger a natural lipolysis from nearby adipocytes.
Local fat loss is observed if the released Free Fat Acids and Glycerol are burned (used as energy). This localised stimulation bypasses our central nervous system, hence there is no fat rebound effect, and long lasting results are guaranteed.Lipolysis is activated by catecholamine (adrenaline and noradrenaline) and it relates to the breakdown of Triglycerides contained in our fat cells (adipocytes) into FFA and Glycerol, source of energy.
Once FFA and Glycerol are released in blood stream, they have to be burned. If not, this energy will be re-synthesized into fat by homeostasis principle.NARL is clinically proven to be effective locally and on all kinds of fat (cellulite, subcutaneous and visceral)."
Using the machine before your workout is recommended for the best results.
Raphael and I had muscle aches the next day but nothing that was too tough to handle. Regina on the other hand ached for days so it really varies from person to person.
Even though it is supposed to take a couple of sessions to see firming results, amazingly, both Regina and I felt our muscles firm up almost instantaneously. For more info, check out their website.
Croyez Studio
Blk 8D Dempsey Road
#03‐06
Singapore 249672
Website: http://www.croyezstudio.com
Facebook: https://www.facebook.com/powerplatesingapore
Thanks for reading! Have a wonderful weekend!