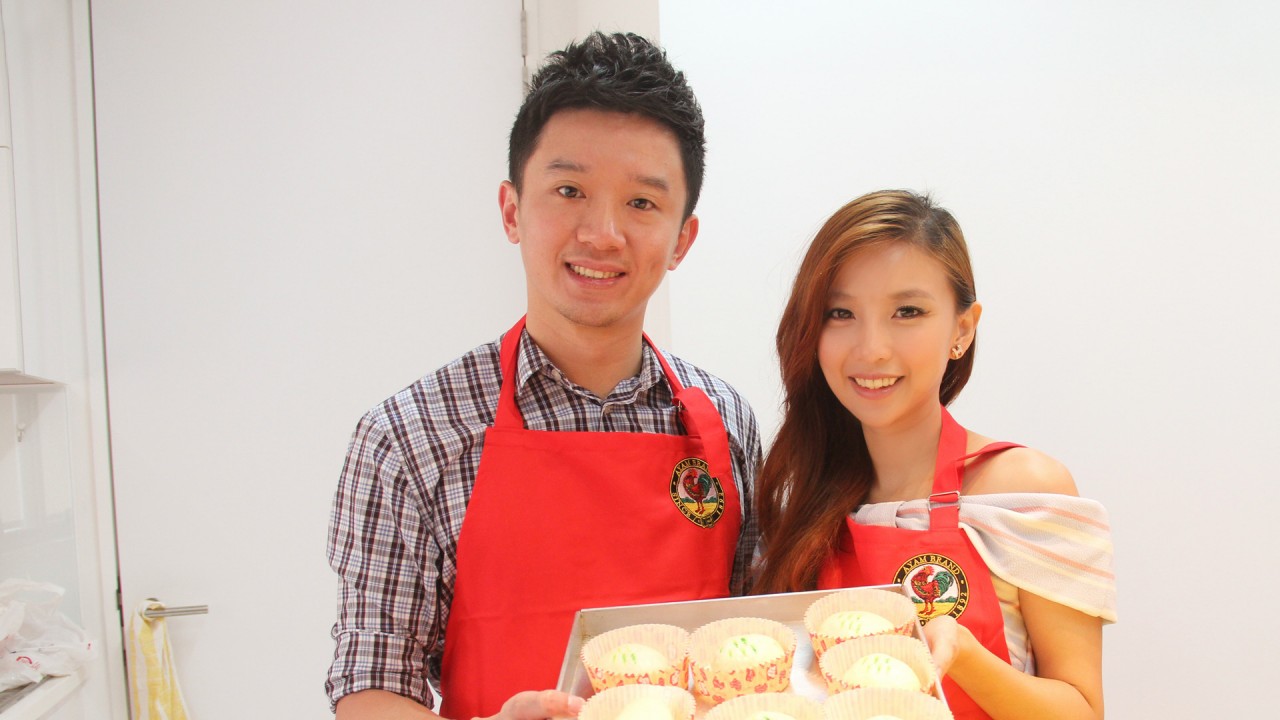 I've known Ayam Brand for as far back as I can remember. As a little child, my mother will always make me pick up Ayam Brand products whenever we go shopping at the local grocer and I got so used to the taste, as an adult, I still unwittingly pick up Ayam Brand products whenever I shop at the supermarket. Ayam Brand is ingrained into my childhood memories and despite being a French brand, it has an air of home grown nostalgia.
Ayam Brand is presenting the Food Memories programme as part of the Singapore Memory Project – Memory Maker Series, to capture and create precious food memories for Singaporeans.
It was a lovely Sunday morning spent with culinary instructor Madam Tay Tong San as she showed step-by-step how Raphael and I could create some yummy local heritage dishes.
I do cook simple dishes from time to time but the thought of recreating local dishes like nasi-lemak and making fresh otak-otak still sounded rather daunting to me. Surprisingly, the steps were amazingly easy to follow and we found ourselves enjoying the cooking process throughout the class.
A lot of the ingredients were made using Ayam Brand products which simplified the cooking process without compromising on the eventual tastes.
The first thing we made were Ayam Brand curry buns.
The filling was made with the use of Ayam Brand Nyonya Curry Paste.
It was really fun making the bread dough as we had to knead and pound it into shape.
Raphael wanted to be unconventional so he made a special one that's oblong instead of round which I think actually looks much better.
One of the best smells you can have in your kitchen is freshly baked bread. It simply lifts your spirits up!
Next, we made our own otak-otak! I personally love otah and I was so surprised that it's so easy to make it yourself using Ayam Brand Sardines in Extra Virgin Olive Oil and Chilli and Ayam Brand Coconut milk.
This home made version is so delicious and much healthier then the ones you buy outside. I'll be sharing the recipe so you can attempt this in your kitchen too.
Sardines Otak Otak
Baking Temperature: 200C
Baking Time: 12 minutes
Ingredients:
100g minced fish
1 tsp coriander powder
10g galangal
20g dried chilli paste
3 candlenuts
5 small onions
1 stalk of lemongrass
50ml Ayam Brand coconut milk
1 can of Ayam Brand Sardines in Extra Virgin Olive Oil and Chilli
1⁄2 piece of egg
1 tbsp of sugar
2 tsp corn flour
2 pieces of lime leaves
Preparations
1. Blend galangal, turmeric, dried chilli paste, candlenuts, garlic, small onions, lemongrass and oil.
2. Heat oil and fry the blended ingredients till fragrant. Put aside till cooled.
3. Add in minced fish, sardines, coriander powder, coconut milk, sugar, corn four, egg and kaffir leaves.
4. Place the paste onto banana leaves and bake it.
Next, we went on to make Nasi Lemak using Ayam Brand Coconut Milk and the Sambal Chilli with Tuna.
The  Sambal Chilli with Tuna is essentially a mix of blended spices stir-fried together with Ayam Brand Tuna in Olive Oil and Ayam Brand Red Curry Paste.
As a bonus, Madam Tay shared with us how to make Acar as well. This was done as part of a group effort and my job was to help dry up the cut vegetables!
I love Acar because it reminds me of my mother's nyonya cooking and it's a rather distinctive dish that represents the unique heritage of Singapore and Malaysia.
The last dish we made was corn kueh using Ayam Brand Cream Corn, Ayam Brand Whole Kernel Corn and Ayam Brand Coconut milk.
I haven't had corn kueh since I was probably about 10 years old and here I am making my own.
After all that hard and satisfying work in the kitchen, it was finally time to put all the things we made together and enjoy a sumptuous brunch!
Thank you Ayam Brand for the experience and for showing me the many easy ways I can cook iconic local dishes at home. If you'll like to learn how to do so as well, the Singapore Memory Project – Memory Maker Series will provide a free fun and hands-on cooking experience for the whole family!
Up-coming English sessions:
Up-coming Mandarin sessions:
You can register at library e-kiosks or at http://www.nlb.gov.sg/golibrary. Each session is limited to 50 participants and children below the age of 12 must be accompanied by an adult.
Submit your memories of the dishes during the programme and receive a free Ayam Brand product. The best memory will stand to win a Ayam Brand goodie bag as well. What's more? Recreate the dishes at home and post on instagram with hashtags #sgmemory and #sgheritagemeals to stand a chance to win Ayam Brand Heritage Gift Box!
Thanks for reading.