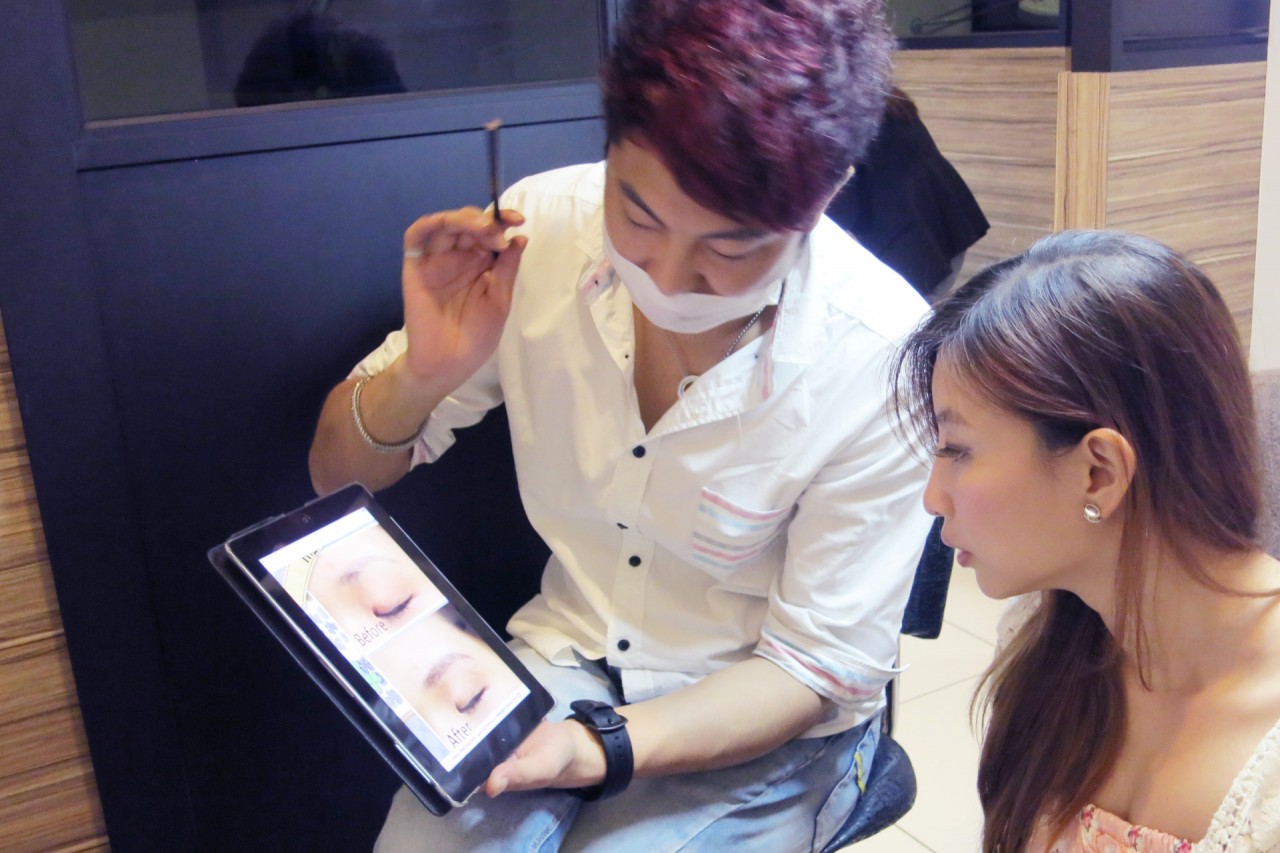 Chinese New Year is round the corner again. Time seems to flow even more swiftly with each passing year and having CNY in January just intensifies that feeling.
One of the things I really wanted to get done before CNY rolls around is my eye brows. I actually did my "Brows Enliven" which is a more sophisticated version of eyebrow embroidery last year with High Brow. However, since I was traveling so much, I never had time to head back for my touch ups. Now that a year has passed, I've finally found some time to head back to High Brow again.
If you have not done your brows before, please go and do them because it makes your face so much fresher and newer without having to do anything else. I had stayed away from brow embroidery for many years because I've seen many ladies (especially the older ones) with ugly greenish eyebrow tattoo remnants. Thankfully, I had a chance to learn about High Brow's "Brown Enliven" that works on only the surface skin so that I'll never get such ugly scars. More importantly, it is the most natural looking semi-permanent technique in the market.
Having a skilful eyebrow specialist is very important and I highly recommend Andy of High Brow. He has many years of experience and has a good sense of aesthetics, allowing him to properly recommend you the right type of eyebrow to suit your face shape.
Above, you'll see some of the more common brows requested or recommended to customers at High Brow. I really wanted to continue with the straight Korean styled brows that Andy recommended to me last year because I had so much positive feedback from that. In fact, with the new surge of the Korean Hallyu Wave, most of High Brow customers do request for straight brows as it make them look younger and less sinister.
I was ushered in the private room for my consultation with Andy.
After getting all cosy and comfy, Andy started to explain to me the different eyebrow shapes, the method they use and which types best suit my face.
My brows had a very slight arch that I really wanted to get rid off. The first time I did this I wasn't as daring but now that I know the skills of High Brow, I wanted to go all out for thick straight brows.
Since Andy will be using 3 different sizes of blades (a technique that was invented and perfected by him), he will be able to give me the most natural looking eyebrows and even extend the thickness of my brows naturally.
The above shows my " Before" photos. My eyebrows are already much thicker than they originally were because of my first Brow Enliven with High Brow more than a year ago. But there was a small arch and some places were a little faded because I never came to fully make use of the free touch up.
To give me an idea of how my brows would look like, Andy then used a black eyebrow pencil to draw in the eyebrow shape that he  recommends. This way, I get a good visual before deciding to proceed.
I was intending to dye my hair in a rather light shade a few days after this appointment (it turns out that I dyed a really bright red for my hair!) so Andy recommended I do my eyebrows with a brownish tint rather than a black one. It'll make my brows look softer and more natural when paired with my new hair colour.
Once I gave the "OK" on both the shape and the colour, the next step was to numb the skin around my eyebrows.
Numbing cream slapped on then a cling wrap to make sure it stays in place.
It takes about 10 to 15 mins for the numbing cream to work its magic. Meanwhile you could grab a drink, take a nap or read magazines.
After which, Andy starts to work on your brows. Every single blade that is used is sterile, new and disposed off after each Brow Enliven session to ensure the utmost hygiene level.
It was completely painless and fast. I could barely feel the blade scratching the surface of my skin. I love painless procedures.
Yay! Nice new brows! My skin is very sensitive so my brow area was a little red immediately after the session but it wore off in a few hours. Just changing the brow shape gave my face a much fresher and younger look. I don't even need to draw my brows anymore for the next 18 months.
There is a special High Brow home care kit to help you moisturise the skin beneath those brows for the next 7 days.
High Brow also offers other services such as semi-permanent eyeliner or lash extensions. I haven't tried those before but I can consider them next time since I'm always so happy with their semi-permanent brow treatment.
The lady in the white dress is Cynthia, the owner of High Brow. I was informed that she's currently opening up High Brow for local and overseas franchise opportunities.
The guy in the photo is none other than Andy, the brow specialist. If you do "Brow Enliven" , you have to look for him! His skills are excellent! One of my readers who recognised him from my previous blog post contacted me to tell me how happy she was to finally find him again. He did her brow many many years ago when he was in a different company and after he left, she couldn't find anyone that could do the brows for her the way she wanted.
The photo above was taken the day after my "Brow Enliven" (eyebrow embroidery) session. As you can see, the redness has dissipated and even with bare skin, the eyebrows help to frame my face nicely.
Finally, this is how I look 3 days later with my new red hair. I think the brow colour and shape that Andy picked for me is perfect! I bumped into one of my regular readers, who was also heading to (Naoki Yoshihara by Ash) for a hair cut and she said I look really different with my new hair and eyebrows. Upon close inspection of my brows, she was completely amazed that she almost couldn't tell the difference between my real brow hairs and the ones that were drawn on. She immediately made a booking with High Brow so that she can have nice brows for the new year as well!
If you are looking to prep your CNY with a new brow makeover, it's not too late to secure an appointment with High Brow.
High Brow
The Star Vista #B1- 25, 1
Vista Exchange Green, S138617
Tel: 6694 2777