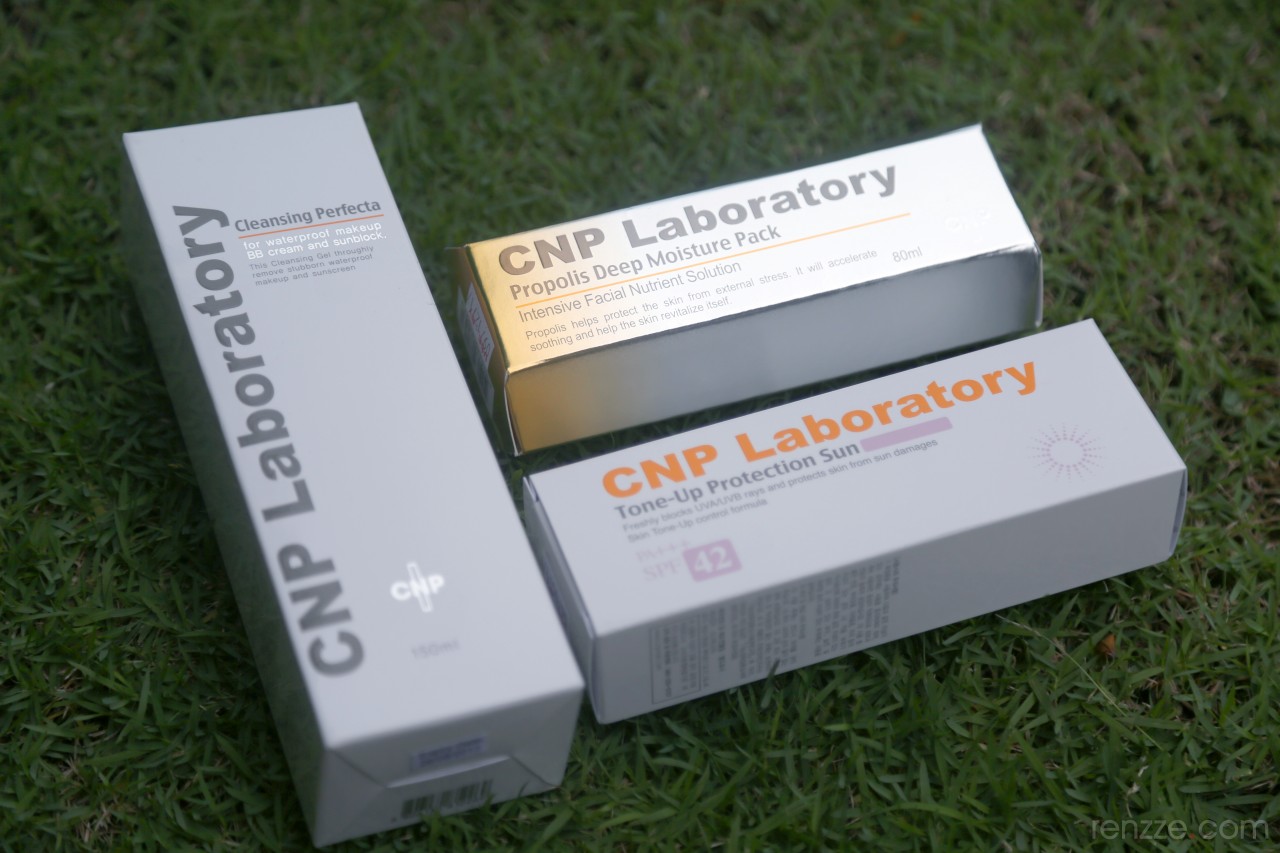 There is so much to see and do in Japan that I literally had to schedule some time to stay in and rest up so I can finish up on some of my work. As much as I love traveling and experiencing new places and cultures with friends, the introvert in me demands that I stay indoors to read, write and just chill from time to time.
After finishing some important reports and replying a couple of email, I found that I still had time and wifi (I have limited wifi connection daily) to slot in a blog post.
I first encountered CNP Laboratory products earlier this year. But since I insist on doing thorough testing on beauty products (for at least 2-3 weeks for each brand ) and given the number of beauty products I have on hand to try, it has taken me till now to share my thoughts on it.
To give you a little background about this Korean brand, CNP Dermatology was founded in 1996 with its first clinic in Yangjae, South Korea. Recognizing the importance of good after-treatment home care to address skin issues, the founders of CNP started their own product research and development in 2000. Just a few months into the year, CNP Cosmetics was born. Today, CNP Cosmetics is a leading pharmaceutical-level cosmetic line that has won numerous industry and consumer awards for its efficacy.
As a top derma cosmetic brand in Korea, you can be assured that they don't compromise on quality. They have a rather large range of products for different skin issues with more products being added every season.
I'll be sharing on the few products that I've tried and like.
CLEANSING PERFECTA (150ML)
Cleansing Perfecta is a specially formulated hypo-allergenic oil-free deep cleanser targeted at all skin types to remove makeup. It is a cleanser to that removes makeup such as BB cream, sunblock and foundation without stripping the skin of its natural pH level.
To be honest, I was on the fence with this one. I didn't love the texture which was somewhere in-between a oil cleanser and a gel cleanser but I did get used to it after a few uses.
I don't usually put on any foundation or much makeup on a daily basis so this does a pretty decent job at removing my sunblock and blusher without leaving my skin feeling taut.
However, I always believe in double cleansing if you do wear makeup and in investing in a proper eye and lips makeup remover for waterproof cosmetics. For the lazy peeps who would rather fall into bed with a full painted face instead of going through so many steps, then this is something you can consider looking into.
ANTI – PORE BLACKHEAD CLEAR KIT (3 SET)
My personal favourite blackhead removal mask, this 2-step mask is specially designed to remove blackheads and excess sebum to achieve blackhead-free skin without squeezing.
Step 1 consists of the blackhead clear mask which gently dissolves blacheads and sebum with out any harsh physical abrasions so it works well for those (like me) with sensitive skin.
The natural ingredients work to soften and dissolve the blackheads. For a more effective removal, you could steam your face to open up the pores before applying the mask.
After 10 – 15 minutes ( I left mine on for longer as I was busy doing a blog post), you can then use the enclosed cotton bud to rub the skin around your nose in a gentle downward motion.
See all the white spots on my black cotton bud? Those are the whiteheads that I've removed from my nose. There are probably blackheads removed as well but it is harder to spot on the black cotton bud.
Raphael (who loves any blackhead removing products) also tried the mask and his results were even more obvious compared to mine.
I'll attribute his more obvious results to the fact that he has a much larger nose then mine and thus, a bigger surface area for removal. Nevertheless, it's a very satisfying feeling to see that you've removed blackheads and whiteheads from your nose. It feels so much cleaner!
Step 2 is a pore tightening mask to minimise the appearance of pores. Put this on for 5- 10 minutes to let the witch hazel ingredient tighten the pores and moisturise it after the removal process. Zinc PCA is added to help control the sebum so your pores will look smaller.
Remove the mask and pat the area gently to allow the remaining soothing gel to be absorbed into skin and you are done!
PROPOLIS DEEP MOISTURE PACK (80ML)
CNP Laboratory has a wide range of mask but I was recommended to try the Propolis Deep Moisture pack. Before I continue with the review, I'll like to state that by-products from bees are a known allergen so if things like propolis, honey or royal jelly triggers any reaction to your skin, it's best to stay away.
Propolis helps protect and sooth the skin from external environmental factors, restoring our natural skin barriers. Used at night as a sleeping pack, it provides intensive hydration and has antioxidant properties that leaves skin soft, smooth and firm.
I love sleeping masks cause they are so fuss free. I have a layer of the mask on the photo above but it's transparent and doesn't capture well on photo.
Once or twice a week, gently apply to cheeks, forehead, nose, mouth and neck. Pat with palms so that moisture pack is well absorbed. Wash off the following morning with lukewarm water for a more hydrated skin.
That's all the beauty reviews I have for you today. It's a really cold day in Japan now and I'm gonna warm up by having a hot soak in the bathtub.
Thanks for reading and have a great week.