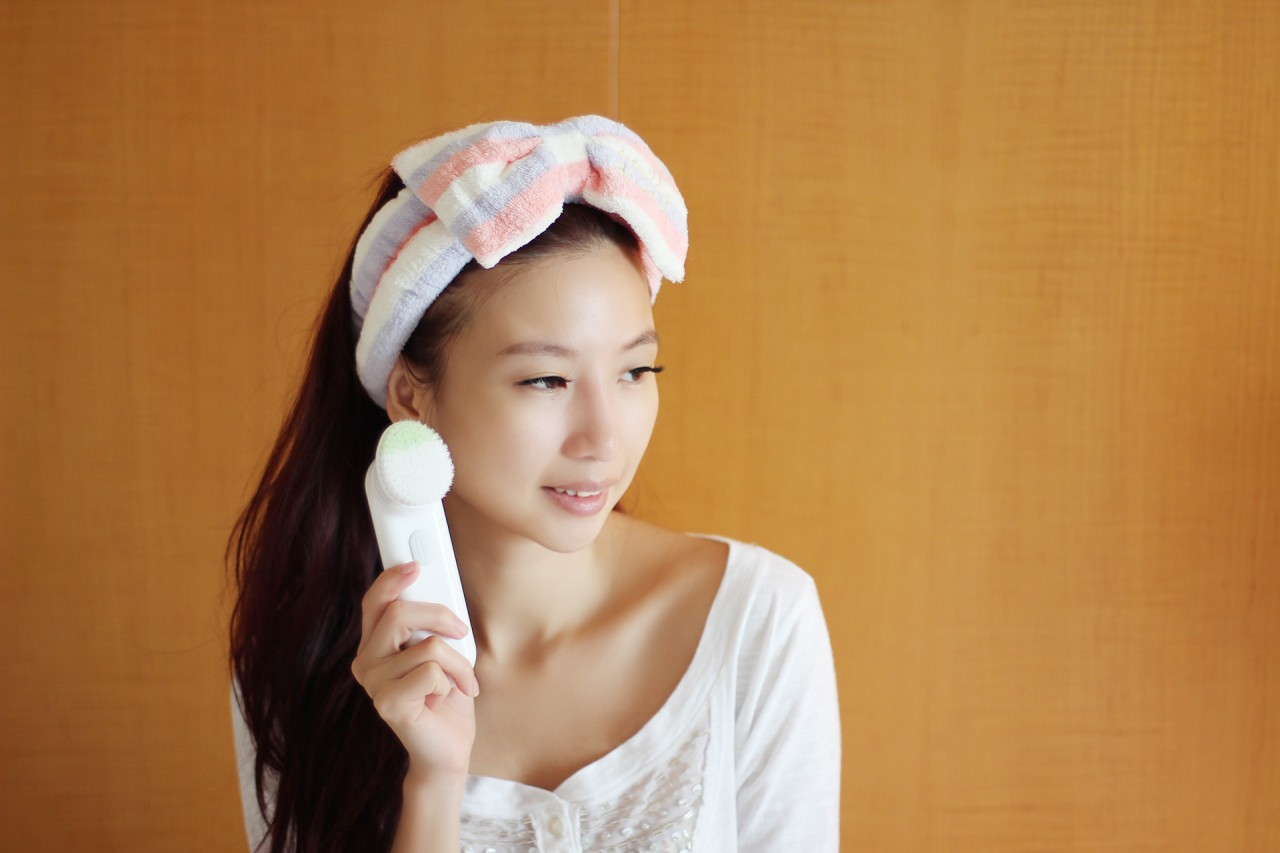 Sonic System face cleansing brushes have been on the beauty market for years and I was an early adopter. I still remember scouring Macy's while I was in Los Angeles in 2007; searching high and low to track down a particular brand's sonic face cleansing brush after seeing it on Oprah's favourite things.
The early versions of the electric cleansing brush didn't sit well with my delicate sensitive skin. Despite shelling a pretty penny for it, the high powered intensity and the stiff bristles gave my face a breakout instead of improving my complexion. Since then, technology has improved by leaps and bounds. I did not give up on sonic cleansing brushes and after testing a few improved versions, I found one that suited my skin as long as I capped my usage to no more than twice a week for deep cleansing. I don't usually wear any foundation and my makeup routine these days comprises of nothing more than a light dab of blusher. There are always occasions that require me to put on more makeup then usual and it's on these occasions that sonic brushes truly shows it's effectiveness in removing all impurities and traces of makeup from my face.
In the game of sonic cleansing brushes, Clinique is a little late in embracing the technology. However, one of the perks about being a late entrant is that Clinique is able to study the sonic cleansing systems of its competitors and gain valuable feedback in order to rectify and fine-tune the brush to perfection.
One of the most common issues faced by women who have tried sonic cleansing brushes is that it may not always be suitable for dry or sensitive skin. Harsh cleansing and over-exfoliation can strip the skin of its natural oils, causing irritation. Clinique addresses this problem by working with their dermatologists to come up with the gentlest brush in the market that is specifically targeted to work on even the most sensitive skins.
At the pre-launch event of Clinique Sonic System Purifying Cleansing Brush, I got to see a cool demonstration on how the brush works over a wet piece of tissue without causing it to break at all.
Despite the gentle nature of the brush, it still manages to effectively banish impurities as the bristles vibrate more than 10,000 times a second.
I've tested Clinique's Sonic System Purifying Cleansing brush for about a month now and it's so gentle that I confidently use it as part of my deep cleansing routine every night.
The ergonomic removable brush head has an angled tip for you to properly cleanse the hard to reach places.
The green bristles are stiffer and meant for your T-zone areas such as the sides of your nose while the white bristles are much softer to minimise over-stimulation of skin on the more sensitive areas like the cheeks.
The Clinique Sonic System Purifying Cleansing Brush comes with a charging holder that can be charged using a plug or through USB which is great for travelling.

I've been told that based on a twice a day (30 seconds each use) usage, it is possible for one full charge to last up to 6 months. Fantastic for frequent travellers like myself, I've not had to recharge the brush since I first started using.
Safe to use in the shower, one touch of the button will render the device vibrating for 30 seconds before it auto cuts off.  I know many users who would prefer a longer cleansing routine but I personally keep to the 30 second routine to avoid over stimulating my skin. That short duration is more than enough to increase my blood circulation under the skin.
Here's a short video demonstrating my cleansing routine using the brush.
[vc_column width="1/1″][vc_video link="http://youtu.be/b1zzqrdXqGU"][/vc_column][vc_row][vc_column width="1/1″][/vc_column][vc_column][vc_column_text]
You can use any cleanser that you like (as long as it doesn't contain any exfoliating particles) with this brush and choose to apply it on the brush head or directly to your face. As you can see from my video above, I'm currently using Clinique's Mild Liquid Facial Soap and I would apply it directly on the wet brush head before gently running it all over my face.
Because bacteria thrive in damp environments, keep your brush clean and mildew-free. I'll pat it with a towel and let it air-dry in the holder after each use. Once every 2 weeks I'll sanitise the brush head by wiping it down with a piece of rubbing alcohol towelette.
My face is cleaner with the use of the brush so products such as moisturisers and anti-ageing serums penetrate better and work faster. These series of photos are taken right after cleansing with the brush and I love the glow of my clean skin!
If you feel that your cleansing routine needs an update or if your treatment products aren't working as effectively as you hope, you can consider investing in a deeper cleanse with the help of a sonic brush. Clinique Sonic System Purifying Brush is available over their counters at S$149.
Thanks for reading.