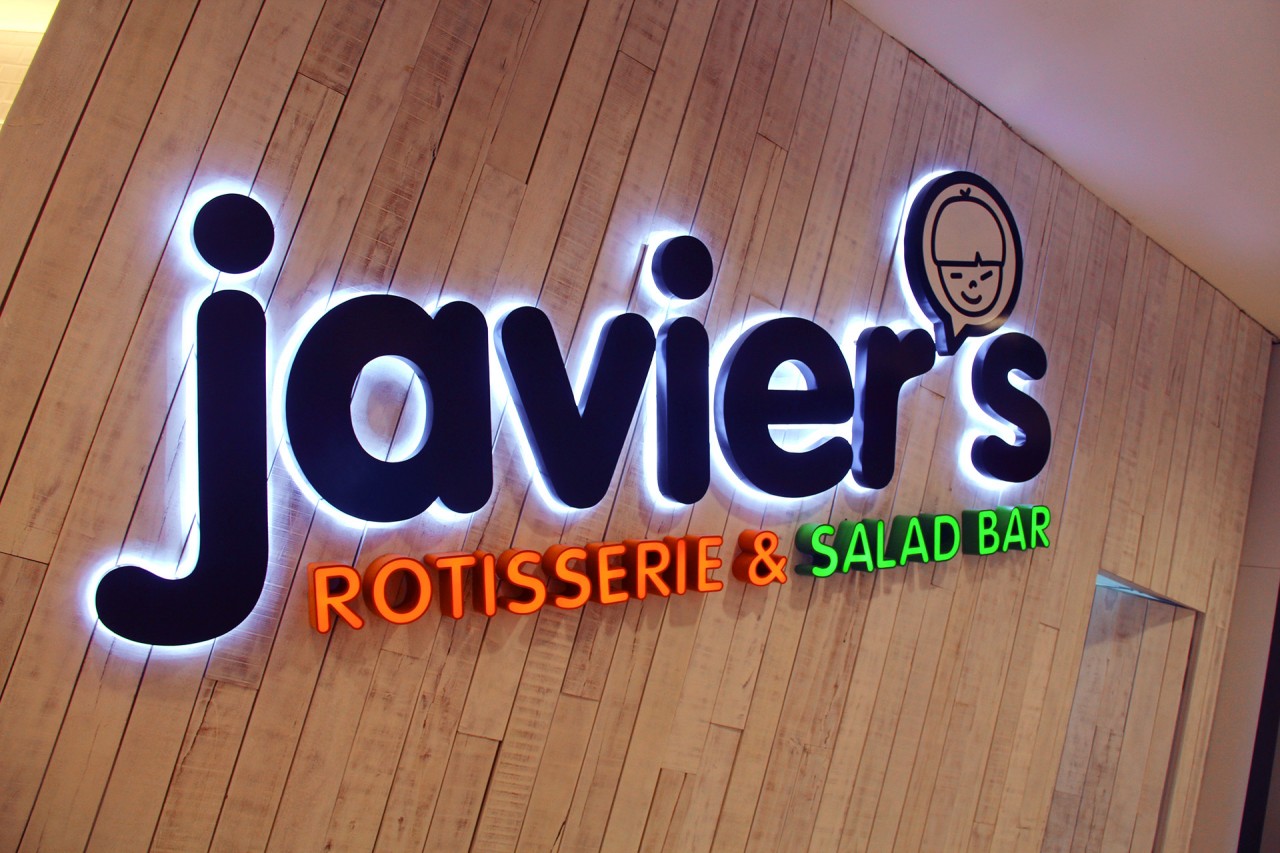 I can't resist good food especially when it's coupled with a good deal! From now to 3rd August 2014, City Square Mall is offering a whole selection of awesome food promotions from their various participating tenants!
I explored two of City Square Mall's restaurant in my food trail starting with Javier's Rotisserie & Salad Bar. 
I love the clean, casual and non-pretentious vibe of the restaurant.
The first thing that struck me as I entered Javier's Rotisserie was the immense selection at their buffet salad bar. With more than 30 over items, there is something for everyone!
Value for money, this is one place to check out when you are feeling famished! Most of the main meals comes with one serving of the salad buffet and you can stack your selection as high as you want!
The main stars of Javier's Rotisserie, however, remains their slow roast meats. You can actually catch the meats roasting in plain sight just behind the salad counters.
For a casual restaurant with friendly prices, the roasts are pretty outstanding.
I love their roast chickens which come in two choices. The Signature Rotisserie Roasted Chicken (quarter $19.90) and the Spicy Roasted Chicken Madagascar (quarter $19.90). Both were delicious but I personally favoured the unique taste of the spicy version that carried special spices imported from Madagascar.
The Famous 6 oz ($25.90) is a roast beef that have been slow roasted for more than 8 hours. The cut of the beef is not great but with the superb slow roasting method, they were able to bring out the best that the beef had to offer. Check out the even pinkish tint through out the generous cuts.
Next, we had the Lamb Shank in paprika stew topped with mint yoghurt ($28.90). To be honest, I've never been a big fan of lamb due to the meaty after taste. Javier's Rotisserie & Salad Bar did a great job and tenderising the lamb and balancing the tastes with yogurt and mint. Since most lamb shanks are paired with red wine sauce, I found the paprika stew to be an interesting twist with a more local flavour.
Finally, we come to the Roasted Belly of Pork with pistachio and garlic ($23.90) which is another highlight and favourite amongst the meats I've tried. It's not an easy task to roast pork belly without drying it out and still maintain the absolute crispiness of the skin.
Each bite was juicy and succulent while health conscience diners would be glad to know that the skin is already severed from the main portion of the meats so its much easier to avoid the fattiest parts. Personally, I can't have my pork belly half-hearted and the combination of lean meat, fats, pistachio & garlic stuffing juxtaposes with the crispy pork skin perfectly.
With the current promotions, you'll get a free Manchester United water bottle with every S$50 spent.
Javier's Rotisserie & Salad Bar
City Square Mall
180 Kitchener Road
#04-14/16
Singapore 208539
Contact: +65 6509 5751
My next stop was at Marutama Ra-Men! I've heard many good feedbacks from Ramen lovers about Marutama Ramen and I only just realised that they have an outlet in City Square Mall.
For those who haven't tried or heard about Marutama Ra-men, they are famous for using 100% chicken broth as their soup base. I normally prefer pork broth based ramen but Marutam's version won me over.
One of their best sellers is the Zenbu ramen ($18) which offers a whole array of toppings including pork belly stewed in special sauce, char siew (slice roast pork), seaweed and spring onion. Zenbu Ramen comes with an egg but if you try any of the other ramen, you simply must ask to add-on their Hanjuku Tamago (soft boiled egg) as theirs is so perfectly cooked, it will leave you wanting more. The cloudy chicken broth has a rich and tasty. Since no MSG or artificial preservatives were used, they rely completely on long hours of stock boiling to extract the essence out of the chicken bones.
For spice lovers, try the Karashi Ramen ($12) that comes with one slice of char siew, seaweed, spring onions with the noodles. All the noodles in the ramen is done Hakata-styled. The springy thin noodles are probably my favourite part of the delicious ramen served at Marutama.
Having the option to add heaps of fried garlic pieces were an added bonus!
If the lone piece of  exquisite char siew in the Karashi or Marutama Ramen is not enough for you, you can order additional Yaki Char Siew for just $6.
Other side dishes you can consider ordering would be the Yaki Gyoza ($5), the Daikon ($4) or the Chawan Mushi.
Although the Hokkaido Milk Tea ($3) is the hot favourite amongst their customers, I personally fell in love with their Yuzu Calpis ($3.60) which combines two of my most favourite elements – Yuzu and Calpis – in one single drink.
With the current promotions at Marutama Ra-Men, it's only S$1 for a special drink or dessert with every ramen order! I'll be back there to try the Aka Ra-men next time!
Marutama Ra-Men
City Square Mall
180 Kitchener Road
#04-18
 Singapore 208539
Contact: +65-66345285
Thanks for reading!