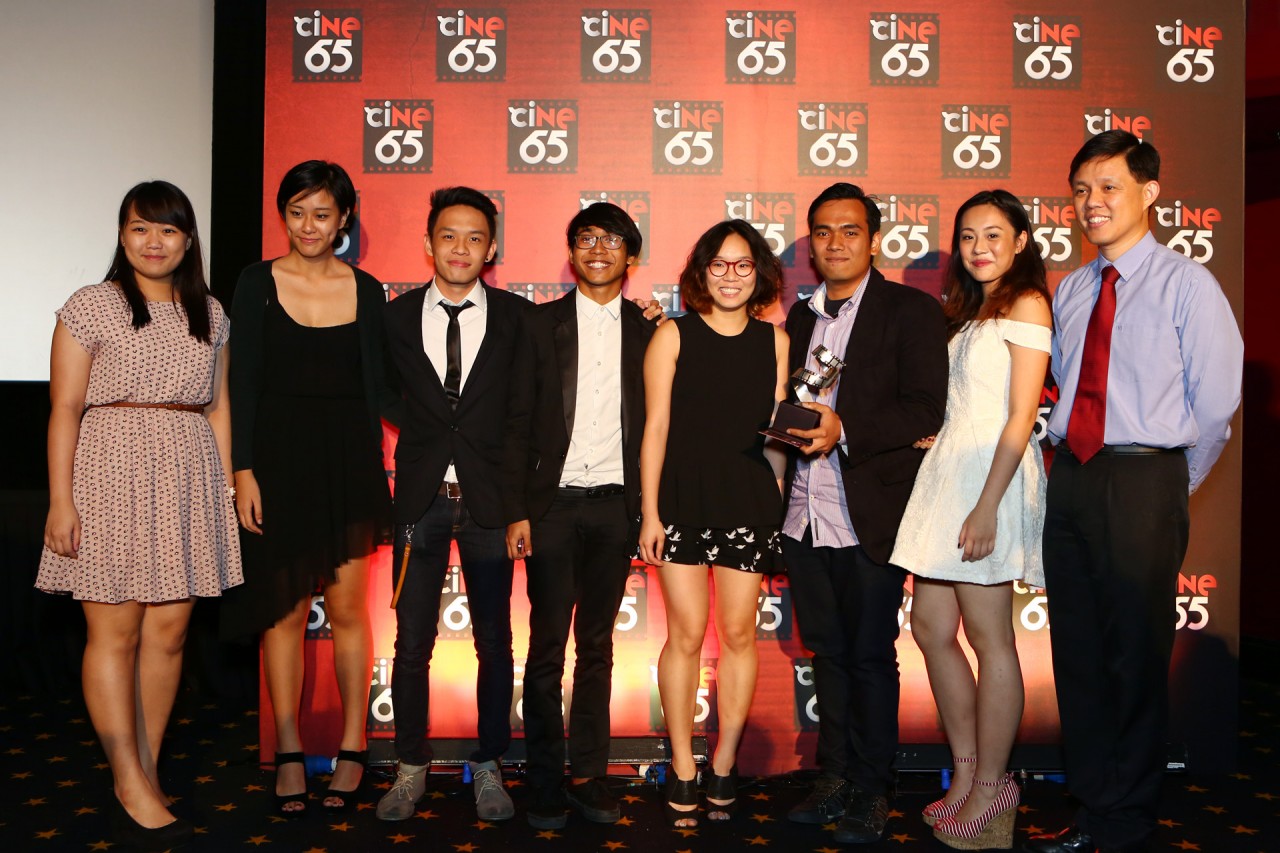 Organised by Nexus, ciNE65 is a short film competition for film-makers to share stories about Singapore and I love how this opens up possibilities for local film makers to showcase their talents as well as encourage more involvement and awareness for film making in Singapore. The theme of this year's ciNE65 films is "I'll Be There For You, Singapore". It has been an exciting journey watching how various teams came up with their own interpretation of the themes and finally the winners were announced in the Awards Ceremony held on 9th July 2013. There are 2 categories in this competition, the student category and the open category. Both categories definitely out performed themselves and I was very amazed to see how much the standard of film submission has gone up compared to last year. I have a weakness for perfectly executed creativity and I think both the student and open category winners for Best Overall Film are very impressive in this regard. They did so well and conveyed so much in the 3 mins time limit given for their videos, it made me very proud to be Singaporean.
There are so many good short films but I'll be highlighting the only my 2 personal favorite winners so I can give you a slightly deeper insight. Please go ahead to view the rest of the winning videos at ciNE65's official website or the ciNE65 YouTube channel.
First up is my favorite short film out of this years selected entries – "Priceless". I was secretly rooting for them to win so I was doubly happy that they were the winners of "Overall Best Film" and "Best Screenplay" in the open category. I could tell you about the film but I highly suggest you watch the short film for yourself below before proceeding to read further. Otherwise, known as a spoiler alert.
This year, I had the liberty of interviewing the winning teams. In "Priceless", the director only took a half day to complete the entire filming. The creative inspiration came from the director, Kenny Tan's own childhood memories of collecting erasers with flags on them. Since I'm about the same age as the director, I, too, distinctively remember that collecting erasers with flags was really trendy for school children of that era. The eraser with the Singapore flag is much sought after, partially because it's rare but more importantly, because we recognized from an early age that that is the country we call home and which we associate ourselves most with. I love how the clip was short, simple and still managed to convey the message to the audience without much words needed. "Priceless" definitely deserved their win.
The 2nd short film I want to highlight is "Going Away" which won "Best Overall Film" in the Student Category. Once again, please watch their short film below before proceeding to read further to prevent spoilers.
I think that generally, the students teams really upped their game this year especially in terms of editing and art direction. But "Going Away" is a favorite with me because I truly enjoy how the director/screenwriter expertly set the stage for the little twist at the end. Other than going away to NS being an unexpected destination, by showcasing a female instead of a male, he further emphasized in a subtle but powerful way that everyone plays a part in being there for Singapore and not only those that are expected to do so. I think that he was very clever in bringing the whole concept and film together beautifully within 3 mins.
I look forward to viewing what ciNE65 has in store for us next year. I'm sure my 2 favorite short stories have leaving you wanting more and you can view the rest of the winning videos at ciNE65's official website or the ciNE65 YouTube channel. I'll also like to thank Nexus for the photos that they have shared with me for use in this post.