Went to Settler's Cafe for a Christmas party! The dress code was Christmas (duh!) and I wore a red and black BCBG dress with antlers! Yan's version had bells on it and I also wore Mel's Christmas hat for a game or two at the party!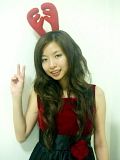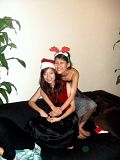 We all had to bring a gift for exchange! Mine was a glass ornament with a beautiful Christmas snow scene hand painted from inside the glass ball! I'm glad Shermaine liked it! And I got Jay's gift which is a very cute pig radio! Lol… at first I couldn't figure out what the pink pig was for… =) Thank you!
Reached home in the wee hours of the morning and was really drained out but I still managed to take some Christmas pictures with my darling sis and Louis. Had to wake at 9am the next morning! So if you see me with dark eye circles in my pictures for the next couple of posts… you know why!