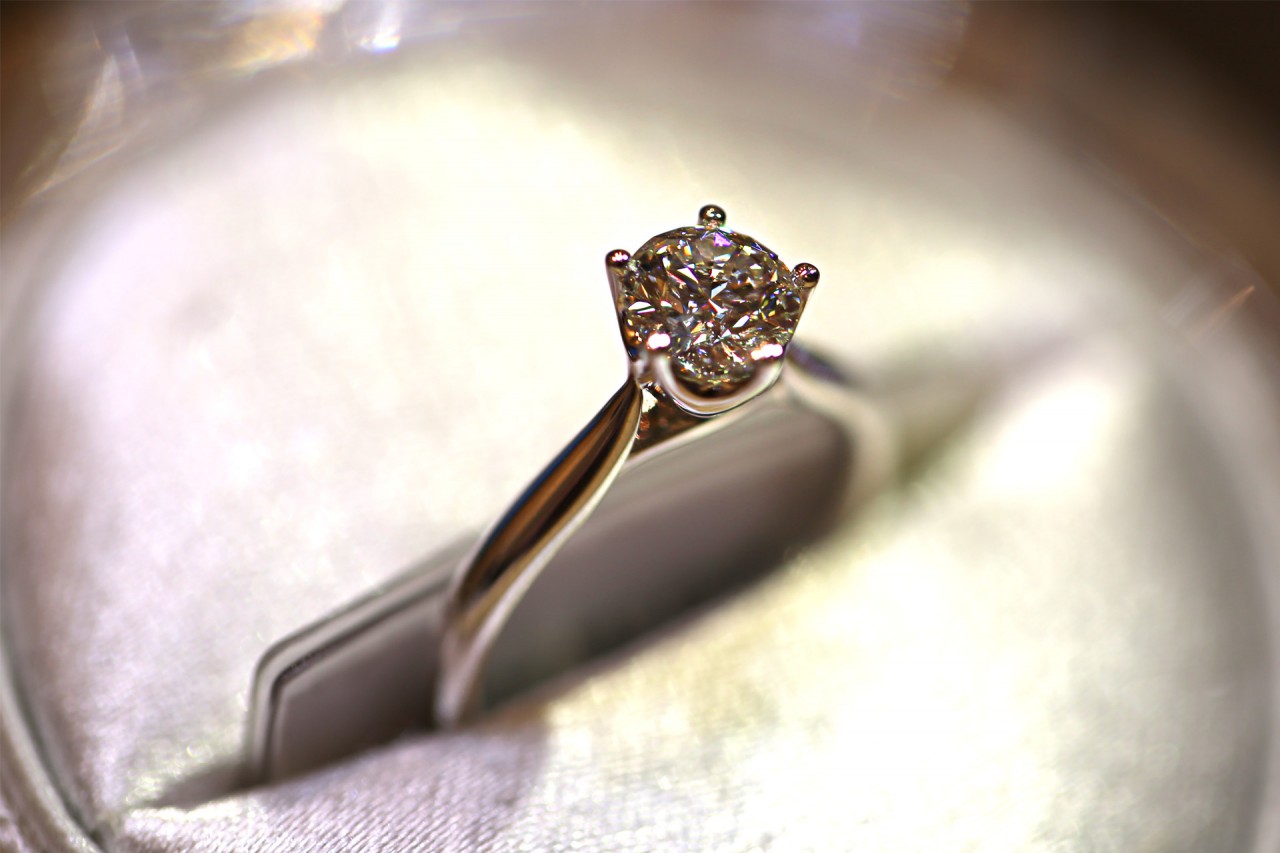 Valentine's Day is just a day away and it was the perfect time to check out Love & Co, the premier jeweller whose heart is in creating beautiful jewellery that celebrates the joys of love. To be honest, I've helped a couple of friends with ring selection through the years to have learnt a thing or two about buying an engagement ring, wedding rings or just a token of love. In the spirit of celebrating love and inspired by my visit to Love & Co, I'll be sharing some of these tips with you.
1. Set your budget
It's good to know your budget before you start shopping for a ring. Buy the nicest ring you can afford. Most of the time people would tell you that you need to spend 3 times your salary for a worth engagement ring while others might insist that you should not consider anything less than a 1 carat diamond ring. If you can afford to splurge, by all means do so but remember that it is better to have a humble ring than to start your marriage or relationship with a debt. Trust me when I say that there is no hard and fast rule to how much you 'should' spend. After all, the ring is a symbol of your love and you can always buy her a better or bigger rock for your anniversaries somewhere down the line. There are many choices at Love & Co to suit your various needs and budgets so let the consultant know what you are looking for so they can help you in your selection.
2. Know her style
If you are intending to buy the ring as a surprise, it pays to take a sneak peak into her jewelry box to see the kind of designs she fancies. What is her style? Is she elegant and understated or flashy and glamorous? Does she like platinum, rose gold, or traditional yellow gold color? Is she into matt finishes or shiny ones? Hopefully you know enough about her to pick a design she'll probably like. You can keep it simple and decide on add ons or inscriptions after you have presented her the ring and popped the question. As an engagement ring can be quite an investment piece, is also common these days for couples to go choose the ring together. If you still want to give an element of surprise for your proposal, you can consider choosing a gift from LVC Charmes or LVC Love Story collection as a token and then head down to buy the ring together after she has said yes. One of the latest offerings from LVC Love Story is a personalised locket and charms. Choose from a whole range of alphabets, numbers and exclusive charms specially designed to express your unique story with your significant other.
3. Find her ring size
Either "steal" one of her rings and bring it down to Love & Co for them to size it up or just buy a generic sized ring and come back to get it altered after the proposal.
4. Choosing the type of rock
Unless you have a very unconventional girlfriend or wife that loves rubies, sapphires or other gemstones, most girls do go for diamonds. Choosing a diamond is an intimate decision as much as it is a discerning one. To determine a diamond's specific characteristics, there's no better way to do so than with the 4Cs – Cut, Clarity, Color and Carat. Universally recognised and widely used in the world of diamonds, this grading system is the genuine test with which everyone needs to get acquainted before choosing a diamond. 
Cut – This is probably the most important C as a diamond with a good cut sparkles with blazing brilliance and scintillation. Diamonds that are cut too deep or too shallow leak light through the bottom or the side of the stone, resulting in a lackluster appearance.
Carat – The carat (one carat = 0.2g) is a unit of mass typically used for measuring diamonds.The heavier the stone, the more you're going to pay. However, through proper mounting and shaping, a master jeweler can make a diamond appear larger than its carat weight might suggest.
Clarity – Clarity refers to the degree to which identifying characteristics known as inclusions are present in a diamond. Defined by the number, size, nature and position of the inclusions, the classification for clarity ranges from FL (flawless) to I3 (inclusions visible to naked eye). The clarity of a diamond is directly proportional to its value. Basically, the fewer the inclusions, the better. When looking at a diamond, avoid stones with inclusions on the top and in the middle, as this can impact the dispersion of light, making it less brilliant.
Color – Unless you are looking for special diamonds in blue or pink, the more colorless a diamond is, the rarer and more valuable it is.
You can consult the diamond specialist at Love & Co. They can also go into details about their signature LYC Lovemark collection.
Each LVC Lovemark diamond is specially selected and crafted to perfection. Only the finest raw diamonds have the qualities to become a LVC Lovemark diamond. An organisation that is committed to social and environmental responsibility, Love & Co. ensures that all LVC Lovemark diamonds adhere to the Kimberly Process. I was also informed that each LVC Lovemark diamond is Ideal Cut, and has achieved the most stringent Excellent grades of Polish, Symmetry and Proportions. To assure their buyers, every LVC Lovemark diamond is paired with a certificate to assure the owner that the diamond has been assessed by the International Gemological Institute, which is renowned for grading diamonds according to world-class standards, assured to be of exceptional Ideal Cut quality and validated with a two-factor authentication with an exclusive rose hallmark inscription.
The certificate presents precise data on the diamond's cut, carat, color and clarity. It certifies the authenticity and integrity of your LVC Lovemark diamonds, and provides assurance for today and many years to come.
5. Choosing a ring style
The most common shape is round but when I was at Love & Co, I saw diamonds in princess cut (square), cushion cut (between a round and a square), pear, oval and even heart shaped ones (from the LVC Precieux collection). Discuss with the consultant about the possible settings that works well with your selected shape. Do you want your ring to be a single solitaire or one that is accompanied by smaller diamonds round the band. The settings is just as important as the rock and the most romantic diamond deserves equally exquisite settings to do its brilliance justice.  All the settings in the LVC Lovemark collection have been carefully considered by master craftsmen to bring out the resplendent beauty of the solitaire.
6.  Couple bands
After the proposal, you might head back to check out some couple or wedding bands. Love & Co has one of the the widest selection of couple bands with advanced manufacturing methods & craftsmanship. Honestly, they have too many choices to mention but I wanted to highlight some of their more eye catching collections.
Limited Edition LVC Promise Anniversary Collection -Inspired by the never ending steadfast action of a bolt and nut working together to form a solid and everlasting integration, these interchangeable rings shows how true love and marriage should be like.The five grooves on the band signify the elements of an everlasting relationship – love, bond, devotion, commitment and togetherness.
LVC Noeud – The symbolic act of tying couple's hands together with ribbons or strips of cloth when two individuals wed is commonly referred to as "tying the knot".  Inspired by this notion, the collection binds two hearts to infinity. Expect lots of sweet ribbons in various forms.
LVC Proponere – Translating to "to propose" in latin, this collection is a beautiful symbol of rays of hope, under which couples can begin their journey hand in hand. Welding gold and platinum together, this collection is a true representation of two become one.
LVC Purete – Inspired by the strength that comes from a long-term commitment, this collection features platinum, one of the rarest metals whose color is eternal.
I hope these little tips and tricks will help you on your ring selections. You've now got a very basic working knowledge of the diamond engagement ring world. March confidentially to that jewelry store armed with your new learnings, take a deep breath, and remember, it's only the rest of your life. But to sweeten the experience for you, enjoy $100 off when you quote "LVCxRenzze" at any Love & Co. showroom!*
*Terms & Conditions: 1. Promotion is valid till 30th April 2016.
2. Promotion is only valid when you quote the "LVCxRenzze" prior to purchase.
3. Promotion is only applicable to the purchase of LVC Lovemark solitaire collection (diamond to be 0.3ct and above) or a pair of LVC Promise wedding bands.
4. Promotion is not applicable with the use of other discount vouchers and/or offers.
5. Promotion is only valid for a single transaction per person.
6. Promotion is valid at all Love & Co. showrooms in Singapore
7. The management of Love & Co. reserves the rights to amend any terms and conditions without prior notice.
If you like to visit Love & Co, they can be found at one of these locations:
ION Orchard
#B2-64, Singapore 238801
Tel: +­65 ­­6509 ­8633
Plaza Singapura
#01-07, Singapore 238839
Tel: +­65 ­6835 ­7533
Suntec City
#01-368, Singapore 038983
Tel: +65 6333 1433
Tampines Mall
#01-25, Singapore 529510
Tel: +­65 ­6789 ­3733
VivoCity
#01-145/146, Singapore 098585
Tel: +­65 ­­6376 ­9033
Westgate
#01-16, Singapore 608532
Tel: +65 6465 9233
Love and Co Facebook Page: https://www.facebook.com/L0veandC0
Love and Co Instagram: @loveandcoofficial
Website: http://love-and-co.com
Thanks for reading and may your Valentine's Day be a cut above the rest (pun intended)!