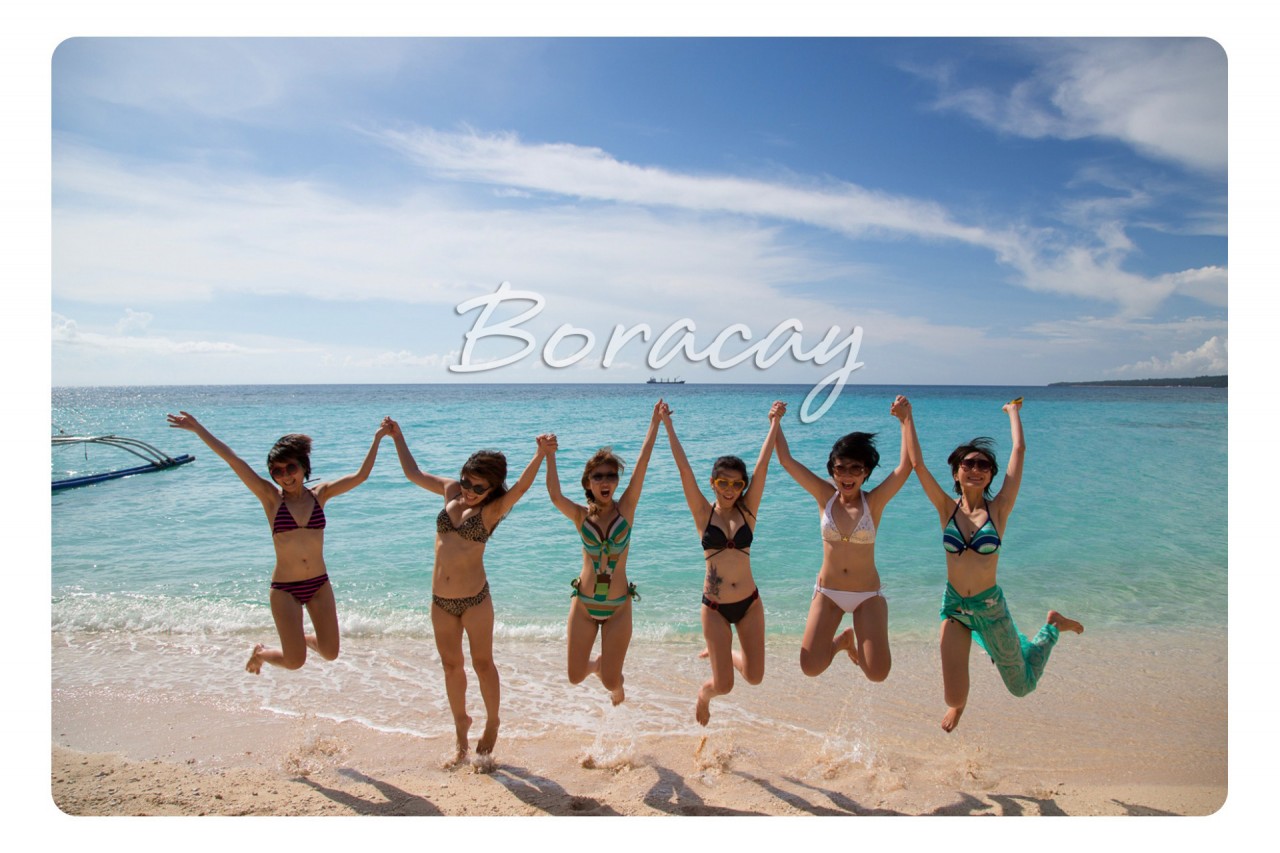 There are many islands in Boracay and thus, many beaches. So far, one has captured my heart – Puka Shell Beach. Named so because the shells on this beach have been used by the locals to create many jewelries and souvenirs.
If you are on an island hopping package, make sure you have Puka Beach on your list of islands to stopover.
Alternatively, just rent a paraw (like the one pictured  above) and sail to Puka Beach for approximately 700 pesos (S$20.50) because that's exactly what I'll do the next time I'm in Boracay. I left that my trip to the beach this time was too short and I want to spend an entire day just sunbathing there.
If you are on a budget, you can rent a tricycle for 2 and cycle easily. That would only cost you 100 peso (S$3). It's a public beach so its free to access.
I love quiet beaches away from the maddening crowd and Puka fits the bill beautifully.
Located on the northern tip of the island, this stretch of beach is surprisingly empty. Hailing from a city country like Singapore with 5.31 million packed int0 a 710km² area, I can honestly say that I value and relish empty spaces immensely. When the view is stunning, it's an even bigger bonus.
None of the photos here have been digitally enhanced yet the colors are postcard perfect. I can feel my cares and worries melting away as I stroll on the powder fine sands and swim in the clear blue waters. All I need is sunblock, swimwear, a summer playlist with summer songs ranging from Beach Boys and Bob Marley and a good book. I'm prepared to camp the beach till the sunsets.
Jumpshot above courtesy of Jerome Lim.
I love the photo (above) that I took of Clara aka dblchin. This place yet another exciting place for a photo shoot! I can imagine full page editorials or romantic pre-wedding shoots.
The water is so clear you can see my feet as I bounced around in the waters.
Days feel like hours and hours like minutes when you are froliking in Paradise.
Here's my big reveal. Due to unexpected bad timing, I was actually cramping and borderline grouchy the day after I landed (which explains the extreme bloating and my need to wear a pair of shorts over my swimwear in most of my photos) but the moment I swam around in the pristine waters and soaked in the peaceful atmosphere of Puka Beach, I was instantaneously refreshed.
I saw the cutest little water baby having a good time in the waters.
After having an ice-cream or two on this magnificent beach, it was time to board our boat and head back to our hotel so we can wash up.
We went pass Shangri La Resorts which I'll share more about in another post. Station 1 is where most of the more exclusive resorts with private beaches are situated.
Our final landing site is at Station 1 of White Beach. The many paraw sails docked on the beach were so pretty. I couldn't wait for the day that I would go paraw sailing (which I did but that's another story for another post).
For those who are interested in the island hopping day tour, the one we went was about 1,500 pesos (S$43.50) per person. There are ton of companies at every beach that does some water activity (parasailing, banana boat, paraw sailing, flying fish) or island hopping so it's not too hard to find an operator. Do remember to bargain for a good price though.