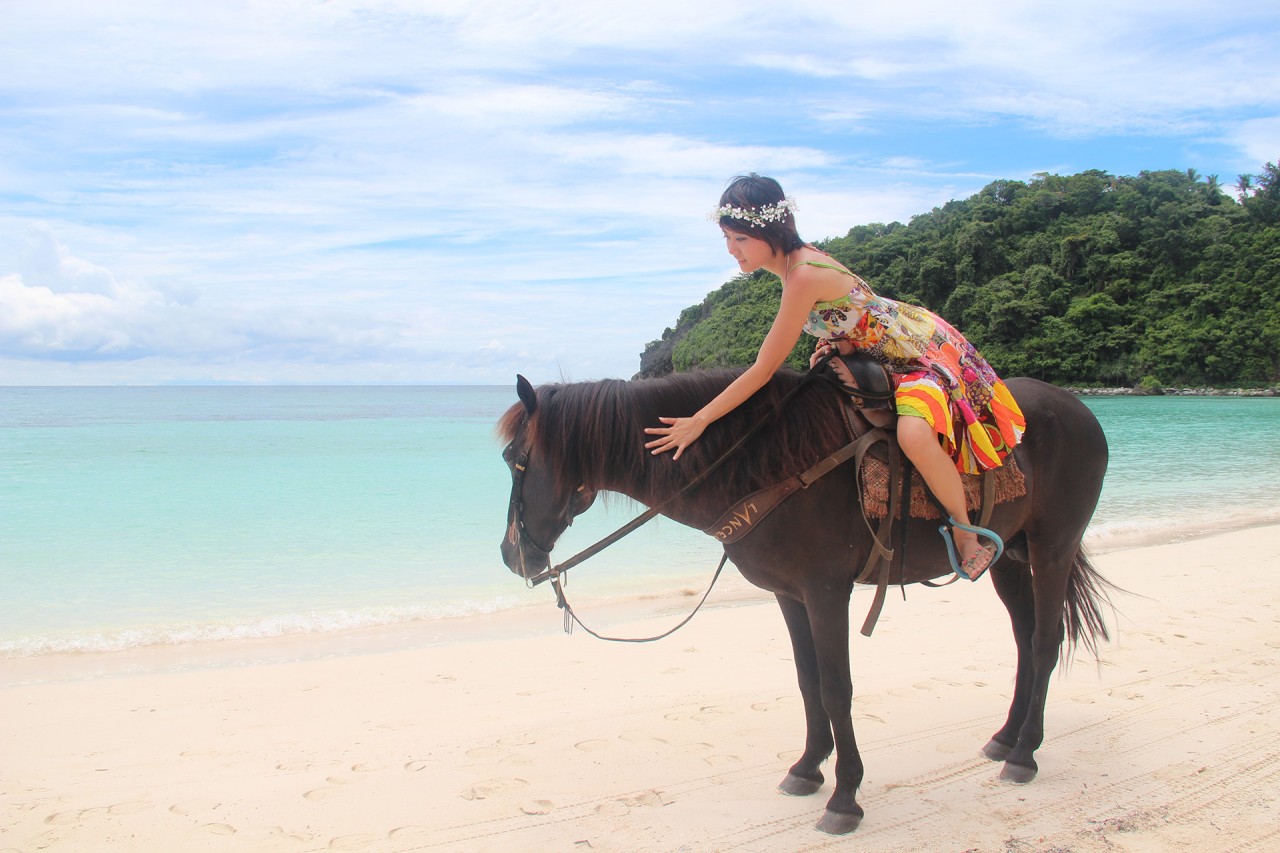 The only golf resort on the whole island of Boracay, Philippines is at Fairways and Bluewater Newcoast Boracay. Even if golf is not your kind of sport, you will not find a lack of beauty and entertainment at this premier eco-friendly resort and it is definitely one of the places you can consider staying in while in Boracay. My favourite relaxing spot in the whole of Boracay is located within this estate and I'll share that with you in my next post.
After being served a signature blue mocktail at the resort's lobby, we were brought around to view the many facilities that this country club had to offer.
With a 18 hole championship golf course designed by Australian PGA champion and golf architect Graham Marsh, numerous restaurants, infinity pools, wellness facilities and three private white sand beaches, it's not hard to start living like a king from the moment you check-in. You may look at Smith's (like a boss) photo above as a reference to how you'll feel staying here.
The suites here are huge and clean with full wifi access and there are free hourly shuttles to bring you to D'mall should you choose to venture out of Fairways and Bluewaters. Within the resort, buggies are available 24 hours a day to take you to different areas!

I love how the rooms have a huge balcony that opens up to show the view of the golf course. All the greenery is so refreshing!
For a beachfront massage in total privacy, you can reserve with Mari's Spa to do your treatments or massages in one of the spa villas.
My Segway and horse riding adventures were actually conducted at one of the private beaches within Fairways and Bluewaters.
It was the very first time I've tried a Segway and I found it to be really fun and easy. Despite it being on 2 wheels, it's incredibly stable and is completely user intuitive. The Segway uses the natural balance motions of walking to control forward, stop, and back so you don't need much skills at all to cruise down the beach and enjoy the lovely beach view.
Next up on the same beach, you could also choose to do some horse riding along the beach. I absolutely am thrilled whenever I get to ride horses and it makes it even more romantic to be able to ride in such a beautiful setting of blue sky, clear azure waters and powder white sand.
Photos of me on the horse are courtesy of Valyn Lim.
I took this photo of pretty Valyn on the horse and she looks like the perfect beach princess!
One of the perks of being in a private beach is that there's always a waiter in service and you get a pick of dipping in the clear waters or in the infinity pool enjoying the same views minus the salt. A good shower facility is also always close by!
After our beach adventures, we were whisked off in an electric golf cart for our next adventure within the compounds of Fairways and Bluewaters.
The longest and fastest Zipline in Boracay.
We are all geared up ready to sail through the skies, 100 meters off the ground.
Photo above courtesy of Clara of dblchin.com
Photos of us hanging on the zipline are courtesy of Christina of travelgraphy.com
The 325 m long zipline felt pretty short but it was not too scary so you could still enjoy the view of the blue and green seas as you hover at the landing site. All the above activities can be reserved through  reservations@fairwaysandbluewater.com.ph or you can call +632 576 4046.