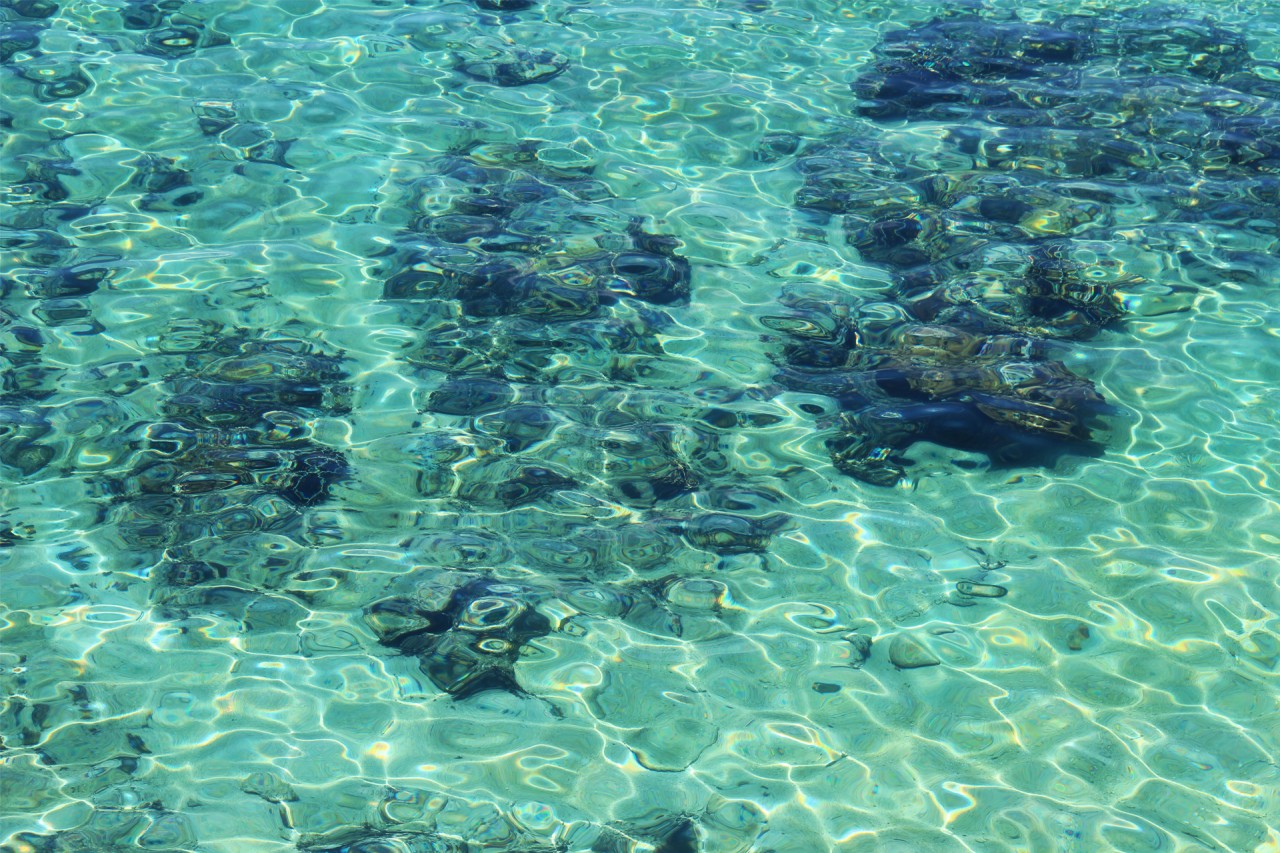 In our island hopping tour while in Boracay, Philippines, one of the main stops was Crystal Cove Island.
This island is only about 15 to 20 minutes by boat from main island' white beach and has an entrance fee of 200 pesos (S$6) per person. That's quite reasonable considering that there is no time limitations and you can spend the whole day at this place trekking, snorkeling and doing cove exploration.
There are quite a few unusual statues near the beach entrance and we immediately gravitated to them for some touristy photo opportunities.
Smith (pictured above) has obviously chosen his favorite one.
Walking deeper into the 2 hectare island, I was amazed to see many huts, sculptures and cool walkways. All the stone and materials used for the various buildings you see in the photos were sourced from the island itself.
Photo of Valyn and Atsuko on the palm chairs courtesy of Valyn.
I feasted my eyes on the breathtaking scenery as I trekked along the cliff side.
There are lots of little nice shady spots that would be great for a picnic with friends and family. I remember the island's guide telling me that they have 5 rooms with indoor gardens for rental if you want to stay overnight on Crystal Cove island. They also do camping services with all necessary food, equipment and transport for those who prefer a more rustic overnight stay.
The entrance to cove 1 is a small wooden spiral stairs next to some crystal rocks.
It's quite slippery so be careful when descending the narrow stairs. Inside, you can see waves splashing lightly on the rock formations in the cave. I wish I was able to take prettier photos but the outside was too bright in comparison to the dark cave interior.
After a short visit to cove 1 we continued to hike across the island to the other side where we could visit cove 2. I really love coastal hiking on the island and wished we had more time to explore. If you are on a honeymoon or are intending to take resort feel pre-wedding photos, I think there are tons of great angles in this island.
Somewhere along the way, William and I spotted this beautiful stone bridge and we couldn't resist making a detour from the rest of the group to snap some photos. Standing at the top of the bridge with the gorgeous azure waters in front of me, I couldn't help but feel like I was on top of the world. Crystal Cove island is perfect for a quiet retreat with early morning yoga and meditation so that you can be one with nature.
One of the more interesting things I learnt on my trip was that  you could rent the entire island. 250000 pesos for the  day or 149000 pesos for the night. This includes all the facilities and amenities, their various halls and cafes, the manpower, a getaway boat, all the rooms on the island including any additional help you might need to book your trip. I think that it's really cool to be able to book an entire island. It'll be great for planning a family event or even a small romantic and rustic destination wedding.
There are gorgeous views 360 degrees around the island but despite all the wonderful distractions, we finally made it to the entrance of Cove 2.
Cove 2 required a little more effort to get into. First, you have to descend some steep bamboo steps that hover above the waters before reaching the opening of a cave. Bending low, you have to go through the cave's small tunnel to get to the other side. At the end of the tunnel, you'll see cove 2.
Cove 2 is larger than Cove 1 and it's much nicer in my opinion. There are guides to help us out as we navigated the slippery slopes to get into the waters. Luckily, Verlyn brought her waterproof camera ( all unwatermarked photos belongs to her) along because I was quite hesitant to bring my DSLR into the waters and left it on a rock crevice before venturing down.
Depending on the timing and the tide, there might be stronger waves crashing into the cove. Luckily for us, it was all mild and perfectly navigable while we were there. The waters are very clear and if you want to snorkel, you'll be able to see the colorful fishes that thrive on the coral reefs surrounding this island.
After a refreshing soak in the waters, we were once again ushered back to our boat.
Boracay has many islands for exploration so we didn't get a chance to see them all in detail. Each island has their own unique features. One of the island has a huge bat cave and as our boat went past, we could spot hundreds of bats perched on trees next to this cave.
Arriving on another side of the main island, we were brought to have a sumptuous seafood lunch on the beach. A buffet spread along with huge crabs and prawns. It's such a pity that I've shellfish allergies.
In Boracay, they serve their crabs whole. When asked for a shell cracker, they gave a cylindrical wooden stick instead and you had to pound your crab with it. It's a very simple tool but surprisingly, it was easy to handle and worked well at breaking the crab shells apart.
In my next post, I'm going to share with you my favourite beach in Boracay so look out for it!