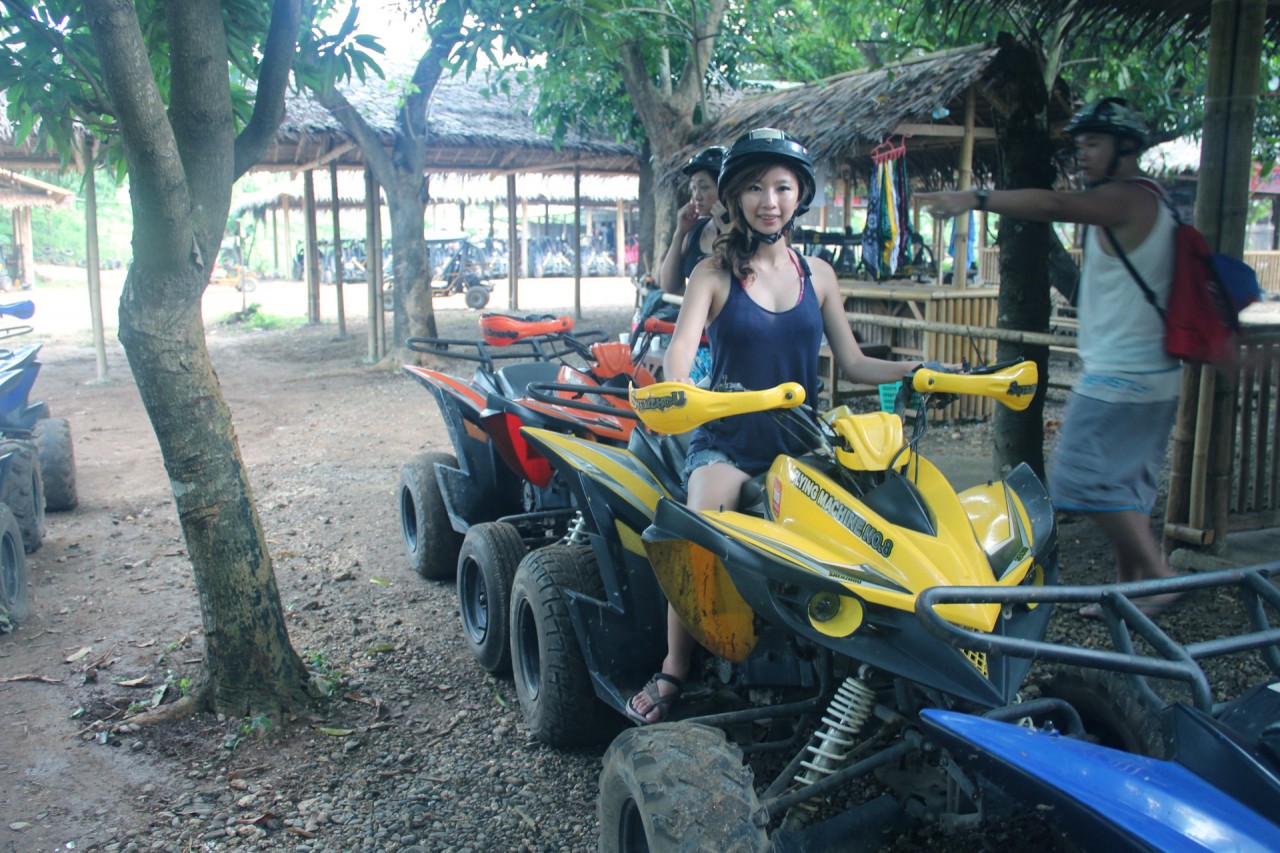 Photo above courtesy of Valyn Lim.
Those who are seeking for some land adventures in the island of Boracay can try their hands on riding an ATV (All terrain vehicle) to Mt Luho.
I've ridden ATV over some really bumpy and muddy off trail roads before so I was all prepared to get flying and dirty. However, the ATV to the Mt Luho lookout was over actual roads so it was a breeze and you don't get dirty at all.
Mt. Luho is a small mountain where a viewing tower and walkway was built.
 From the topmost point of Mt Luho, you have a fantastic view of Bolabog Beach, the Fairways and Bluewaters Golf Course and the ocean.
After taking in the view and the lovely ambiance, it was time to get back on our ATV to drive to our Zorbing location.
Group photo of us on our ATV is courtesy of Christina of travelgraphy.com
Zorbing  is the recreation or sport of rolling downhill inside an ball made of transparent cushioned plastic. It's really an experience of how it'll be like being a hamster in a giant hamster ball.
It's actually not my first time trying out zorbing as I first did so about 7 years ago in Gold Coast. Maybe it was because I was much younger and way more fearless then but zorb seemed a lot more fun and less scary then compared to the one I did in Boracay.
There are 2 routes available (we took the steeper and longer one) and you can choose to go harnessed or not. The one we tried was no harness and we slipped into the ball together with a whole load of water before rolling down the hill into a swimming pool!
Here are some tips if you are game enough to try experiencing zorb.
1. Tie your bikini tight or wear an outer layer like I did. You don't want any wardrobe malfunctions.
2. I realized that this activity is generally easier for those who are heavier rather than lighter because you tumble less inside so I don't recommend it for children.
3. Relax and have fun. The ride is over before it has even begun.
Photo of William after his zorb experience is courtesy of Valyn Lim.
The ATV ride cost 800 pesos (S$23.50) per person and the Zorb experience cost 400 (S$11.70) pesos per person. You can reserve them can through reservations@marsmandrysdale.com or call +632 8880228.