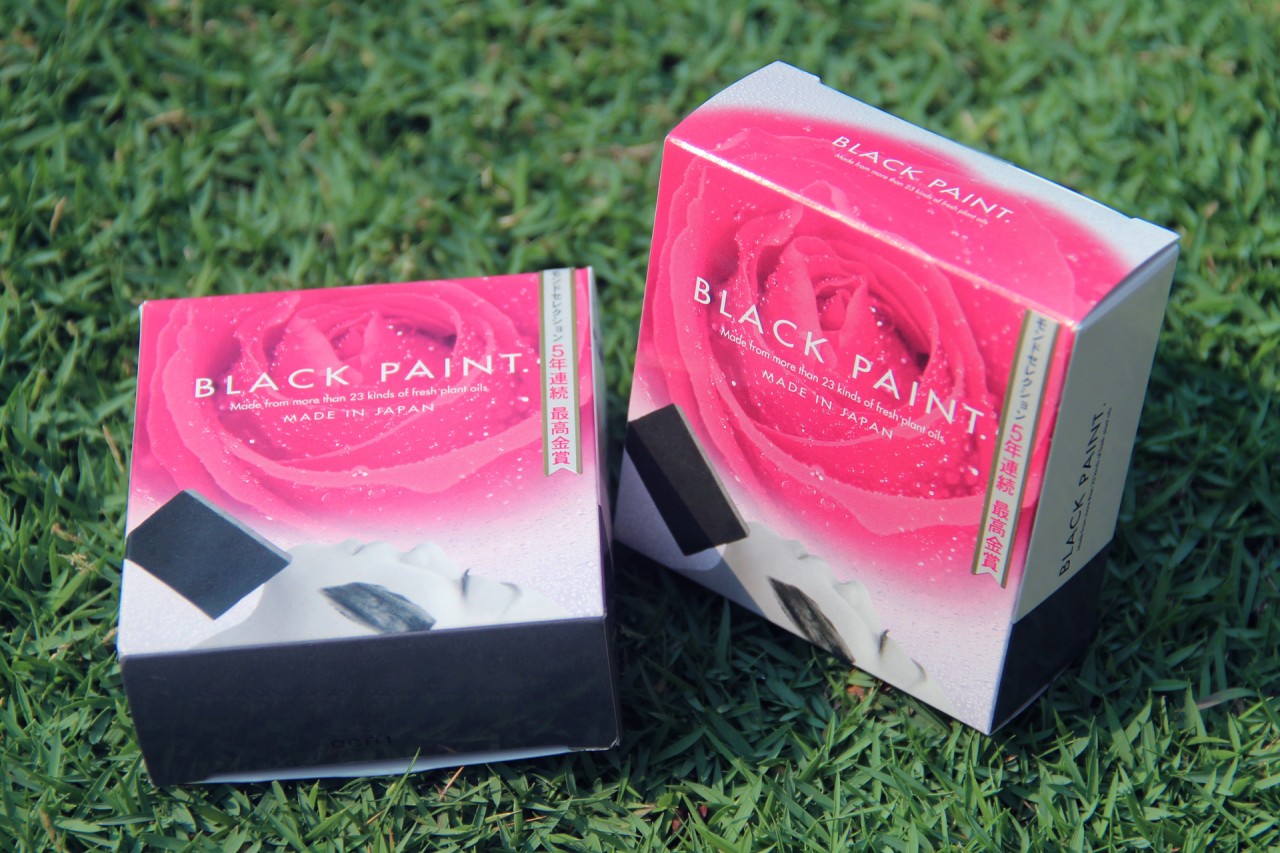 I've first heard about Black Paint last year and even had the privilege of meeting the founder, Ms Miyuki Maeda, as well as understanding the science behind Black Paint from her. Black Paint hails from Japan and has been honored with the Grand Gold Medal of Monde Selection Award for 5 consecutive years since 2009 under the category of Cosmetics and toiletry in Japan. With such a stella recommendation, I couldn't wait to try it for myself.
Touted as a skin care for pores, Ms Miyuki Maeda, has spent years in research and development to create these unique natural/organic skin care products focusing on indigenous dermal bacteria and intestinal bacteria. Black Paint is fascinating to me as it proposes "moisture care" which involves supplying the skin with water containing 30 mineral elements but not disinfecting the skin, focusing on natural healing force. Most of the time, we try to keep our skin clean and sterilise it from any bacteria and yet, I learnt that keeping the essential moisture and indigenous dermal bacteria on your skin is actually the way to go.
Although I had my hands on the full range and couldn't wait to try, I was only able to start testing the products for a period of 30 days early this year as I had various travel and review commitments end of last year. Black Paint products should not be used together with any other brand of products as it is a completely organic skin care range.
The result after a month of testing was incredible and I am officially in love with Black Paint products because it allows my skin to be at it's best! I'm currently no longer using Black Paint as I'm reviewing and testing other beauty products but if I weren't, you can be sure that I'll be happy to stick to Black Paint.
As with all 100% natural organic products, there is a period where your skin needs to adapt to it. I had breakouts on my skin for about a week when I first started Black Paint skin care. It was scary to have bumps and small pimples appearing even though it was fully anticipated and I was tempted to abandon the trial. But after persevering on, my skin cleared and started to really glow. My pores were absolutely clean and everyone was asking me how I keep my skin in such gorgeous condition.
In fact, some of my friends who met me over the Chinese New Year period immediately started to head down to Isetan Westgate to stock up on Black Paint products. In the photo above you can see the products (and prices) on the shelf at Isetan Westgate. It's found with all the other Japanese beauty products in the Supermarket.
Let me walk you through the various Black Paint products, my experience with them and how to use.
The key product is Black Paint which is a bar soap. This is the key product and also the trickiest to use as the soap is softer in texture then most other bar soaps that I've come acrossed. I used the first Black Paint soap as a whole and found it difficult to store and dry it out in our humid weather. Leaving it wet in my bathroom causes the soap to be a little mushy and I hated it.
With my 2nd bar of Black Paint I tested with the smaller bars on some alternative methods to improve the bar soap experience.

Once I got my hand on a new bar, I immediately cut it up to tiny soap bars, wrapped it up in wax paper and store them in my fridge.By using only a small bar at a time, the experience with the soap was so much better and easier!
Before you begin to use Black Paint, you need to soften the bar with some hot water. I normally just fill a cup with warm water from my shower. Leave the soap in the cup for just a minute and then rub the bar of soap all over your face.
Remember to use the soap all over your face and massage it in lightly.
It should look like black water-colour paint spread out this on your skin, hence the name Black Paint.
After massaging with moist hands, rinse off with water. You will already feel that your face is super clean but not tight and drying at all.
Since you can't mix any other products with Black Paint including makeup removal (you can still use eye makeup removal for waterproof eye makeup), I would also do a second cleansing with the natural Black Konjac Sponge and water. Just wet the sponge till it's soft and massage your face with the wet sponge in a circular motion.
Conjured from natural konjac fiber, the Black Sponge assist the pull of oil deposits from your pores gently, giving your skin a radiant and smooth surface. It works like a extremely gentle daily exfoliation exercise.
The next step is to use Best Water (Toner) which will nourish and hydrate your skin with 30 minerals that penetrate deeply to restore the skin's barrier and prevent moisture loss from within.
I use about 3- 5 pumps either directly on my skin ore I'll apply it on a facial paper mask and place the mask on my skin for better absorption.
Next step is to apply the Oil Water Rose (Essence). I love the smell of this rose oil essence! The Oil Water Rose dual layer emulsion soothes and softens with vitamins, anti-oxidants and anti-inflammatories.
As it is a 100% organic product with no artificial emulsifiers, you need to shake well until it turns whitish before use. Pump about 3-5 pumps and apply it to your skin in a tapping motion. I normally pump 2 pumps, apply to face and repeat it for 2 times. I tend to overuse this product cause I love the smell and the texture so much.
The last step is Water Cream (Moisturiser) which promotes moisture retention and builds resistance to environmental pollutants. It contains argan oil and hyaluronic acids.
Take a cherry-sized amount and spread onto face. Wait until your face dries before applying sunblock or makeup.
It seems like a lot of steps but it really is very easy once you get into it. In the photo above you'll see a vegetable oil for waterproof makeup removal and a rich wax which I didn't really talk about. I tried the vegetable Oil but I didn't like the texture while I felt that Singapore's weather is too dense for the Rich Wax.
Rich Wax is a super intensive moisturiser made from Ostrich oils. I might give it another try if I travel to somewhere with extremely dry climates.
If you are someone that is willing to give bar soaps a try, Black Paint does wonders for the skin. This is a skin care I'll definitely use personally. At the moment, it's only available at Isetan Westgate. You can find out more information about Black Paint on their website.
*****
*****
*****
*****
*****
Outfit of the day
Crop top: Fox
Pantsuit: Liz Lisa
Earrings: Chanel
Watch: Cartier
Bag: LV
Heels: Korean