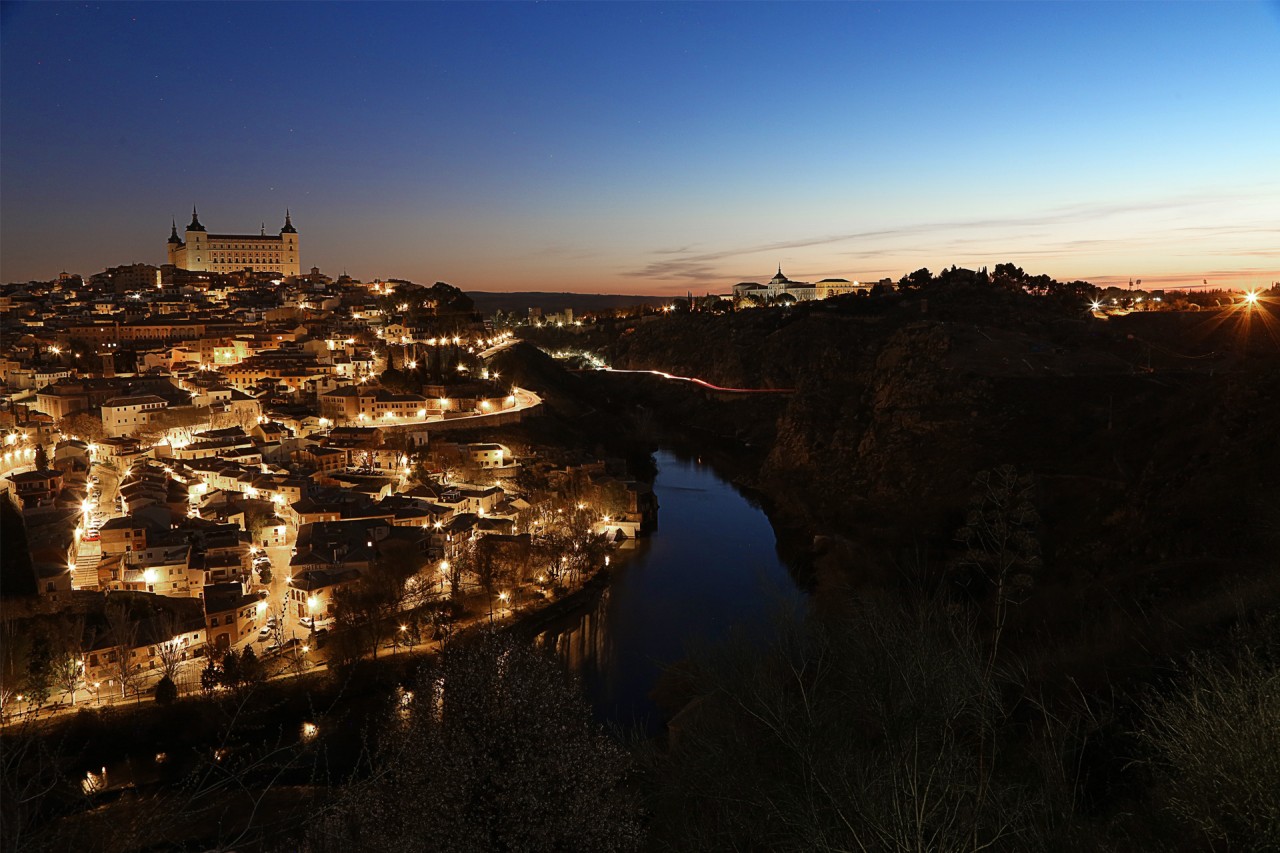 I had the most wonderful time exploring Spain last year and have been answering quite a bit of emails about the places I went after posting up photos of them on my Instagram account (@renzze ). Previously, I've shared "6 Cities to visit in Spain from Madrid "  but his month, I will be sharing a little more in about each of those cities based on questions I've received about them in the last 6 months from readers and friends. In today's post, I'll be answering questions on the city of Toledo. 
1. How far is it from Madrid and how do you get to Toledo?
From Madrid, Toledo is about 70 km southwest and is relatively easy to drive to using the A-42 freeway. For those who rather not drive, buses run between Toledo and Madrid's Plaza Elíptica bus station every half hour until 21:30. The trip takes about one hour and a return ticket costs €9.12. Alternatively, the AVE high-speed train takes only 33 minutes from Madrid's Atocha station to Toledo and costs €12.10 + €9.70 = €21.80 for a same day round trip. Do note that if you are going for just a day trip (which I guarantee you is not enough), you will have to specify your return time of your train at time of purchase. Be sure to arrive on time as boarding starts 30 minutes prior to departure and the gate will close 5 minutes before schedule.  You can visit the www.renfe.es website to purchase tickets or to buy direct from the ticketing office. Lastly, there is a door to door service from Madrid'S Barajas airport to Toledo, 1 to 7 passengers. It costs 70€ (1-3 passengers), 90€ (4-5 passengers) or 115 € (6-7 passengers). It's quite useful if you're travelling in a group or with luggage. Booking is available via email info@sercomplusalberche.com
2. Do you recommend staying in Toledo or just doing it as a day trip?
It really depends on your travel schedule. Toledo was the fairytale city that stole my heart in Spain so I will recommend staying a night here. I managed to wake up early to catch the sun rise over the whole town which sits prettily above the Tagus River. Even if you don't stay in Toledo, do make it a point to visit this majestic UNESCO heritage site. You won't regret it.
3. What are the must see sights of Toledo?
Toledo is filled with rich history starting as far back as 192BCE when it was a Roman occupation (Toletum). The ruins of the Roman circus are still visible just outside the walls of the city. After passing hands from Roman to Visigoth to Muslim and finally Spanish, it became the capital of the Spanish empire until the mid 1500's when the royal court moved to Madrid. If you have not much time and could only stop by on one of the sights, make sure you visit the 13th century Cathedral at the top of the hill. Gorgeous on the outside, it is even more astounding inside with gold reliefs, huge oil paintings and portraits of all of the Toledo Cardinals going back at least 500 years. Check out the baroque Transparente, behind the main altar and the Cathedral's art gallery with works by Raphael, Rubens, Goya, Titian, and one of El Greco's major works, The Disrobing of Christ.
If you have more time to explore Toledo, you can consider getting a tourist bracelet for 8€ that allows you to visit six of Toledo's religious buildings. These are Iglesia de los Jesuitas,
Mezquita Cristo de la Luz, the Iglesia del Salvador, Iglesia de Santo Tome (where one of El Greco's most famous and recognized works "El Entierro del Senor de Orgaz" is housed in),  the Sinagoga de Santa Maria la Blanca and Monasterio de San Juan de Los Reyes.
The other major building is The Alcazar on the outskirts of the old city. I love getting lost walking around the winding, cobbled streets of the old town. Toledo is such a shutterbug's paradise. The city is surrounded by the River Tajo on three sides and two medieval walls on the fourth side. I took quite a lot of photos at scenic spots that were looking over Toledo as well.
4. What to buy in Toledo?
I bought a couple of souvenirs and one of my travel mates bought some awesome hand crafted leather bags but the famous products of Toledo are actually swords, ceramics and damascene ware.
If you have anyone that likes armors and swords, they would have heard of the fame Toledo steel.  Toledo has been making swords since 500BC and made many of the weapons for the Roman legions. A beautiful conquistador sword is yours for a few hundred dollars but you'll have to get the shop to ship it for you since you can't carry weapons back on the plane.
It was the first time I've learnt of Damascene ware or Toledo Gold which is the art of decorating steel with threads of gold and silver. The art of damascene has passed from generation to generation within the same family for centuries, and has become a hallmark of this beautiful city. I was tempted to buy one of the Damascene jewellery pieces but was thwarted by the price tag. It is generally expensive and shouldn't be bought without extensive research or shopping around.
5. Where to stay in Toledo?
I stayed at the Hotel Domenico. The hotel is actually situated in the quiet area of Cigarrales, a 10-minute drive from central Toledo. I was lucky and had stunning views of the city of Toledo from my room's balcony while some of my travel mates didn't get a full view. If you are driving, you'll be happy to note that there is free parking here.
6. Any other tips for Toledo?
Please wear comfortable walking shoes to navigate the uneven cobbled streets that can be quite steep in some areas. Since I was there in Spring, the weather was perfect. However, I was told that summer is extremely hot there (probably comparable to Singapore but drier and less shady trees) so wear sunblock and keep hydrated.
Thanks for reading.