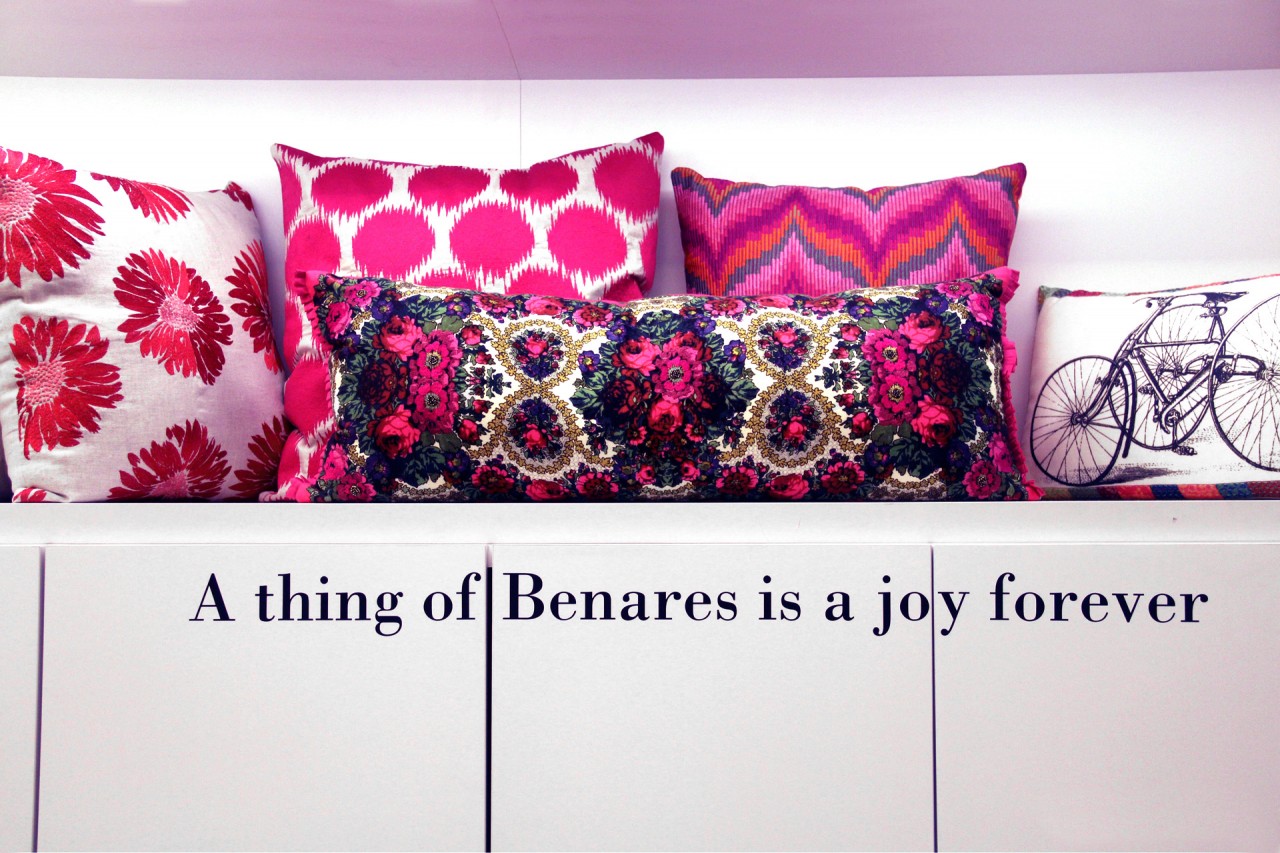 Located on the 4th floor of Ion Orchard is Benares. This seemingly obscure lifestyle shop houses a world of curiosities to bring out the traveler in you. The owners Pooja Kapur and Shabri Malik, has brought a unique mix of Indian designs that feel very modern with touches of european elegance. In fact, there was none of the usual loud and tacky Bollywood feel that I normally associate with Indian designers.
In fact, most of the items I spotted at Benares gave a luxe old school travelers charm that was very refreshing and contemporary.
There were so many beautiful designs just waiting to be discovered and you can spend quite a long time at the store being surprised by the many eclectic assortments. Benares welcomes you to explore, to touch, feel and engage with their items because there are so many different stories behind each one of them. I'll be highlighting some of the items that I spotted and really liked during my visit.
The very first thing that caught my eye were this colorful trunks! They are a wonderful reminder of an era where traveling was a luxury to be savored slowly and purposefully.
Stacking the different colors up makes such a nice display piece for your home.
Personally, I would actually really travel with one of these. They are so spacious with nice inner pockets and I think it'll make a perfect road trip companion. I'm a romantic traveller and Benares trunks gives an aura of old world opulence that is decidedly attractive.
The trunks comes in all sizes and I fell in love with the smallest size version that felt so comfortable over my shoulders.
Of course, knowing that trunks may not be everyone's cup of tea for travelling, Benares also have trunk trays and  truck tables which makes a cool conversation piece for your home while being able to double up as additional storage space.
At Benares, even their travel guides have a unique flair to them. The fabric covered books would make awesome reading materials for your next trip and to keep your wanderlust satiated.
The other set of items that caught my eyes were these vibrant colors printed on leather and canvas surfaces of wallets, passport holders, laptop bags and toiletries pouches. The leather wallets looks simple on the outside but when you flip it open, you are simply astounded by the images and colors. I always love things that are subtle on the outside but incredible and full of life within.
If boxy trunks are not really your style then maybe the printed luggages might be right up your alley.
If  you are looking for some interesting accent light fixtures for your home, look no further. The unique designs at Benares brings a slice of Asia without losing its classic and modern touches.
Another big component of Benares is their textile. They focus a lot on linen and silk. These luxurious materials are popular with many of their fans especially since all their silk fabrics are made from 100% silk.
Benares support pure fabrics and natural dyeing processes.
Other than clothes and cushions, they also have quite an extensive range of silk and linen scarves.
Look out for one of their series of scarves that was based on designs by children, as part of the proceeds from the sale of those scarves goes back to helping the children get a better education.
At Benares, they are always on the lookout for talented artists and expert craftsmen for their next limited edition collections such as their Benares paper mache collection from Kashmir!
I was really impressed with the detailing and the stunning choice of colors to create the melancholy artwork. Each piece took weeks to make and these gorgeous works of art would not be seeing any repeats anytime soon due to the intensity of the process.
Benares carries a wide range of fashion accessories that sees petite intricate metal work juxtaposed with precious stones and statement necklaces.

Finally I'll be sharing with you my personal favourites that I've fallen in love with at Benares.
I love love love Benares leather selection! It's just incredibly magnificent. Such as their explorer 1701 range which has one of the most beautiful DSLR camera bags I've laid eye on.

My DSLR has never been in a more stylish carrier. Definitely on the wish-list of any globetrotting fashionista that prizes having her DSLR camera to capture and document all the awe-inspiring sights and sounds on a vacation.
They have super pretty cases for compact cameras too!
Now that I've selected my favourite DSLR camera casing and cabin luggage, all that's left is for me to book the next ticket out on the Oriental Express 🙂
Thank you to owners Pooja Kapur and Shabri Malik for exposing my afternoon to a world of colonial Indian charms and showing me the stories behind each piece that helps to create personality filled homes.
Benares
Unit #04-03,
Number 2 Orchard Turn,
Ion Orchard,
Singapore -238801
Tel:  +65 66365276