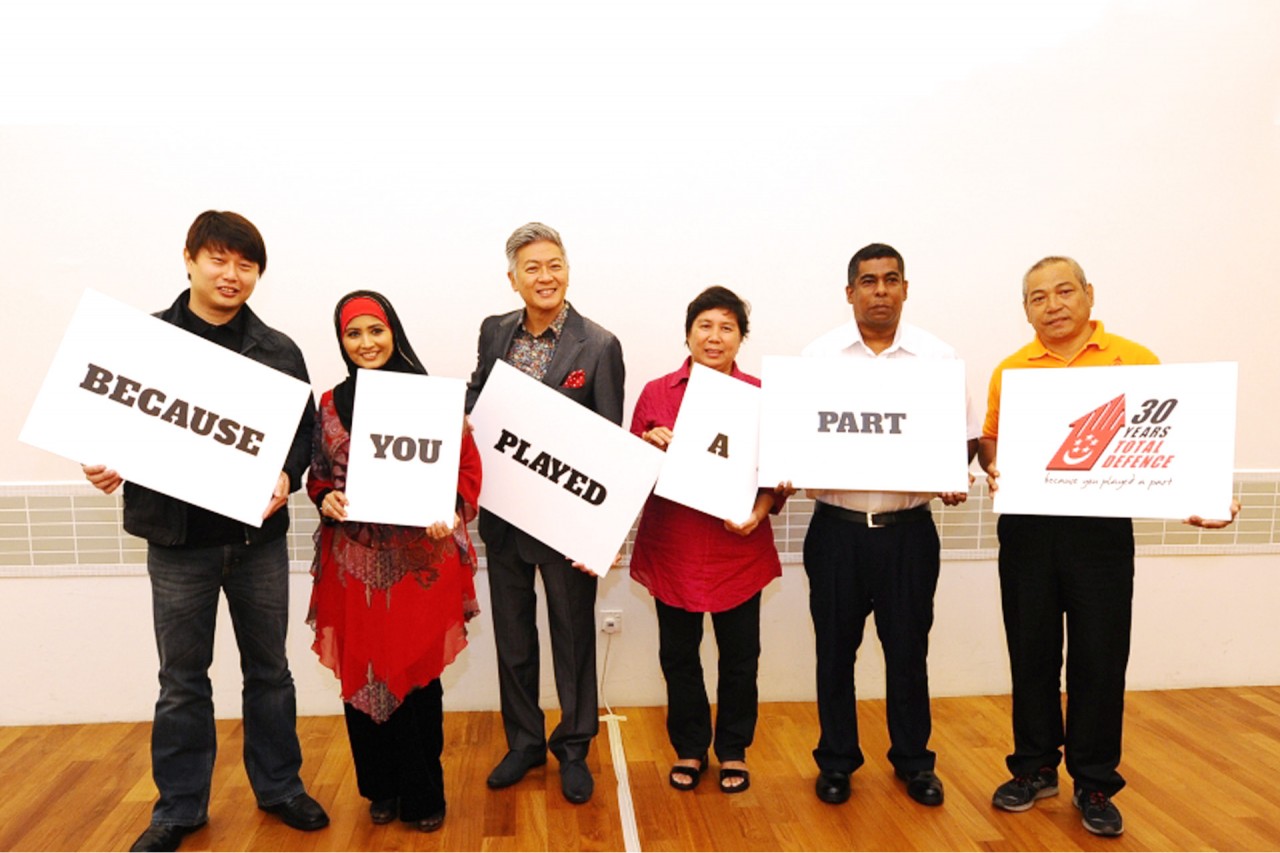 If you are feeling bored after the Chinese New Year festivities dies down, it might be a cue for you to check out the exciting line-up Total Defence has for you as part of their "30 Years of Total Defence: Because You Played A Part", 2014 Total Defence campaign (TD 2014). This year, TD seeks to reaffirm the role that everyday Singaporeans have played, whether big or small, individually or part of a larger group, in keeping our country strong, safe and secure over the years. This is something I can relate to and am extremely grateful for. In many ways, after traveling and seeing a lot of many countries over the years, I've come to appreciate being born in this stable and strong country. There are many debates with different groups over whether one should be proud to be Singaporean or not and everyone is entitled to their opinions. I definitely belong to the group that feels blessed to be a part of Singapore. There really isn't one perfect country and we as the citizens have the role to help improve our own country by standing together, facing the odds and pushing for a better future. Everyone has a part to play, no matter how insignificant your part may seem to you.
Total Defence Day, which falls on 15 February annually, will kick off with the launch of the anchor event, "Total Defence 30: An Experiential Showcase ", which is a nine-day interactive exhibition held at the NMS from 15 to 23 February 2014. Aimed at bringing participants on a reflective journey, the exhibition uses light displays, film and interactive installations to present insightful and honest perspectives from everyday Singaporeans, about how they understand and live out Total Defence in their daily lives.
Visitors to NMS can also catch the forum theatre performance, "Wouldn't It Be Nice?" which will be staged across the nine days. First performed at the Institute of Policy Studies (IPS) Prism Immersive Arts Experience in 2012, the play transports the audience to the year 2022 where crisis scenarios that Singapore may face in the future unfold on stage. Members of the audience are invited to participate and comment during this interactive performance. Bringing audience experience to a more personal and reflective level, the forum theatre aims to encourage the audience to evaluate their values and priorities and find new ways of tackling challenges.
Forum Theatre: Wouldn't It Be Nice?
Daily | Sat 15 Feb – Sun 23 Feb 2014
National Museum of Singapore, Gallery Theatre, Level B1 | Free Admission
Schedule
 You may also sign up for a much-coveted spot for dinner at the NMS – in the "How We Fight the Good Fight: Mystery Speaker Talks" as well as the "We Are The Stories We Tell Ourselves: A Social Dining Experiment" series of events by emailing 
outreach@foodforthought.com.sg . S
hare a meal, strike up a conversation, and discover the Singapore story of someone different from you.
In line with TD 2014's emphasis on affirmation, "Thank You" Cards have been made available at Yakun, POSB, Island Creamery, Food for Thought, Rockstar and other public spaces, to encourage Singaporeans to recognise and acknowledge fellow Singaporeans who have played a part in TD. They can pen personal messages on the cards and send them to people whom they want to thank. We don't thank the people around us enough for what they have contributed in our lives. It doesn't have to be a major reason to say thank you. In fact, it's the simple acts that shouldn't go unnoticed, like this auntie in the photo who cleaned the table at the hawker center.
If you prefer, an online version of the "Thank You" Card is also available on the ConnexionSG Facebook page.
Some other events you can look forward to are:
Le Gluttony  X Total Defence: Singapore Food and Film Festival 

Fri 21 Feb 2014 | from 3pm
Sat 22 Feb 2014 | from 2pm
National Museum of Singapore | Free admission to event
A carnival, pasar malam, flea market and food hawker centre all rolled into one! Le Gluttony is a Singapore food and arts festival that celebrates local culture, by featuring F&B entrepreneurs and showcasing film and music by local talents. A special edition of Le Gluttony will be curated to mark 30 years of Total Defence. So come on down and enjoy what fellow Singaporeans have to offer! To find out more, visit http://legluttony.com/
Project Happy Feet Slipper Race 2014  – Total Defence Edition 

Sat 22 Feb 2014 | Flag-off: 4.30pm
National Museum of Singapore | $35 (100% to beneficiaries) | Signup: www.phfslipperrace.org
Join Project Happy Feet's signature fundraiser, the Slipper Race, to support the education of underprivileged children in Singapore and beyond. This non-competitive walk in slippers (flip-flops) was inspired by kids in rural places who have to walk long distances to school – sometimes barefooted. Now in its fourth year, the "Total Defence Edition" of the Slipper Race celebrates the spirit of Total Defence, in which Singaporeans play a part in overcoming challenges to make Singapore strong, safe and secure.
And last but not least, please view the clips and help vote for my teams Alpacalypse (C01) and Partta Kappa (C06) in the Nemation! 8 contest to win prizes!
Visit the Nemation! 8 website for more details or you can read about how to vote in my Nemation! 8 post.