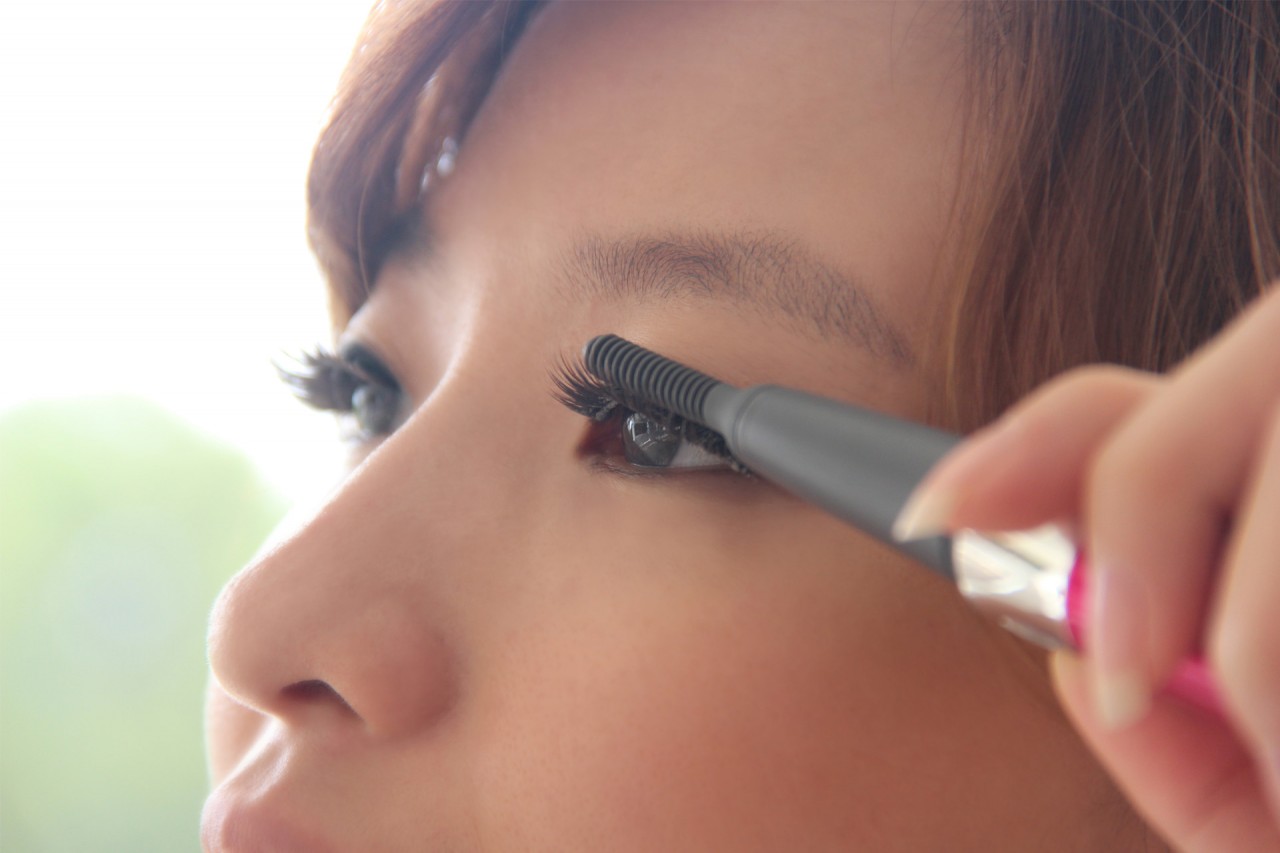 I have found the perfect beauty tool in "times of haze" and I want to share with you how Panasonic Eyelash Curler won a place as one of my favorite beauty arsenal from the moment I first tried it.
I'm really grateful for the nice blue skies and the cleaner air that Singapore has been experiencing in the last 2 days but based on government advisory, it seems that the haze will be back to haunt Singapore again soon. During the super hazy period where PSI went as high as 401, it was impossible not to leave my home with a N95 mask on even though it looks ridiculously big on me.
With the mask covering most of your face, there is no need for much makeup. In fact, I prefer to leave my face bare with just sunblock because any foundation will melt under the crazy hot weather and stain my precious N95 mask (which was out of stock in most places). However, with everything else covered up, the eyes become the focal point of your look.
This is how I look bare face with no makeup at all.
The mask makes me look like I'm sick and probably dying soon.
But all I need to do it to draw my eyes with an eyeliner, put on some false lashes and curl with Panasonic Eyelash Curler to make a huge difference in my look. The eyes are the window to your soul and it's only natural that others are drawn to pretty eyes. Even without any foundation, blusher, lipstick or even eye shadows, the pretty curl of lashes helps to frame your peepers beautifully.
You can also choose to use the Panasonic Eyelash Curler with mascara instead of false lashes. But I wanted to show you that this little heated wand works well with false lashes as well! The light heat doesn't hurt you but coupled with the 360 degrees rotating function of the Panasonic Eyelash Curler, it is almost as if you are giving your eyelash a temporary perm.
Friends and even beauty professionals were rather fascinate with my nifty little gadget and one even exclaimed "Wow! It's like a curling tong for the lashes!". Which is in essence quite true, except since it is meant to be used near the eyes, it's made to be extremely safe and easy to use. Battery operated and really portable, you can give your eyelash a touch up on the curl anytime, anywhere.
If you are afraid to use the Panasonic Eyelash Curler to touchup your eyelash which already has mascara on, don't fret because the wand can be cleaned easily.
In just 2 mins, I look much better even when I have a huge mask covering my face.
Opening your eyes with your lashes is one of the most incredible beauty tips anyone can share with you and there are a dozen different ways. Panasonic Eyelash Curler is probably one of the easiest ways to curl your lashes and making sure it stays curled and pretty the whole day through. I've long been a fan of this gadget and have been advocating its use for more than a year now.
These photos were taken a year ago. You can tell because I still had short hair then.
I had eyelash extensions then and I couldn't use mascara at all. But Panasonic Eyelash Curler could be used on my eyelash extensions to keep them nicely curled for the extra oomph! So now you know my beauty secret on how I do my eyes. I don't use foundations unless it's an important event and my 5 mins daily make-up is just eyeliner with false lashes or mascara, curled with the help of Panasonic Eyelash Curler. If I'm feeling more vain then I'll add some blusher to my cheeks. As you can tell, I don't spend a lot of time or money on makeup but rather focus it on skincare.
Now that you know what's in my beauty arsenal, you can be better prepared to keep your spirits high and look better when the haze hits again.
*****
*****
*****
*****
*****
Outfit of the day
Dress: Liz Lisa
Earrings and watch: Chanel
Bag: Louis Vuitton
Heels: Balenciaga
My hair is styled using Panasonic Multi-Styling Straighter. It can be used to obtain both straight and curl hairstyles and I'll be sharing with you tips on that in my next post!