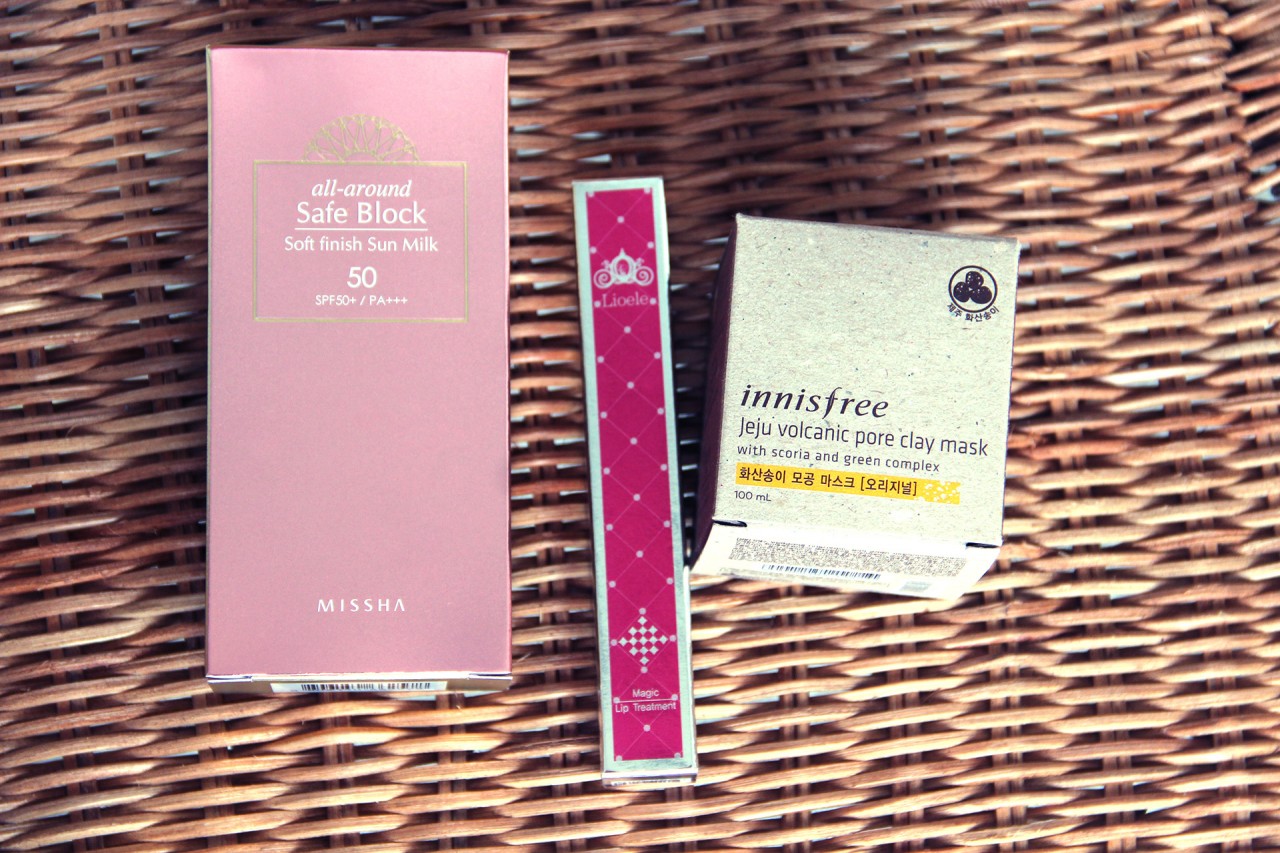 I've been swept by the Korean skincare trend recently. I realized that there is so much innovation and research done for asian skin by Korean brands and it's fascinating. Being drawn into the hallyu wave, I'm even considering taking a trip to Korea soon! But for now, I'm glad that online retailer, Beauty In The Eyes, is bringing in the latest Korean cosmetics and skincare direct from Korea, keeping prices competitive.
While they have quite a few brands ranging from Laneige to Sulwhasoo, in this post, I'll be reviewing three items from three other popular brands that can be found on their website – Missha, Lioele and Innisfree.
I'm going to start with my favorite out of the three – Missha All Around Safeblock Finish Sun Milk SPF50-PA Plus (SGD23.46).
This sunblock is incredibly awesome and works well both under makeup or on its own. Despite having a high level of sun protection against both UVA and UVB rays, Missha All Round Sunblock Finish Sun Milk SPF 50 PA +++ is super lightweight and you don't feel like you are wearing any sunscreen at all! There is zero greasiness and helps to keep the skin matte so your makeup wouldn't oxidize as quickly compared to other sunscreens. As it is also pretty hydrating, sometimes I choose to wear it on its own. It works as a 2-in-1 moisturizer and sunscreen on lazy days.
I've tried some pretty marvelous sunblocks and sunscreens from other brands as well but in terms of price vs quality, Missha All Round Sunblock Finish Sun Milk SPF 50 PA +++ makes an excellent choice. At Beauty In The Eyes, it's only retailing at SGD23.46 for 70ml. Best of all it works very well with my sensitive skin.
Next, I tried the Lioele Magic Lip Treatment (SGD19.72).
This best selling and award winning lip treatment is really interesting because it not only serves to moisturize and hydrate your lips but also gives it a lovely pink tint.
Twist the end about 3 to 4 times and a milky white lotion appears on the brush tip. You can use the brush applicator to dispense the product evenly on your lips.
After a couple of seconds, the milky white lotion turns clear. Following that, the heat from your lips turns the formulation slightly pinkish giving you a unique naturally looking tinted lips. It's quite amazing really.
It's a great product from those with dull and dry lips or those who have lips with uneven colors. The resulting color is natural, healthy looking lips that doesn't look like you've applied any lipstick. The tint lasts for the rest of the day without needing any touch ups.
I tried wiping it off with a tissue and none of the colors rubbed off at all. When I applied lipstick over the treatment, the lips look fuller but this is probably because the treatment has already kept the lips hydrated.
The photo above shows how my lips look after applying Lioele Magic Lip Treatment.
The last product I'll be reviewing is the Innisfree Jeju Volcanic Pore Clay Mask (SGD17.85). I've first heard of this brand when my pal, Regina brought back some sheet masks for me after her Korea trip and now I have easy access to purchase it through Beauty In The Eyes.
This mask is made from Volcanic clusters from Jeju island in Korea that has a multi-porous structure which offers powerful antibacterial, detoxifying, purifying, and moisturizing functions without any additives.
Be sure to make sure you have a cleansed face before you start applying the mask.  (I have eyeliner on but other than that, my face is totally bare and makeup free.)
Next, I applied the clay on my face. The mask doesn't come with any spatula or brush so I used my own (you can just use your fingers as well). I love that this product is free from artificial fragrance, artificial pigments, parabens, benzophenone, ethanol, animal ingredients or mineral oil.
It is very easy to apply and feels cool to the skin. I left it on my skin for about 10 mins before I washed it off.
While it's not a miracle product, this clay mask definitely did a good job for the purpose of deep cleansing. My pores looks and feels cleaner after the mask and it somehow helped to calm down some of the red spots on my skin. The skin feels clean and smooth but not tight.
I've heard wondrous feedbacks from other users that Innisfree Jeju Volcanic Pore Clay Mask is great for congested or acne skin. During the time of this review however, I was very blessed to have pimple-free skin. I'll definitely whip this mask out to try again when I get my next breakout.
I hope you enjoyed my review and if you want to get your hands on some Korean brand skincare (at lower prices than Singapore stores, I believe), you can take a visit to Beauty In The Eyes. Order SGD$50 and above to get free local delivery.