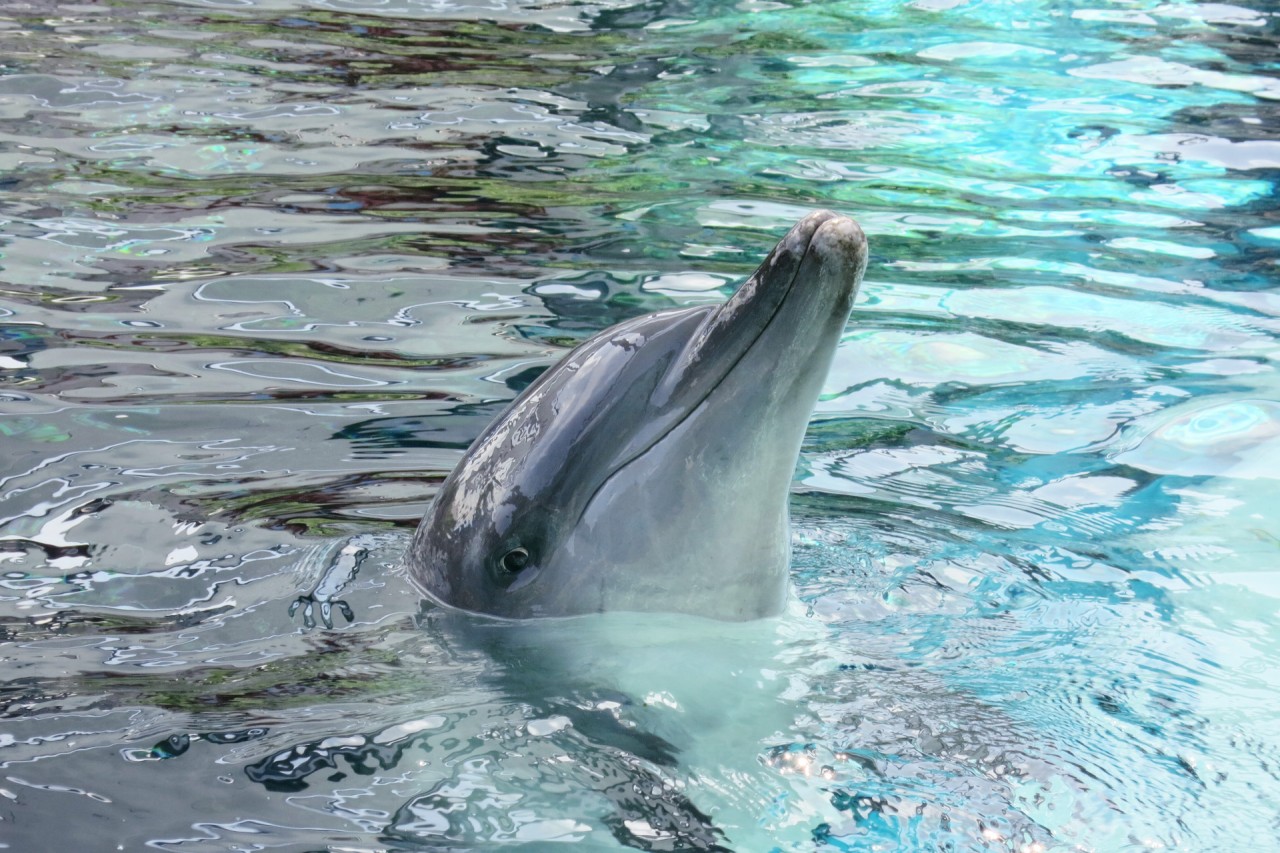 I had a wonderful and unforgettable experience with some of the cutest, most loveable, Indo-Pacific Bottlenose Dolphins at the Dolphin Island, Resort World Sentosa, last Saturday. The trip was experiential, educating and so much fun! Much love and thanks goes out to Regina for heading out there with me on a weekend morning to help me capture all these photos while I was in the water.
Dolphin Island is actually located inside of the Adventure Cove water park in RWS.
I was led to their locker facilities to check in all my belongings and any loose item on me before I was allowed inside the Dolphin Island gates. A tag was then wrapped around my hand to identify which program I would be joining in for the day.  There are several different dolphin interaction programmes you can choose from and the programme I was going to partake in is a 30-minute dolphin discovery experience where I'll get to wade in a shallow pool and touch the dolphins in a guided tour format. The entire activity takes about 90 minutes including orientation and briefing. This programme is catered for all ages, including non-swimmers. However, guests have to be at least 122cm in height.
Naturally, you are expected to sign an indemnity form, acknowledging that you are knowingly participating in this programme. It actually wasn't my first time interacting with dolphins as I've tried my hand at being a marine life trainer for a day at Discovery Cove in Florida, USA. However, I was really curious to see how our local facility was intending to conduct their engagement education.
Once we were inside the facility, all the different groups gathered together for a general briefing to inform us of the "Dos & Don'ts" while having our dolphin interaction as well as to provide some basic understanding of the dolphins we would be interacting with.
Resorts World Sentosa's Marine Life Park has employed 36 trainers for its 24 Indo-Pacific bottlenose dolphins and are looking to recruit even more. This level of animal care appears to exceed that at several other dolphin attractions around the world. The dolphins here all have a primary trainer of its own, with the others assisting.
Wetsuits are provided and you cannot have any loose items or any jewellery on you.
I highly advise anyone that is interested to do this program to not wear any sun block or sun screen even though you do have to shower before entering the pool and after exiting the pool.
There are 11 inter-connected lagoons inside Dolphin Island and one of the lagoons has a glass panel in the pool where visitors to the SEA Aquarium gets to view the dolphins. Most of the trainers here are extremely passionate and have had previous experience working with marine life and dolphins in various facilities around the world.
We met the marine mammal trainer who gave us clear instructions and a brief overview of what we would be doing before we finally got into the pool. Normally, there are five participants in a group but since this is an invited media encounter, there were only 2 in our group.
Wa Wa is our dolphin's name and he is absolutely friendly and outgoing. We had a basic introduction on the anatomy of the dolphin up close as well as a chance to feel how incredibly smooth Wa Wa's skin is. We learnt how to tell the difference between a male and female dolphin as well as understood how each dolphin has their own unique shape and notch pattern on its trailing edge of its' fin just like a "fingerprint".

He located and showed us the dolphin's blowhole and eyes so that we could make sure that we would stay away from them and not hurt Wa Wa during our interaction.
Most dolphins have very good eyesight both in and out of the water, and they can hear frequencies ten times or more above the upper limit of adult human hearing. Although they have a small ear opening on each side of their head, our trainer told us that the dolphin's hearing underwater done with the lower jaw and helps them with echolocation.
Dolphins also have about 80 to 100 permanent, non-replaceable, conical teeth.
After getting the chance to feed Wa Wa several times during the interaction, I learnt that dolphin's teeth are not used for chewing. They act as defensive weapons and aid in gripping objects. In fact, dolphins swallows their food whole, and the dolphins at RWS Dolphin Island are fed super fresh restaurant grade fishes.
In this 30 mins interaction, I had for the very first time, heard a dolphin whistle. It is extremely high pitch but still audible to the human ear.
Bottlenose dolphins unlike other breeds of dolphins have been found to have signature whistles, a whistle that is unique to a specific individual. These whistles are used in their communication to identify an individual. It can be seen as the dolphin equivalent of their unique name.
When given the command, Wa Wa diligently did a back flip for us so we could examine its' fluke (tail). The fluke is responsible for the propulsion (forward movement) of dolphins as it is connected to very powerful muscle groups in the back and along its belly. The flukes represent two fins, as they are divided by a "median arch". They are filled with fibrous connective tissue and function as thermo-regulators. 

Highly sociable creatures, the dolphins have their favourite play mate or even trainer and these are used as incentives for good behaviour. The trust, understanding and bond between the trainer and the dolphin is critical in such facilities.
Wa Wa was in a fantastic mood that day and I'll like to think that its' because he likes playing with me as much as I like playing with him.
He frequently swam around us waiting for a belly rub and looked very attentive as we played around with him. Despite his strength and his size, he was so gentle.
With a short amount of time remaining, we got to play with the dolphins the way the trainer would play with them as well.
I tried dancing with Wa Wa and he mimics my actions beautifully. Dolphins are intelligent and inquisitive by nature so they actually enjoy all the attention that they are getting.
Tiffany and I even tried a 2 vs 1 water fight with Wa Wa.
I guessing that just looking at my photo, you can just about tell who won the water fight.
It was a short but detailed introduction to dolphins and I definitely went home with more knowledge about dolphins than before.
We took a quick tour around the facility and were showed how the dolphins were cared for round the clock with daily health checks on their blowhole, teeth, skin and urine using waterproof ipads. As it is natural for a dolphin to attempt to hide any health problems (the dolphins can't afford to appear weak else it will become more vulnerable to an attack by a predator), proficiency and experience is required to diagnose a dolphin's health.
Data collected every day will be analysed by veterinarians and scientists to research and understand dolphins better. Most of what we know about dolphin echolocation, hearing, diving, senses, thermo-regulation, birthing, and social interaction has been gain through studying of the dolphins in marine life facilities. With man's help, the survival rate of stranded dolphins has increased in the past few years from only 10% to 30%.
It was a lovely experience at Dolphin Island. Each Dolphin Island package includes a dolphin interaction programme, 1 day admission to Adventure Cove Waterpark (admission is valid only on the day of your scheduled dolphin interaction), one set meal at The Bay Restaurant and complimentary use of Dolphin Island lockers, towel, wetsuit, and flotation devices during the interaction programme.
 If you are interested, please visit RWS website for more details.