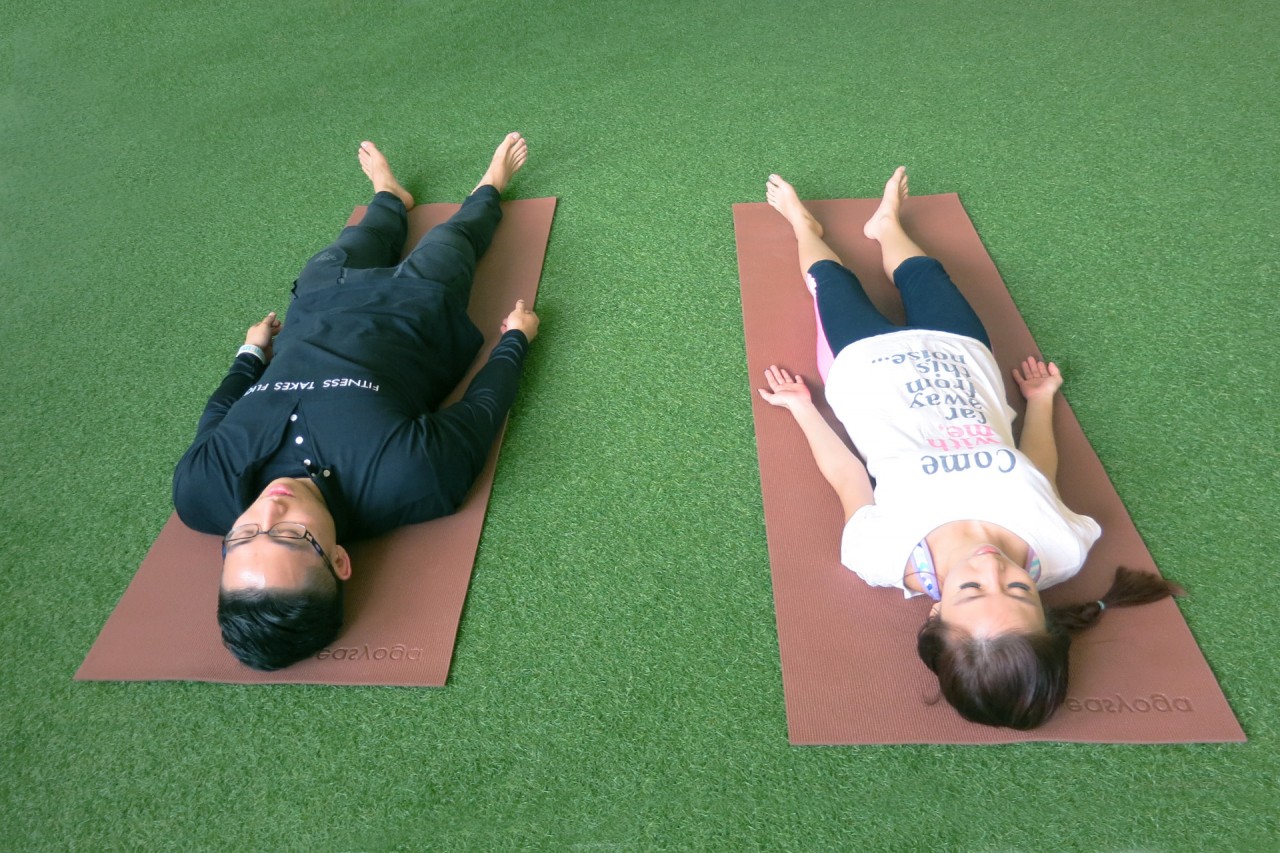 Aileron Wellness is found in Amara Sanctuary, an award winning boutique resort on Sentosa Island. The gym is nested beautifully on a hillside, surrounded by 3.8 hectares of lush landscaped gardens and natural tropical rainforest. Heading to Aileron Wellness Gym was almost as good as taking an hour's vacation from the hustle and bustle of busy city life.
A members only exclusive gym, it focuses a lot more on one-to-one personal training rather than classes even though they do have a couple over the weekends.
My trainer for the day was Mr Benson Poh, who started his career in the fitness industry since he was 17 and has way more certifications and accreditations than I have fingers to count them. He specialises in strength and conditioning, performance enhancement, functional training and weight management.
Benson gave me an overview of the gym, explaining the unique types of training culture that Aileron Wellness practices. For one, I didn't wear my shoes at all during my training session. By exposing my feet, Benson is able to judge my posture, the shift in weight and my feet movement better. Working out without your shoes just feels a lot more comfortable and helps to improve the balance.
The gym is fully equipped with almost every sort of machine and training equipment. Beautifully maintained, there is no queue to use anyone of them since they prefer to keep the gym exclusive.
In my short consultation with Benson, I shared my lifestyle, diet and fitness goals. I was looking to gain some strength and increase my muscle mass without losing weight. Lifting weights were one of the things I didn't enjoy though I like outdoor hikes and yoga.
My trainer, Benson, took mental notes and told me that he would cater an exercise session to meet my needs while keeping my engagement level high. He shared that having fun while training is the most important because when it is fun, you'll keep coming back for more. Our lives are already very stressful and there is no need to put ourselves through more misery at the gym. Activities here are made to free your tensions while helping you strengthen up.
I started to some simple exercises to warm up. Unlike most gyms where weight lifting is simply a series of repetitive sets, Benson makes everything into a game which got my competitive juices flowing.
He explains the muscles he is looking to target as well as the rules of the "game" we will be playing.
Even the humble balloon becomes and exercise tool as I run all over the studio chasing it to prevent the balloon from ever reaching the ground. Of course, Benson did his best at making me stretch out to save the balloon from many near misses.
Making use of dynamic weight training, I practiced some serious combat moves while fighting the resistance and activating my obliques.
Many of the gym clients come in after a hard day of work and simply want to release steam while doing something great for their health. Instead of fighting their moods and nagging them to work harder, Benson works along the vibes and strategises creative exercises. One of them is to get them to throw sand bags as hard as they can on the floor.
Focus on anyone who is giving you a hard time and slam your frustrations on the floor! I started off pretty cautiously but it wasn't too long before I got into the rhythm of expressing my tensions and stress in the most constructive way.
To keep my heart rate going and my energy positive, my next activity was to slap/box the electronic boxing pads when colour lights up.  There are 9 different points and it gets faster and faster. Absolutely fun and I was totally absorbed in it. It's like an arcade game and I think it's super cool.
Master Trainer for Stroops Education, Benson strapped one end of the "bungee cord" Stroop to my waist and the other end he tethered to himself. In this way, he could add resistance to my workout while I did some simple movements while balancing on the high vibration power plate.
Fighting resistance while trying to maintain your posture and balance works the body on so many levels and it was my first time trying such a combination.
My final "game" came in two parts. In part one, I had to put on some boxing mits and smack tennis balls that were flying towards me. Terrific fun that had me smiling all the way while I focused hard to improve my hand and eye coordination.
In no time at all, there were tennis balls littered all over the studio. Which comes to part 2.
In part 2, Benson and I race to collect as many tennis balls into our "base" as fast as possible. The rule states that you can only be carrying one ball at a time so you can imagine the amount of short sprinting I did all over the studio.
We both did really well but there is no winner or losers in a game like this. Just lots of fun and laughter.
Benson was definitely taking notes when I told him of activities I love because he incorporated some yoga into our cool down session.
With the ambient music Benson put on the iPod, the greenery and gorgeous natural lighting, I had a beautiful end of my train session. I had so much fun, it didn't even seem like I had exercised (until the muscle aches reminded me the next day). I feel that the trainers at Aileron Wellness have evolved personal training to a higher and more personalised context. All my concerns were addressed and the session was tailored to suit my likes and dislikes. For the first time, I leave the gym lighthearted while looking forward to doing even more personal training. If you are looking for a truly bespoke personal training service, you can be assured that the Aileron Wellness is a notch above the rest.
Aileron Wellness
Amara Sanctuary Resort Sentosa #02-38 & 39, 1 Larkhill Road, (S)099394 Tel : 6274 7138 
Thanks for reading. I 'm currently having wonderful time with close buddies in Phuket and I wish you an awesome weekend!