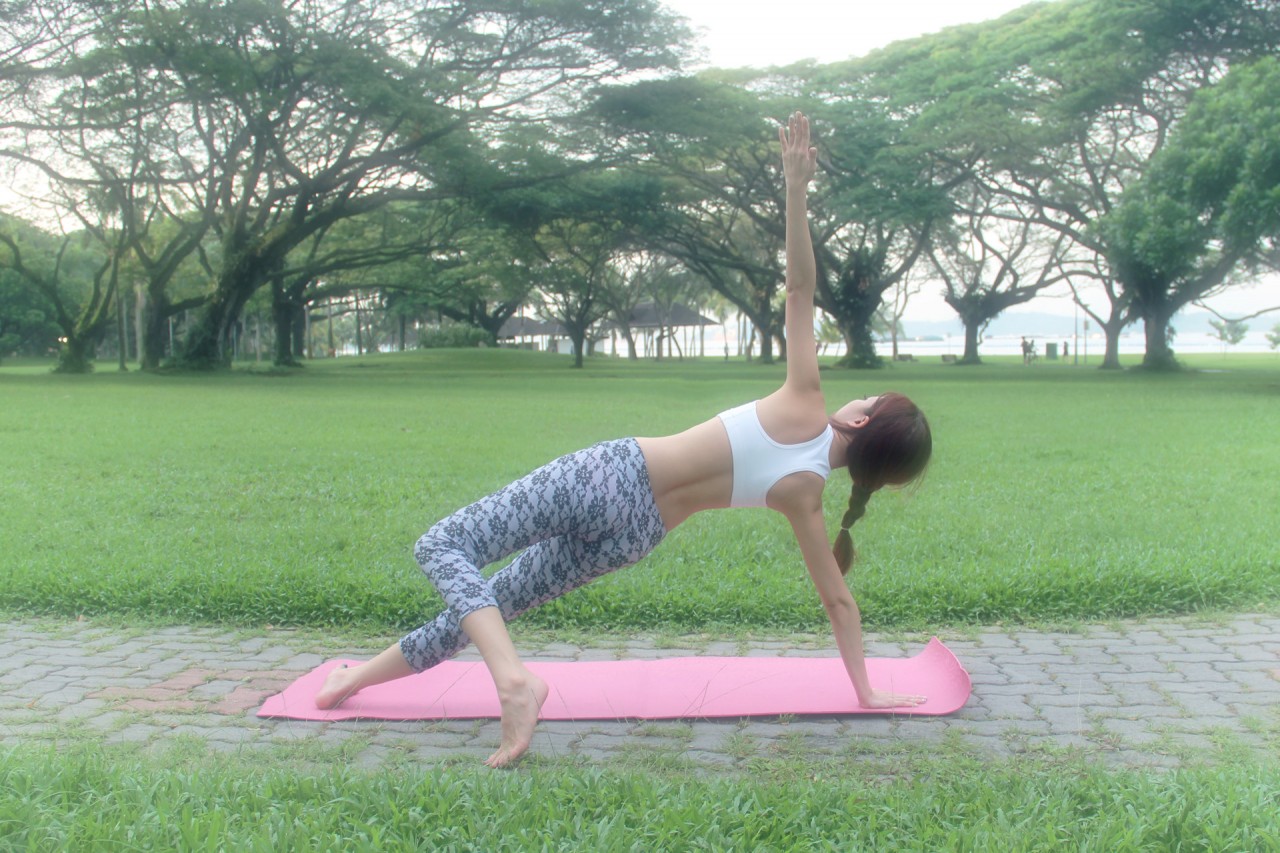 Keeping fit and healthy has been on my new year resolutions for years now yet it wasn't until the 2nd half of last year that I finally found myself truly integrating a healthier lifestyle and I'm glad that this change has spilled over to some of my close friends, family and love ones. With the high stress levels we face in urbanite Singapore, it is imperative that we don't lose focus on balancing our body, mind and soul to enjoy a more fulfilling lifestyle. In this post, I'll be sharing 7 things that I've been doing to keep healthy.
1. Having a favourite fitness activity.
I first joined Updog Studios for yoga lessons in August last year and I've never looked back. Even though I travel so often and practice irregularly, I can see the positive effects on my lifestyle. I'm stronger, more flexible, calmer, more focused and more mindful of my daily activities. Yoga helped to ground my determination to a healthier lifestyle and is an essential part of my fitness goals.
I've even tried variations of yoga including the anti-gravity yoga at Virgin Active (pictured above) which was a lot of fun!
2. Try out different sports with friends
Company makes it so much easier to keep healthy. It's not a chore when it is fun and I started to try out different types of sports and fitness activities with friends. Not only did it expose me to more choices, it also helped me to love and understand my friends and their passions better.
3. Set a goal
It's hard to keep healthy when you don't have a goal in mind. Mine is to gain more muscles. I'm quite petite so losing weight  is not a driving force for me. However, I have been told that I lack the adequate amount of muscles needed for someone my size so I'm working out to be stronger and to be more toned. At the moment I need to gain about 5kg more of muscles and being able to have a physical goal helps me to stay focused.
4. Take little steps
Being healthy and staying fit is not about turning yourself into a sports fanatic overnight. It's about having small little improvements to your current lifestyle that will make a big difference over time. Some simple examples include choosing to eat a healthy breakfast or adding more vegetables and fruits into you diet. Personally, I'm trying to increase my protein intake to help me with my muscle development without losing too much weight.
5. A family that exercise together, stays together
I'm really glad that my family is also starting to appreciate the benefits of a healthy lifestyle and taking baby steps towards it. My mum can't do a lot of activities due to a multitude of health issues but she is still game to do small walks and hikes every weekend. Spending time together on weekend hikes is a great time to catchup on everyone's week and keep the family ties strong.
6. Don't forget your pets 
My dogs love being outdoors and plays big part in my life so I'll try to take them out often for walks, swims or just to cycle around with them. It's fun for them as well as for me!
7. Be involved with the local sports community
It's hard to stay fit alone but it can be a lot of fun when there is a community to grow with. Joining community sports programs and activities helps you to play and learn better. I am joining the NTUC Run 350 challenge with JW in April. It's my first time joining a run and my first time running in more than a decade so naturally I'm quite intimidated. However, after attending a free running clinic, I learnt more about dynamic stretching and how to prevent possible injures from running which greatly help alleviate some of my fears.
A good place to start is with the Community Sports Club and you can join them on Instagram to get inspired to stay healthy and keep fit.  The Community Games (CG) is a multi-sports competition held across Singapore, bringing the Games to the heart of the community and connecting residents of different ages, races and living across estates. CG is organised by the People's Association, Community Sports Club Council and Community Sports Clubs, with support from the National Sports Associations of the sports to be featured. The seven sports featured under CG are Badminton, Basketball, Bowling, Football, Netball, Sepaktakraw and Table Tennis.
If you are already active in sports or are looking to be more active, you can join the Community Sports Festival (CSF) 2014. This is a series of sports festivals organised by the Community Sports Club Council (CSC Council) and Community Sports Clubs (CSCs) in partnership with the various Grassroots Organisations. The sports festivals would be held during the period 16 March to 30 June, at various venues across the island.
You can expect a fun-filled, exciting event that attracts residents to participate in a series of sports, physical activities and other fringe activities that foster interaction and community bonding. One of the highlights for this year's CSF is the introduction of the Community Sports Challenge, a modified game adapted from the actual sport, to create wider outreach and interest to those who has never participated in a sport which is perfect for someone who is just starting to incorporate a healthy lifestyle like me!
The Community Sports Challenge's emphasis on teamwork helps promotes bonding and fun in their quest to be the best team in the competition. The challenges include Mini Pong, Archery Tag and Football. Each challenge is further divided into four categories which suit the different age groups: Children, Senior, Parent and Child, and Open categories. The challenger who sets the first record of each Sports Challenge of its' categories wins the game.
To find out more, visit Red Sports website and the Community Sports Club Facebook.