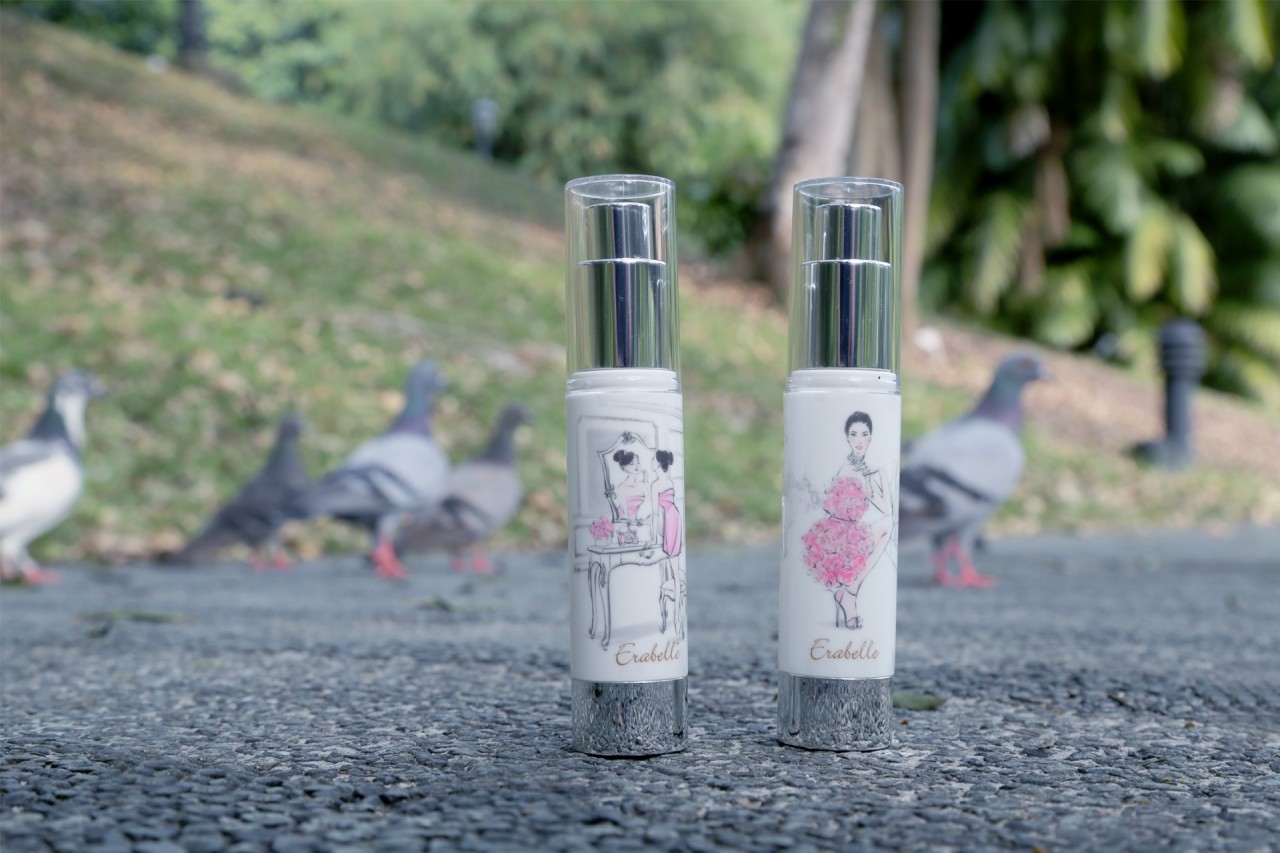 As part of my '7 Finds worth sharing' series, here are some of finds that I would love to share with you!
1. Bridge Cafe
It's not a new place but one which I actually do go back to. With so many new cafes and eateries opening up in Singapore, it would mean that they have done something right. It's pretty near my hair salon, Toliv Boutique and I like the comfortable unassuming atmosphere. I usually go for the Truffle Honey French Toast and the Truffle Mash here though I've heard good things about the Beef Parmentier.
Bridge Restaurant, Cafe and Bar
31 Seah Street, Singapore 188387
Tel: +65 6333 4453
2. The Body Shop Eline Hand Cream
Be part of Change! This almond limited edition hand cream designed by street artist Eine by The Body Shop absorbs easily into the skin for a quick relief of dryness and to help maintain soft skin on your overworked hands. Plus, with every Limited Edition Almond Hand & Nail Cream sold, £1.50 will be donated to support The Body Shop global goal of raising £300,000 to protect and enrich the planet, the oceans or animals & people. Kindness to  your hands and kindness to the world. I say this is a win-win situation.
3. The Body Shop Black Musk
Wow, two The Body Shop finds in one post. This new fragrance follows the line the lines of White Musk from1981 and Red Musk from 2014. Filled with mouthwatering notes of bambinella pear, spiced with pink pepper and bergamot accords to capture pure desire. Black Musk captivates with its delicate sensual heliotrope – an intoxicating scent that oscillates between marzipan and almond – intertwined with a stimulating aphrodisiac touch of the mysterious gourmand liquorice root accord. You will gradually be seduced by the deep and powerfully addictive trail of warm bewitching black vanilla, magnetic black musk, earthy patchouli and chocolate-like vetiver notes. Black Musk is available as 60 ml Eau de Toilette, 50 ml Eau de Parfum and 20 ml Perfume Oil.
4. BENE Premium Bluria & Rougeria Hair Care from Japan
From the same Japanese company (MoltoBene group) that created popular hair and body brands like Loretta and Honeyace, these are the award-winning silicone-free shampoo and hair treatment ranges. The packaging is really pretty, isn't it?
The Bene Premium Bluria range(Blue bottles) is targeted to to those who wants to restore their damaged hair to healthy state through scalp treatment that can eliminate impurities and restore nutrients with the help of the main ingredients – green enzymes. Green Enzymes include green vegetable such as green papaya, kiwi and avocado that is rich in vitamins, mineral and green enzymes. The green enzymes will help to restore scalp health and keep it healthy through it's cleansing power. Green clay, Rhassoul (lava clay) and Dead Sea mud acts as removing grease  and impurities from the scalp, leaving it healthy and toned. Dead Sea Salt is also one of the ingredient in the Bluria range as it nourishes the scalp and makes hair stronger and supple.Enzymes helps to protect our scalp against oxidative damage through exfoliation and anti-inflammation effect.
The Bene Premium Rougeria range (pink bottles) which is focuses on rejuvenating damaged hair. Besides it's non-silicone properties, Bene Premium Rougeria range includes red enzymes that can be found in red vegetables which are red apple, tomato and carrot. The red enzymes are packed with powerful and healthy antioxidant, rich in vitamins and carotene that help to protect hair against environmental stress factors and daily wear and tear. Rougeria range is also infused with Bulgarian Damask Rose honey and manuka honey that has moisturising properties that leaves hair smooth and supple.
You can find them at your nearest Watsons.
5. Ecostore Products
I was first introduced to Ecostore last year but never got round to truly testing their products out until recently. I have sensitive skin so you can't believe how much I love products that are advocates of removing or reducing chemicals in their formulas. Winner of New Zealand's most sustainable business of the year, Ecostore uses leading eco science to develop plant and mineral based household and skin care products without the use of nasty chemicals. Ecostore's customer promise is to provide people with healthier alternatives for cleaning and nourishing themselves, their families, homes and their environment, without having to compromise on performance. I love that they practise the precautionary approach – if there is any doubt about the safety of an ingredient for the environment or people's health, ecostore will find an alternative. In this day and age of harsh chemicals (many of which we can't even spell or pronounce), it is refreshing to see a company so dedicated to being good for the environment while simplifying the ingredients so it's safe for us too. The packaging is clean but clear and the products smells great! If you are looking for a way to reduce toxicity in your daily life, you can give them a try at www.ecostore.sg.
 6. Erabelle Rose Otto Hydrosol
If you are a regular reader of my blog, you'll know I'm a huge fan of facial mist and this one by Erabelle is just so gorgeous.  Facial mists are just about one of the best beauty products invented and I use them all the time to hydrate while travelling, to refresh my tired skin, to set my makeup, to relieve my eczema flares or simply to calm my skin after being out in the sun. Erabelle Rose Otto Hydrosol comes in a pack of two so I leave on in the office and one stays in my handbag. Mine came with a beautiful in-flight bag protector but I'm not sure if that freebie is available anymore.
Made in the UK, it is soothing, hydrating and anti-inflammatory. A wonderful tonic for all skin types, especially dry, mature and sensitive skin. Excellent hydrating and mood-lifting mist that relieves skin suffering from dryness in air-conditioned and in-flight environment. The ingredients are simple (just the way I like it) – 100% floral water, distilled from high quality rose petal from Bulgaria. Hydrosol is the water that is collected when plants are distilled to make essential oil.
You can get yours at Erabelle Shop. I need a refill soon.
7. Marie France Bodyline BodyTech Activ-PPC Cream
Marie France Bodyline was originally established in Switzerland and now has a worldwide network that includes slimming centres in Singapore, Malaysia, Hong Kong, Indonesia, Brunei, Thailand and Macau. With more than 29 years of experience, we help women achieve their ideal body shapes. Their successful track record with celebrities and clients globally make us the only slimming centre that truly understands a woman's body. Now they have introduced the latest addition to their BodyTech series, the Activ-PPC Cream. The aim of this new product is to help women to attain their desired body shape.
A great addition to your post-shower ritual at home, the BodyTech Activ-PPC Cream aids in the reduction of fats and cellulite, leaving a firmer, more sculpted body over prolonged usage.  It also maintains the skin quality by increasing moisture and elasticity. 
The BodyTech Activ-PPC Cream is retailing at an introductory price of SGD98 (UP:SGD130) for a 200ml bottle at Marie France Bodyline Centres.
Bonus: My Little Pony Friendship Run 2016
This not exactly a find but I had such a fun time doing The 6KM My Little Pony Friendship Besties Run with my BFF, Sushi, that I just had to add it in. Too bad a lot of the photos we took together were blurry but this messy look shows what really went down. I haven't run in ages and was glad (and pleasantly surprised) that I could still run 6KM. Much love goes out to dear Sushi who makes such a sweet running partner. We even made an effort to coordinate our shorts color!
Sentosa Palawan Green hosted more than 5,000 participants of the MY LITTLE PONY Friendship Run, held for the first time in Singapore, as they galloped their way to the finish line to celebrate the Magic of Friendship with their family, friends and favourite My Little Pony characters – Twilight Sparkle, Applejack, Fluttershy, Rarity, Pinkie Pie and Rainbow Dash. It came as no surprise to see My Little Pony fans dressed up as characters from the popular cartoon show, sporting iridescent hair extensions and colourful outfits. Sushi and I ran through fun-filled zones – Bubbles in the Air, Sparkle Zone, Rainbow Zone and the "Say Cheese" Zone – before crossing the finish line.
Thanks for reading!