This year I spent my birthday in Japan with makes it my 3rd consecutive birthday spent outside the sunny shores of Singapore. But unlike previous years… my family was with me for this one.
We spent the day going to Asakusa to visit the Sensoji Temple. It is one of the most famous centers for worship in Japan and also a major tourist cultural attraction. Although rebuilt after WWII… it's architectural designs of the different halls have remained true to its original which were built and expanded from 628AD to the Kamakura and Edo period.
The Nakamise is a street leading to the main hall of the temple… it's filled with souvenir and food stores that would give the visitor a feeling of how it would be like to shop on the streets of old Japan. Here… we had lunch and bought a couple of souvenirs and yummy traditional snacks.
These photos are taken at the Kaminarimon Gate (the one with the huge lantern)…. the Nakamise (street leading to the Gokuden)… during lunch… the pagoda… in front of the Gokuden(main hall) and it's surrounding gardens. Notice that it was still raining with strong winds so it was really cold! My mum looked so cute all bundled up with her hood.
When in Rome do as Romans do… so at the temple like the locals… I threw coins… made a wish and also went to have 'a fortune lot' drawn for me to foretell my future and luck (my 1st time). And I drew lot 26 which is an excellent fortune (shang shang qian)! My sis also had a very good fortune… Dad had a normal good one but Mum had a Bad fortune. Mum was a little upset that her's was bad so I bought her a health… safety & good luck charm to brighten her day!
This is my fortune…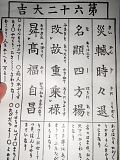 And the English translation (found on the reverse) says:
" General: Trouble and disaster are getting off as time passes by, sign of the fortune is opening and coming to us. Your fame and honor rise all over society. Those old and ancient got renewed then you can get income again.
Getting success in life, and wealth, you are real busy and prosperous.
Depending on what fortune you are seeking: Your request will be granted.The patient will get well soon. The lost article will be found. The person you wait for will come. Building a new house or removal are both well. It is good to start a trip.Both marriage of any kind and new employment are well."
Sounds like a good start on my birthday!
Later on that day after all the walking and shopping… mum decided to treat herself and me to a nice foot massage. It was heavenly! Their foot reflexlogy is slightly different from our local version as they use treatment powder instead of oil as the medium. The massage was soft but effective. With lounge chairs and soothing spa like music… we were soon snoozing away. They even heated our shoes while we were in treatment so that we would could slip into something warm before heading out to the cold.
This is us with our therapists =)
When we got back to the hotel… my family insisted that I must have a birthday cake for my 25th birthday so we got a small little cake to share just an hour before my birthday passed. My sis smeared cream all over my face so we were chasing each other all over the place. I couldn't have asked for a nicer celebration with my dearest family.