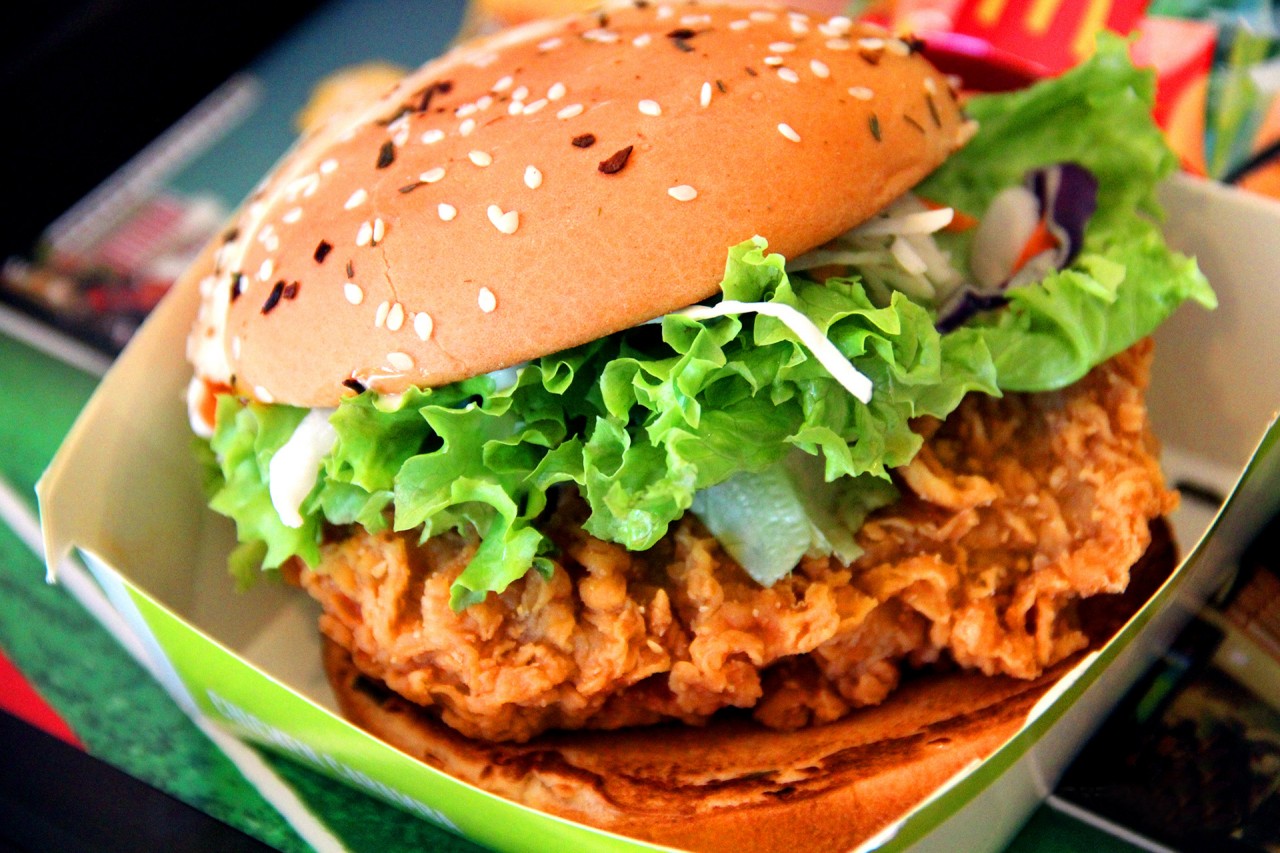 It's football fever all over the world with the 2014 FIFA World Cup happening. McDonald's (as always) knows exactly what gets their customers going and they have planned a whole series of fun and activities to bring the fun and excitement to the football fans in Singapore. Football fans can catch the FIFA World Cup matches "live" in McDonald's restaurants island-wide this year as McDonald now has 38 outlets of 24-hour restaurants with live match screenings. To find out where and what is screening, visit http://fifaworldcup.mcdonalds.com.sg/events.php
There are also new menu items featuring tantalising Brazilian flavours. The Spicy Brazilian Picante burger and Sweet Chilli Lime Crispy Chicken Caramba burger are available from S$7.60 for an Extra Value Meal during this World Cup season.
I really love the combination of the Chicken Caramba burger and will miss it when it's gone so I've been ordering it whenever I can! If you haven't tried it, do so before it's gone!
That's not all! In the Brazillian inspired menu, McDonald's will also be offering the refreshing Fiesta Lime McFizz (with nata de coco bits), Samba Spicy Drumlets, Copa-Banana Pie and Brasillia green cone.
The drumlets are ultra spicy and based on the feedback I've heard, it's supposedly comparable to McDonald's super spicy level 4 Fiery Mala Burger. It's too hot for my tastebuds but I'm sure there are many spice lovers out there in Singapore who would welcome the challenge.
The hot and toasty Copa-Banana Pie is already a hot favourite with many of McDonald's customers and is often sold out.
For those of you who are enjoying the matches at home, you can stand a chance to win $1,000 in weekly draws when you make your McDonald's orders online and via the McDelivery app. Just spend at least S$20 on food and drinks in a single receipt using a local Citibank Visa Card between 5 June to 16 July.
Regulars at McDonald's might have already noticed that the iconic fry box is now a lot more colourful! In McDonald's long history, this is the first time ever that they have changed their fry box. It is a worldwide collaboration specially for the 2014 FIFA World Cup that the medium and large fry boxes will feature an exclusive collection of 12 original street artworks. These artworks reflecting the beauty and passion of football has been selected from the works of over 500 professionally well-known to newly discovered artist around the world.
Other than just looking pretty, these specially designed fry boxes are also the key to unlocking the McDonald's GOL! Mobile App, a new innovative Augmented Reality mobile gaming application. The app is available for download in the Google Play and Apple app stores. You'll be able to scan the fry boxes for the device to recognise. A football pitch will appear in an Augmented Reality scene with the fry box as the goal and other built-in objects as obstacles. Have fun "kicking" the ball with your fingers and divert (or use) obstacles to get the ball into the goal.
I like my "action" live so it's wonderful that a piece of Brazil will be recreated in four restaurants with a series of weekend carnivals. Featuring drum and passita performances, soccer ball juggling challenges and futsal competitions. I was at Kallang McDonald's and had fun taking part in some challenges myself!
Everyone was having so much fun and in the spirit of things, I even got myself a soccer ball tattoo (temporary).
The games are all fun and exciting for kids and adults of all ages. There are lots of prizes to be won as well! I won an awesome soccer ball that is really very well made. Lots of families were having a merry time and even Ronald McDonald himself was on hand to brighten the atmosphere.
I would like to also share a really cool thing I learnt about McDonald's 2014 FIFA World Cup Brazil initiatives. This June, McDonald's Singapore will be sending three young football fans to Brazil under the McDonald's Player Escort Programme. Christoper David (8 years old), Jovan Koh (10 years old) and Nadir Haziq (11 year old) were winners of the recently held McDonald's Plater Escort contest and will be on their way to a once-in-a-lifetime opportunity to walk onto the pitch at a World Cup match, hand in hand with some of their football heroes. How cool is that!
This year, McDonald's Singapore will also be hosting its inaugural McDonald's football Clinic, a football training programme that will give 120 football lovers the opportunity to hone their skills with qualified coaches. Three of those children from the programme will each win a free one-year scholarship with ESPZEN Soccer School and Academy.
Thank you for reading and I hope you'll have more fun celebrating with McDonald's this football season.