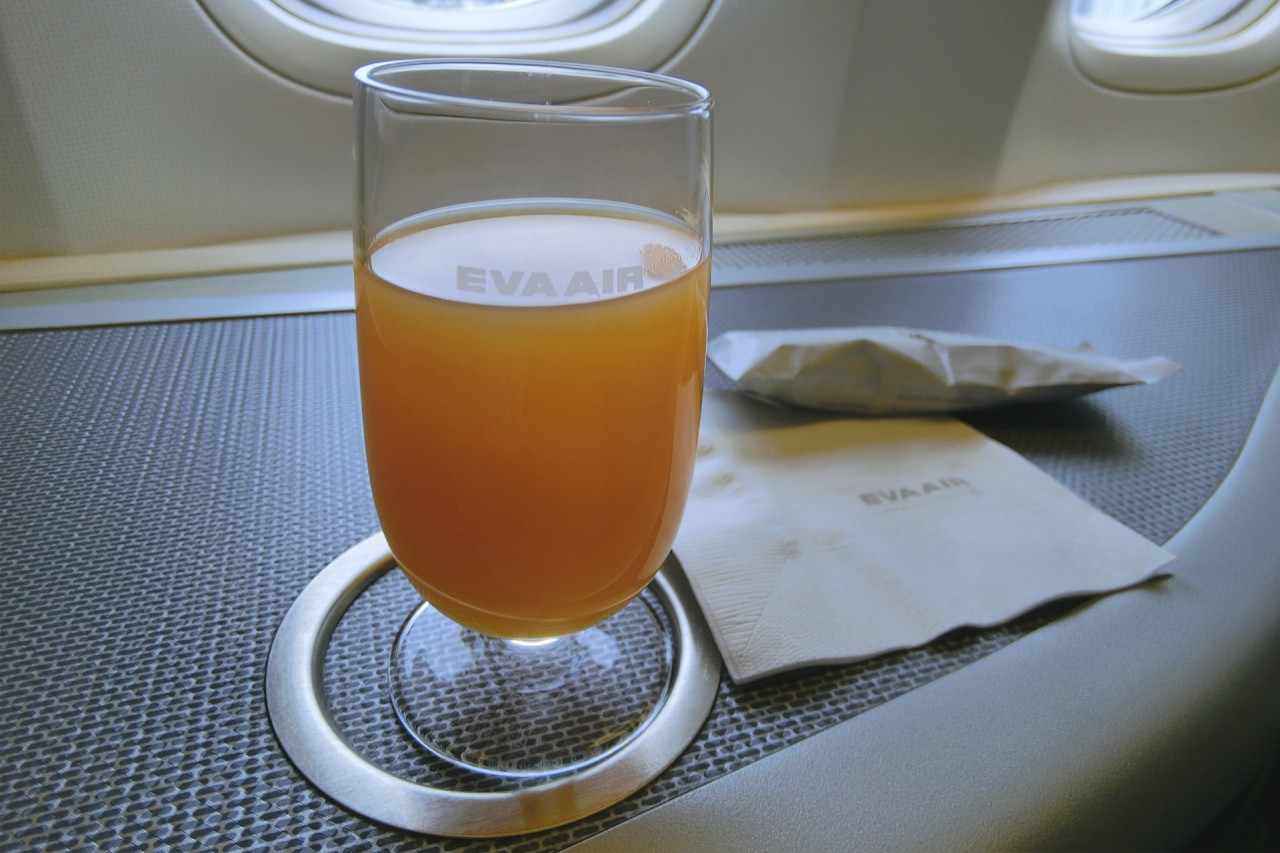 I was very fortunate to have been able to be the Singapore Ambassador for New Taipei City Tourism with EVA Air recently. If you have been following my Instagram (@Renzze), I'm sure you've seen the wonderful sights of beautiful Taiwan. EVA Air just launched their new Shining Star Hello Kitty Jet recently in Singapore and the first flight departed on 21st June 2015. As a huge Sanrio fan, it was a huge highlight to me to have been able to preview the plane when it arrived in Singapore. Unfortunately, my little escape to New Taipei City happened before this launched so I haven't personally experienced the Hello Kitty plane but I can still share with you my incredible experiences of taking EVA Air to Taipei and back so you can look forward to experiencing these on your next EVA Air flight (regardless of whether it's a Hello Kitty plane or not).
Taking EVA Air Premium Economy Elite Class to Taipei and their Royal Laurel Class for the return trip to Singapore, I'll highlight the perks of both experiences to bring you a total of 11 incredible things about my EVA Air experience.
Incredible Things About EVA Air Premium Economy Elite Class
1. Special Check-In Line for Elite Class Passengers
Even though the price difference isn't too much, you feel the perks of being in the EVA Air Premium Elite Class from the moment you check in. It's that tad of exclusivity that makes your trip a lot more comfortable. Check-in lines for economy class is well-known to be the longest, regardless of which airline you take. With a special check-in line for Elite Class passengers, you won't have to spend your last moments before flying waiting in line.
After all, won't you rather spend it with love ones who came to see you off or to do some duty free shopping at the airport?
2. Extra Space
Space is a much valued commodity on air travel. The plush and spacious Elite Class offers you a 38 inch long, 19.5 inch wide seating space with ample legroom. No more inch fighting with the person next to you the whole flight trying to preserve whatever tiny territory you have left. I'm tiny and for some reasons strangers always assume that makes it okay for them to infringe into my space. With this much space for everyone on Elite class, I can sleep in peace and even consider booking Elite Class instead of business class on short trips so I can splurge my flight savings shopping in Taipei instead!
Most of my friends and family members are always trying to get an aisle seat but I'm a window seat kinda girl. I love being able to take photos of beautiful clouds or sunsets whenever the opportunity arises. On the EVA Air's B777-300ER aircrafts , there are only 2 seats on the either side so there are less chances of getting stuck in the middle with strangers you don't know. The middle column has 4 seats which are good for families or big groups.
The ergonomically engineered chair was so comfortable, I fell asleep for most of the flight and I wasn't the only one! The guy sitting in front of me slept through the whole meal session and even though he had his seat reclined, I could still eat my meal comfortably.
How's that for spaciousness.
3. Excellent Array of Entertainment
I didn't watch a movie this time round as I enjoy sleeping on board when it's comfortable. But if you are one of those that needs entertainment, you'll be happy to know that the state of the art inflight entertainment system features an 11 inch LCD touch screen that gives you access to Star Gallery's extensive library of movies, TV shows, music and games.
To make the experience even better, you don't just get some lousy cheap ear buds but get issued these noise cancelling headphones to enhance the quality of the movie or music. You can use the screen to browse and shop the Onboard Duty Free items. I'm old school and still like flipping catalogs instead.
They have lots of EVA Air Hello Kitty collectibles too!
4. Great Inflight Amenities
EVA Air has set aside a special collection of inflight amenities just for their Elite Class passengers. Each passenger will get a pillow and blanket set prepared for them. If you are traveling long haul or are on a red-eye flight you'll also get travel sized toiletries plus products from Canadian aromatherapy brand ESCENTS. Even if you are on a short flight, you can always ask the cabin crew for any toiletries you might need. They provide USB plugs and 110V AC outlets for laptops which is good for those who like to work on the go.
I love that they include a good dental floss pick after your meals instead of the usual toothpicks.
5. Delicious Snacks and Food
Airplane meals have a reputation of being sucky. Surprisingly (or I may just be really lucky), all the meals I've had on EVA Air to date has been delicious!
To start with, you don't just get your usual peanuts for snacks but this yummy Japanese mixed snack. So tasty!
The meal I had on my flight to Taipei on EVA Air Elite Class consists of Sha Cha Chicken Roll with Sweet Potato, Quinoa Salad and Braised Beef with Onion and Oregano Sauce. My iphone quick photo snap doesn't do it justice due to dim lighting but it taste much better than it looks and I polished it all off.
The must try highly recommended snack on board is this Seaweed Laver. Totally addictive. I'm not sure if you get it on all flights but do keep a look out for it.
Incredible Things About EVA Air Royal Laurel Class
6. More Baggage Allowance
 You'll get the red brown carpet treatment when checking-in at EVA Air Royal Class exclusive check-in counter and you'll get a total baggage weight allowance of total 30kg, regardless of the number of pieces. There's no reason not to shop more on your trip now! Even though I brought a ton of Aveda hair products back to Singapore, I didn't even have to worry about having excess baggage.
7. Access to VIP Lounge
All passengers traveling on EVA Air Business, Royal Laurel and Premium Laurel Class are invited to use their comfortable VIP lounges in all the airports it serves. These lounges are great to hang out in while waiting to catch your next flight out.
They have huge bathrooms where you can take a refreshing bath or if you need to catch 40 winks, seek out these comfy lounge chairs.
I had caught a super early morning flight back to Singapore and enjoyed my breakfast at the VIP lounge. The free buffet spread was pretty good!
Since I still had some time before my flight, I spent it catching up on some work emails at the business center.
8. Space and Privacy Assured
Once you get onboard the plane, you'll notice that the seats in Royal Laurel Class are configured in a reverse herringbone layout that maximizes space. There is only one window seat on each side and two aisle seats in the middle so you are guaranteed an aisle access seat regardless of any seat assigned.
Your privacy is assured through fixed panel that help create your own personal area.
At the push of a button, each seat converts into an approximately 2-meter-long, fully lie-flat bed! Excellent for those who needs to sleep well before arriving at their next destination.
You have full access to customise your seat to whichever angle is most suitable for whatever purpose you intend to do.
As you can see there is just so much space! They also have compartments for you to hang your jacket, a shoe cabinet, a retractable armrest, and a cocktail table.
9. Upgraded Entertainment System
Royal Laurel Class is outfitted with the latest inflight entertainment system, including HD touch screens, noise-canceling headphones, and USB and iPod ports.
After 18 months of research and development, EVA Air has introduced these new lighter headphones in the Royal Laurel Class cabin. They have active noise reduction technology that can effectively suppress cabin noise and engine drone for a better sound experience. The padding is soft and the headband is ergonomically designed to ensure a comfortable fit. An interesting mute function allows you to talk to other people without needing to remove your headphones.
Generously sized tables and 110V power sockets allow you to work comfortably and efficiently when you need to. Wi-fi is available at a charge. I had all my gadgets fully charged while I slept away.
10. Ding Tai Fung Menu
The luxe service is apparent once I was on board the aircraft, the cabin crew offered me champagne together with a wet towel and snacks. I don't normally drink on flights as I want to be as hydrated as possible so I opted for orange juice instead.
While deciding what to have for brunch on board, I realised that there was a special Ding Tai Fung beef noodles on the menu and couldn't resist ordering that even though I was already pretty full from the breakfast I had at the VIP lounge earlier.
Super yummy and I love the cold dishes that came as part of the set as well! Pardon my bad photo as I literally woke up from my sleep just to eat this.
11. Unique Inflight Amenities and Items
I was actually a little sad that the Rimowa overnight kits I heard so much about is only available on long haul flights such as U.S. bound from Taipei. The cool looking kit come in 2 colors and include lotion and lip balm from Harnn, Thailand's top spa and skincare brand; a screen cleansing cloth for mobile devices; a satin sleeping mask; sleeping socks; toothpaste; a toothbrush; and a comb.
On the bright side, the cabin crew were extremely attentive and even offered me a change of PJ to have a nicer sleep. I'm usually dressed quite comfortably on flights so I politely declined but I did take up their offer to use their bedroom slippers so I don't have to wear my shoes whenever I wanna go to the bathroom.
I had such a good rest on this flight and whenever I asked for water, they served me with bottles of Fuji Water. Thank you EVA Air for the incredible experience! For more details on booking your next flight on EVA Air visit their website at www.evaair.com .
As a bonus, even though I didn't manage to catch the Hello Kitty flight, I did however, get some EVA Air Hello Kitty experience at the self check-in counter for Hello Kitty flight at Taiwan's Taoyuan International Airport.
You can take a sneak preview of some of the items to expect when you do take a Hello Kitty flight with EVA Air.
It's also a selfie/ camwhore zone. Many travelers were taking photos and selfie here even when they weren't taking a EVA Air Hello Kitty flight. I spotted a couple of guys doing selfies too!
Mothers also should check out the Hello Kitty Nursing room inside the transit area!
Thanks for indulging me in my Hello Kitty and Sanrio spam 🙂
Now you know what to expect from your next EVA Air flight or if you find yourself wandering in Taiwan Taoyuan Airport!