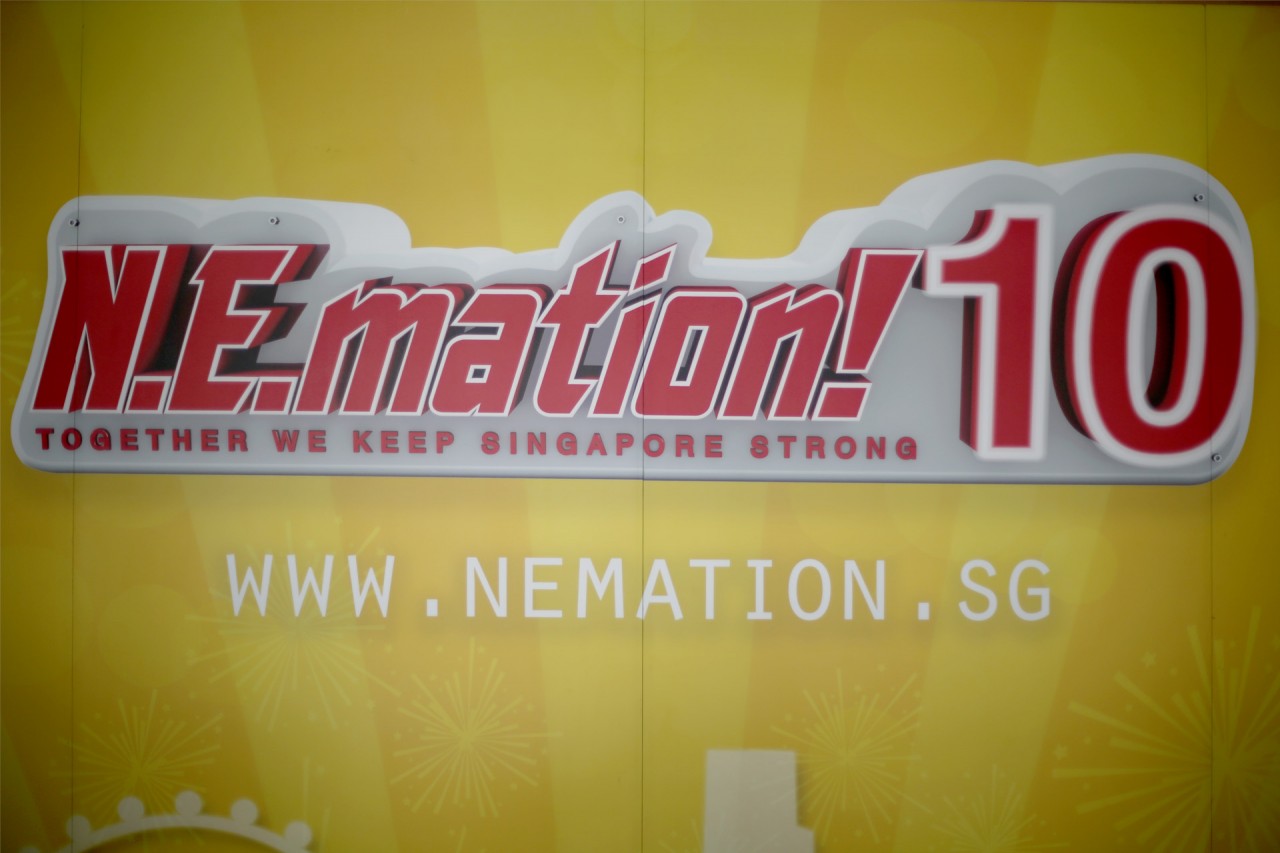 Wow. I can't hardly believe that it's been a whole decade since N.E.mation! first started (If you have completely no idea on what N.E.mation! is about, you can read my previous postings). I've been involved in N.E.mation for a few seasons now and I'm proud to say that it has never failed to wow me every single year. The improvements to the competition, the number of participants, the creativity levels, the dedication and the impressive results of all that hard work have propelled the standards of this competition by leaps and bounds. Right now, N.E.mation! 10 is in their production stage for the top 10 selected teams. For N.E.mation! 10, students are asked to use their creativity and share stories centered on the theme "Together We Keep Singapore Strong".
Being an ambassador of N.E.mation! 10, I was selected by 2 of the teams to guide and document their progress as they tackle one of the most difficult stages of their N.E.mation experience. My two teams are BAMM (#NE10C02) for St Nicholas Girls School and Rockin Tomato (#NE10C08) from Hua Yi Secondary School. Please join me on my journey to uncovering their animation process and support these talented (and fun) students by liking their profiles on the Top 10 N.Emation teams FB Page. Your little gesture of clicking 'like' will encourage them during these stressful days and you can ask them questions to get to know them better too.
Here are some quick photos of the two teams who have settled nicely into their first week of production.
BAMM (#NE10C02)
Made up of four St Nicholas girls who are in Secondary 2, the team members are Annabel Lim Shunhui, Bee Shu Wen, Meagan Goh Yijing and Choong Hui Shan, Marilyn. I actually first ran into 2 of the girls before the official N.E.mation! 10 production week started. They told me that they were there early to learn and understand the animation process better because they didn't know much about it before they joined this contest. The foresight and dedication paid off as they ahead of their schedule during their first week of animation despite not having their full team present.
Rockin Tomato (#NE10 C08)
Their explosive name captivated me but the little secret (well, not so secret anymore since I'm sharing it here) behind the origin of their name is that it is derived from a name generator. It is honestly a modern, easy and effective way of getting a name that will bond the team. Instead of wasting time brainstorming, just let the randomizer do the work and just pick one that sound the coolest for your group's personality. The 2 boys, and 2 girls team- Foong Chen Fu, Philemon Tei Kai Jie, Tan Shi Qing Dion and Cutural Ko Rui Wei, are secondary 2 students from Hua Yi Secondary School. With a laidback vibe of fun and experimental attitude, their strong team spirit keeps them sane while they learn how to draw digitally and animate for the very first time. They were also missing one member from the team when I last visited but their full team is back in action now.
I will be giving an in depth introduction of each team, their goals and their encounters of their N.E.mation! 10 experiences in my subsequent posts so watch out for it!
P.S – As of production week 2, Rockin' Tomato will only have 3 members in their team. A little smaller but still explosive.
P.S.S – Just found out that my N.E.mation! FB link doesn't work on mobile so please try to click it using a desktop.