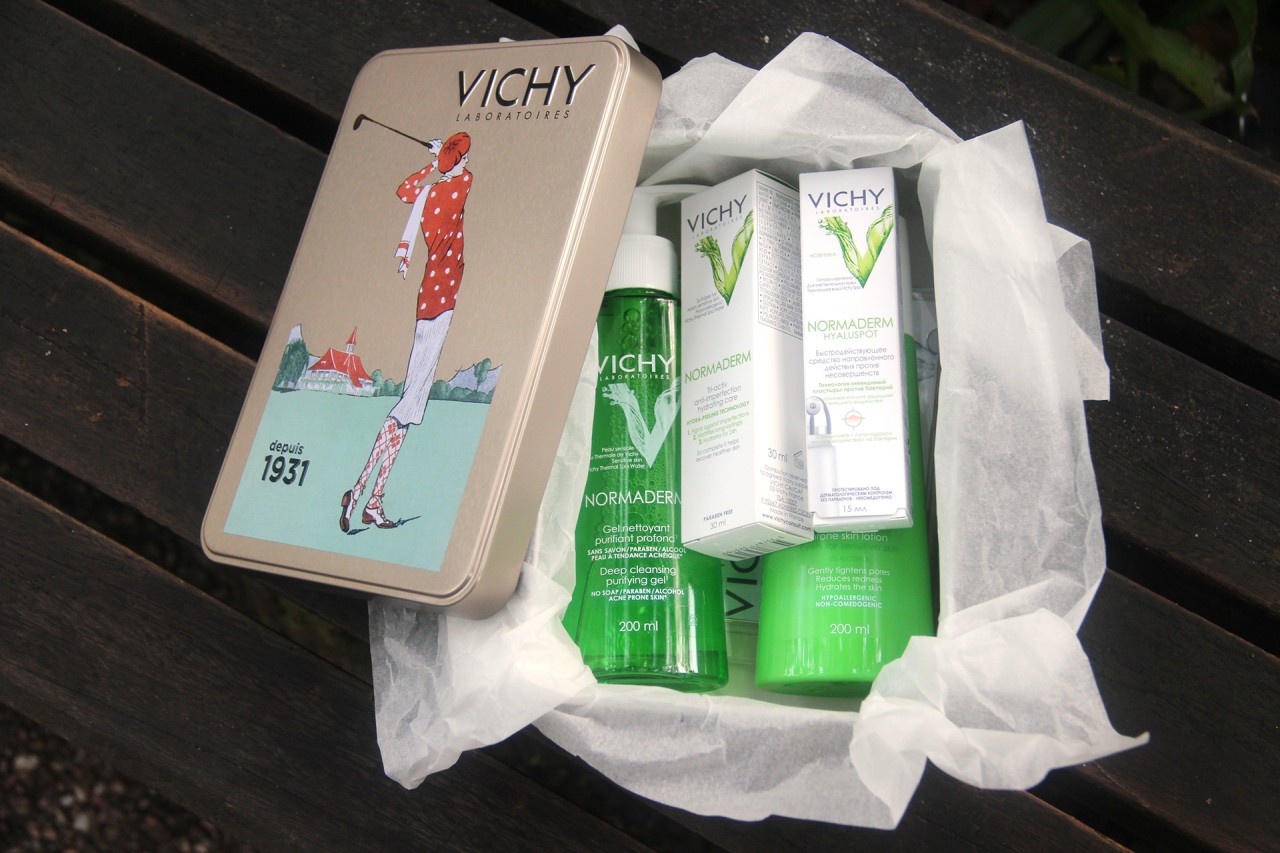 Vichy Laboratories have the cutest packaging ever! I'm totally in love with their classic looking packaging for their Vichy Normaderm series. This series is all about controlling oil and keeping your skin acne free. I fell quite ill for more than a week with serious stomach flu recently. I was so sick that I stayed in bed all day, neglecting work and even my usual skincare regime. Not surprisingly, my skin rebelled and by the time I was feeling better enough to get out of bed to look into a mirror, my skin looked horrendous and a huge pimple had found its home on my chin.
I guess in a way, it was the perfect time to test run the Vichy Normaderm products and to explore more about blemish-prone skin. The most important lesson I learnt is that "prevention is better than cure"!
Whenever I get a pimple, reaching out for a pimple cream to zap it away is the first thing I think of doing. Although an effective spot treatment is certainly helpful in combatting the pimple or blemish, a comprehensive skin care regime is required to effectively cleanse and rebalance your skin. If you don't take care of your whole face together with that pimple, you can be assured that more of those nasty pimples will find their way to your face.
The Normaderm anti-perfection range is one of the best sellers in Vichy product offerings for treating imperfection- prone skin.After cleansing with the deep cleansing purifying gel to eliminate impurities and unclog my pores, I'll tone with the Imperfection-Prone skin Lotion that contains 0% alcohol so it's perfect for sensitive skin. This helps to tighten the pores and refines my skin texture. I know a lot of people tend to skip using a toner because they feel that it's not really that important and I do agree that most of the time you can't see any immediate effects of using a toner but it's an important step because it prepares your skin for all the goodness in your whole skincare range to work well.
A good toner balances and refine the skin and this is even more important for those with oily or imperfect skin types that are prone to blemishes. It can reduce the redness of your skin while gently eliminate any fine impurities that your cleanser may have missed out.
I love how the whole Vichy Normaderm range smells so fresh! They are really popular with the boys as well and it's fantastic to find a product range that works well for both guys and gals. They have been tested to work with sensitive Asian skin and are hypoallergenic and paraben free!
The next step of the regime is to use Vichy Normaderm Tri-Activ Moisturizer. Most people with blemish prone or oily skin are particularly concerned when it comes to applying moisturizers because finding a compatible one makes all the difference. The reason why Vichy Noraderm Tri-Activ Moisturizer is their star product is because it was created specifically for oily skin types that hydrates the skin, regulates the oil production and treats the imperfections all at the same time! It is the No. 1 selling oil control moisturizer within the derma skin care category and are great even for users with sensitive skin. It helps to fight 6 different types of skin imperfections such as blemishes, pores, redness,shine, pimples and uneven complexion.  Exactly what my skin needs right now.
Try as much as possible not to squeeze your pimple even though that seems like the most enticing reaction because if you don't extract it properly, it'll worsen by being even more inflame and spreading the bacteria to the rest of your face! This is definitely one scenario that is better left to professionals.
Instead, the best solution after completing your cleansing, toning and moisturizing is to apply a spot treatment that can help to treat the pimple and give it time for the face to drain off the toxins naturally. I used the Normaderm Hyaluspot that eliminates 99.9% of the pimple causing bacteria in just 2 hours. Pimples start to disappear from 48 hours onwards.
What is amazing is that this "pimple cream" doesn't dry out the skin surrounding the pimple so its really gentle. If you look closely at the photo where I posted up my pimple, it was about 36 hours after my first application of the spot treatment and you can see the pimple already starting to calm down and the skin is surprisingly hydrated; not dried up and peeling. All Vichy skincare products also contain Vichy Thermal Spa Water that soothes intolerant and sensitive skin. It protects the skin against aging and free radicals from the sun, and regenerates skin cells by simulating cell metabolism and epidermal repair.
If you (or your other half) have blemish-prone, sensitive skin, give this series a try. I've seen it work so well on so many people already and I'll turn to it on those days where my skin is out of whack and I can see a lot of excess shine. It's really important to pay attention to your skin and the types of products it needs. Depending on the weather, stress levels, hormones and environment, it's not unusual to have different skin needs at different times.
All Vichy products including this cute gift set can be found at any Watsons stores in Singapore.
*****
*****
*****
*****
*****
Outfit of the Day
Top: Liz Lisa
Lace Denim Shorts: China
Bracelet: Hermes
Watch: Cartier
Heels: Pazzion
Earrings: Embellish.sg