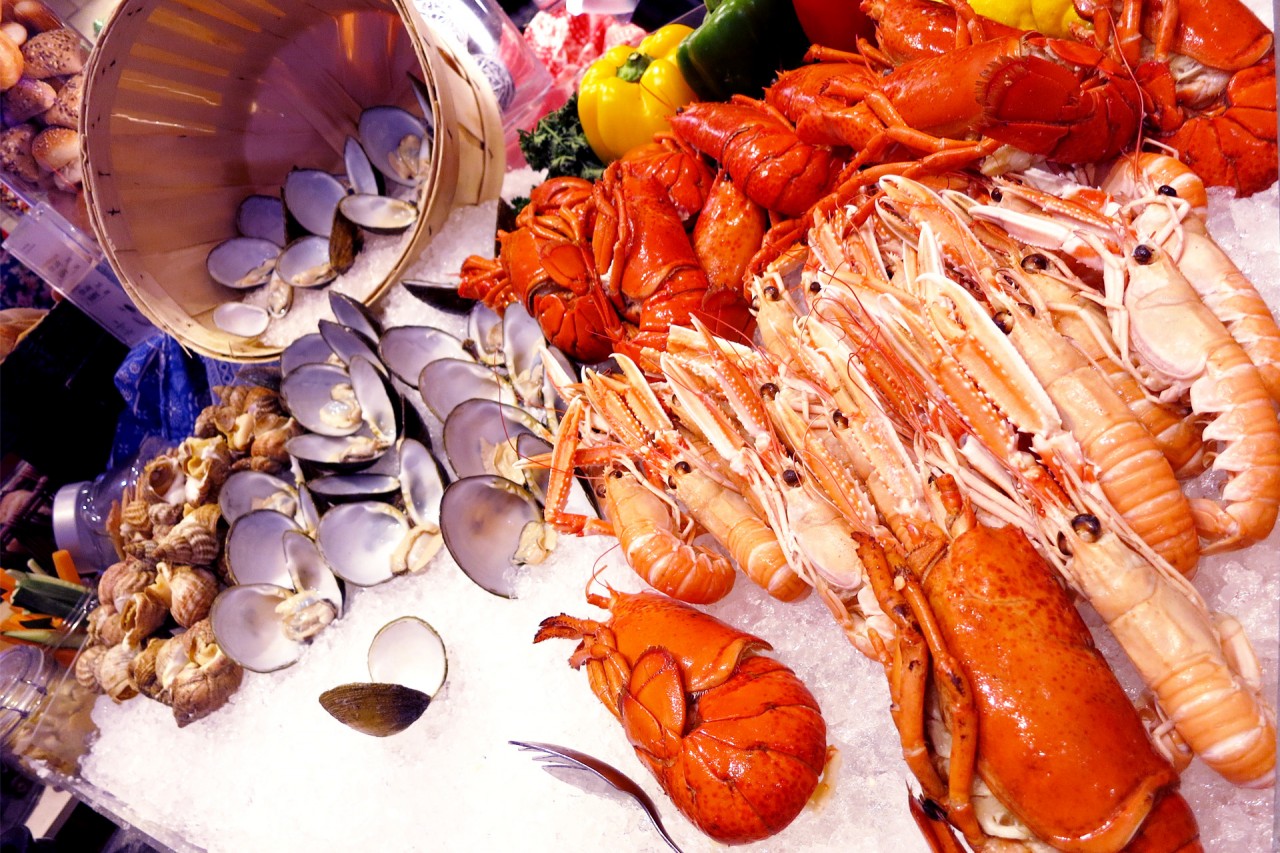 I have a soft spot for Straits Chinese or Peranakan food. It's one of the cuisines I grew up with and has one of the most unique tastes in the region. When Melva extended me an invite to check out a whole new delicious spread of authentic Straits Chinese dishes at Orchard Café's show kitchen by new Executive Chef Paul, I was elated.
Even while approaching the cafe, the colorful baba nyonya heritage can be seen clearly displayed.
One of the first things I noticed the moment I saw the buffet line was actually arcar. I love nyonya arcar but good ones are hard to come by.
The buffet spread is so sumptuous, I honestly couldn't decide where to start. Chefs were everywhere preparing dishes such as Nyonya Laksa with Boston Lobster & Candlenut Pesto and Katafi Seafood in front of your very eyes.
I started off with one of my favourite foods – Kueh Pie Tee. I have loved this since I was a child and the Kueh Pie Tee at Orchard Cafe were so good I probably ate a good dozen that day!
Next up is the spicy pork salad. The key to the salad is the dressing which has an intense mix of spices and flavors.
 The Bakwan Kepiting is so delicious! In Chef Paul's version, his Braised Pork Dumpling Soup is coupled with fresh crabmeat, bamboo shoots and mushrooms. The texture of the meat dumpling is perfect and the soup is rich without being overwhelming.
Another dish that I highly recommend is the Boston Lobster Nyonya Laksa. Close friends already know I'm a laksa lover and this dish just takes it to a whole new luxury level by adding Boston lobster. I'm actually allergic to shellfish but my dining partner was more than happy to receive the extra lobster love from me.
A must have at any Nyonya spread is the Chap Chai. Melva was telling me that the Nyonya Chap Chai is the defining dish of a good or bad Peranakan restaurant. If they did their Chap Chai wrongly, you don't even need to try any of the other dishes. Thankfully, this one was good! In fact almost all the dishes were really good and when I was asked to criticize and give my honest feedback on any of the dishes, I found it pretty hard to find any major faults.
The traditional Ayam Buah Keluak (Braised Chicken with Indonesian Black Nuts) is my mother's favourite dish. Almost every time we have a Peranakan meal, she's sure to either cook or order this so I've had lots of experience tasting this dish. The one at Orchard Cafe is definitely one of the better ones I've tried. I'm using the photo above taken by Orchard Hotel instead of the one I took because most Nyonya dishes taste way better than they look.
Next, I tried the Babi Pongteh (Braised Pork Belly with Fermented Beans). The balance of sweetness and saltiness is just nice but since this dish uses pork belly with quite a lot of fats, health conscious diners might want to refrain from eating too much. I've been brought up to enjoy the tenderness of meat mixed with fats and I think the Babi Pongteh gravy is best savoured over white rice.
The photo above is quite unflattering (remember what I said about nyonya food tasting better than it looks) but it showcases one of the tenderest beef cheeks I've ever tasted.  The Lembu Rendang (Slow-cooked Australian Beef Cheek Rendang with Nonya Spices) truly melts in your mouth. You don't even need a knife because the meat flakes apart easily with just a fork.
I also tasted the Ikan Kuah Lada (Atlantic Pomfret and Brinjal with Tumeric and Peppercorn Gravy). I was quite happy to see this dish because it's one of the more homely and less commercialised Nyonya dishes so you don't always find this in every Nyonya Restaurant. The spiciness of the gravy comes with a hint of tartness from tamarind paste juice.
The main difference between normal satay and Nyonya satay lies in the gravy. I love how there are multiple live cooking stations so that you can get the freshly cooked versions served on your plate.
I was totally stuffed but somehow always find more space in my tummy when food is delicious. Time for dessert.
If you are a fan of chempedak then you cannot miss the Chempedak Binchang Kueh. It was my first time tasting the infusion of such flavors because I have only tried the common peanut binchang kueh previously.
For a bit of hands on action, you are welcome to design your own ice-kachang! It's every kampong kid's dream come true.
Lots of colorful and tasty Nyonya Kueh.
Lastly, the definitely-must-eat Durian Pengat! This is the best dessert ever! If you ever tried the durian pengat at Merchant Court Hotel and love it, you'll be glad to know that it's also Chef Paul's creation. Now that he's at Orchard Hotel, he's brought the wildly popular dessert over and enhanced it further. I had to leave early that day so I only had one serving but if I go back there, I think I could probably have 5-6 servings of this awesome dessert.
For non-durian lovers, there's a chempedak pengat which is similar to the durian pengat. I've tried both but I personally still very much prefer the durian version.
If you love the rich tastes and unique flavors of the Straits Chinese, take a trip down to discover Chef Paul's Baba Kitchen today.
If you are dining with guests who want more than just Straits Chinese food, you'll be glad to note that the buffet serves so much more as well. Here are some photos so that you can peek at what else is there.
Straits Chinese and Asian Buffet is served daily at Orchard Café since 8 July 2013:
Buffet Lunch 12:00pm – 02:30pm
Adult : $46.00, Child : $23.00
Buffet Dinner 06.00pm – 10:00pm
Adult : $64.00, Child : $32.00
Sunday Brunch 12:00pm – 3:30pm
Adult : $68.00, Child : $34.00
For reservations and information, please call 6739 6565 or email orchardcafe.ohs@millenniumhotels.com. All prices are subject to service charge and prevailing government taxes.
Thank you Chef Paul for introducing such a gorgeous spread!
*****
*****
*****
*****
*****
Outfit of the day
Earrings : Chanel
Watch: Cartier
Dress and bag: Korea
Heels: FEP