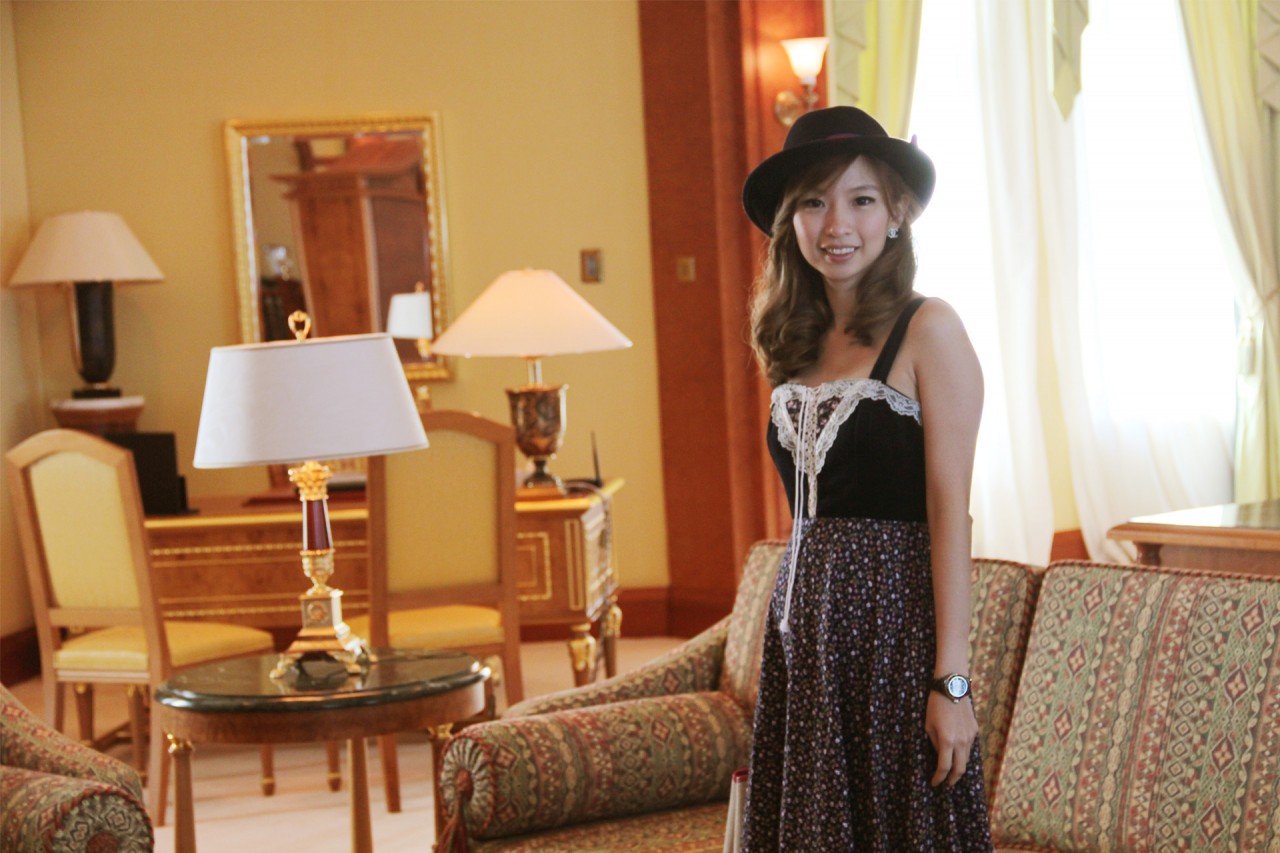 I promised in my last post that I will tell you more about The Empire Hotel & Country Club so here it is. This place is more than just one of the most luxurious and prestigious accommodation you can find in Brunei (with exception of the Saltan's abode of course), it is also an incredible resort destination on its' own. The lack of hype about this place in Singapore truly amazes me. How can something this good and fun be kept hidden from travel loving Singaporeans for so long totally puzzles me.
The view of the South China Sea from most areas of the hotel is gorgeous and waking up to this view is so refreshing. There is a total of 180hectares that make up The Empire so there's always so much to see and so much to do. 200 architects and interior designers, engineers and draftsmen were involved in the design of the property and they did a fantastic job.
You've already seen my lovely deluxe room (that looks like a suite) in my previous post and if you were already impressed, you haven't seen nothing yet. Let me show you some of the jaw dropping accommodation that is available at The Empire.
The Executive Suite is one grade higher than the room I stayed and it had an extra living room area as well as a larger bathtub. If you stay in this room, however, you get access to the E-Lounge. The E-Club Lounge, an exclusive retreat on the 6th floor, offers, complimentary breakfast, afternoon tea, evening mocktails and international hors d'oeuvres all served with spectacular views.
For those who wanted to have a more private room away from the main hotel building or to have a more relaxing time with the family and friends and not worry about disturbing the neighbors, you can try booking one of the 16 villas at The Empire.
These villas are very popular with families or those who are looking to find a nice location to throw a nice birthday party. The double level villa is super spacious and feels similar to the villas that you can find in Bali or Phuket. There are twelve 2-bedroom Garden Villas and three 3-bedroom Ocean Villas, sharing a swimming pool and private beach.
I couldn't believe that the price for the Duplex 2 Bedroom Garden Villa in this luxury resort was only $1,000 to $1,200 a night. Considering that you have 2 bedrooms and this was made for family living, the cost per person isn't much at all. It's a great place to do a small holiday celebration. In Singapore, that pricing would probably get you a normal suite room in one of the 5 star hotels without the expansive living space or exclusivity.
Next it was time to check out The Ambassador Suite. Since our Singapore President was on an official visit, most of the available Ambassador suites were taken up by him and his entourage. By a stroke of luck, there was one Ambassador suite still unoccupied and we were allowed to see the suite which was exactly the same as the one taken up by our Singapore President during his Brunei stay.
Our eyes popped with excitement the moment we stepped in. These expansive and lavish suites feature private balconies. Chandeliers hung beautifully everywhere and there was a huge boardroom for meetings and discussion. I even found a full working kitchen in this suite.
Sublime craftsmanship with bespoke furniture and Bang & Olufsen surround sound. Italian silk-covered walls and Asprey spa bath amenities accentuate the private Jacuzzis and double vanity mirror. Italian marble-clad bathroom with separate shower and in the bedroom there was also a walk-in wardrobe.
The ambassador suite was not the most expensive room in the hotel. There were 2 more even more impressive rooms – The Emperess Suite and The Emperor Suite.
The Empress Suite doesn't even feel like a hotel suite. At a whopping 345 square metres, it feels like a mansion fit for royalty. In the living room there was even a beautiful grand piano. The walls of the suites are covered in foam padded fabric panels to give more privacy. All the many different carpets around the hotel and in these rooms are hand tufted and made from the finest New Zealand wood. The furniture, mostly from France and Italy is elegant in design and the furnishing and fabrics feels extremely fine to touch.
I know I should have been more impressed with the grand piano, the 21K gold-plated finish fittings or the superby plush bed but my heart literally took a small leap when I saw the huge walk in wardrobe. It was calling me to fill it up and dance in it (okay, this is the bimbotic side of me). If I ever got a chance to stay in this room complete with the complimentary personal butler, I'll probably never want to leave.
We couldn't visit the legendary Emperor Suite which was just next door because His Majesty, Sultan of Brunei is hosting his guest stay there. It was the only room in the hotel that has its own private pool. After hearing that, curiosity got the better of me and I since there was no way I could see it, I did the 2nd best thing. I googled it. These following photos are from the hotel's website.
Even with just a few photos, it has already caused me to swoon! At 666 square meters (almost double the size of the Empress Suite), this has been voted "The World's Leading Suite" by the World Travel Awards 2003 & 2004. The suite's private elevator provides guests with access to privacy and security unrivaled anywhere else. Equipped with a private swimming pool, steam room and sauna, guests could almost be forgiven for not leaving the suite for the duration of their stay. The private movie theatre and grand piano round up a beautiful private night in.
Other than the rooms, we also took a buggy around the compounds. The roads and buggy paths throughout the hotel and country club cover 22km! There is so much to do and see at The Empire, it not hard  just come here and not feel the need to ever get out of this place. Everyday, from Monday to Sunday, there are lots of activities organized to entertain their guests. You could go on a cycling tour, snorkeling,  play golf, learn their traditional games, attend language lessons, learn how to make mocktails, attend a bowling clinic, play water volleyball, go kayaking, go for malay kueh tasting or feed the fish and turtles. The list is endless!
I'm extremely interested in their watersports center that offers banana boat, catamaran, flying fish, jet skiing, lazer funboat, lazer pico, parasailing, snorkeling, ocean kayak, water skiing, wake boarding, wind surfing and scuba diving! On days where I'm feeling lazy, I could just lounge in one of their 9 swimming pools. My favourite picks will be the saltwater lagoon pool by the beach, the water edge pool by the pool bar, the river pool and the indoor heated spa pool.
If you play golf, you shouldn't miss a chance to line up your first tee shot at The Empire's Jack Nicklaus designed championship course.  At 7029 yards, the course winds along the coast with spectacular views and the sea providing hazardous winds across tight fairways. Strategically placed bunkers catch the off-guard and the ambitious. Definitely a worthy challenge.
Entering into The Empire Country Club, there were even more activities in store and everything is open to guests of the hotel. This hotel and resort has won so many international and regional awards and I can see why.
Whether it's sports like bowling, badminton, squash, table tennis, basketball, billards or tennis, the country club has facilites for everything. And located conveniently in the same building is also The Empire Spa. What a beautiful combination.
I know a lot of people that needs to stay at a hotel with good gym facilities when they travel. The Empire doesn't disappoint.
Not only does it have a fully furnish, state of the art, 2 level gym facing the golf course, they even have a secondary gym just for the ladies for added privacy. Additionally, they have a dance studio and a schedule of all their dance and aerobics classes that anyone from the hotel can just participate.
If sports is not your thing, how about catching a movie at The Empire's cinema. Yep, they even have their own cinema and it shows the latest Hollywood movies!
We returned back to the impressive hotel lobby that has lovely grand columns and mosaic marble floors that were all painstakingly put together, manually. But our sights were set on Zest, a lifestyle cafe serving all sorts of pastries, macarons and cakes. These delectable goodies were only about $2.50 to $4 each which is really affordable for a 5 star hotel standard. Even my cake at the local Starbucks in Singapore cost at least $6 or more.
Lunch was hosted for us by The Brunei Tourism at the hotel's Atrium Cafe. The buffet spread is amazing and delicious. Over lunch, I had such a great time chatting to the guy and gals about my experience in Brunei and sharing with them all about Singapore that I forgot to take photos of the beautiful spread to show you all. Luckily, Malcolm and Deenise kindly offered to share with me the photos they took of the gourmet spread. Here's a tip, if you ever go to the Atrium Cafe in Brunei, you have to try the mango and coconut signature drink.
With all the jaw dropping facilities, royal treatment service and insanely gorgeous views, can you blame us for being reluctant to leave The Empire Hotel  & Country Club?
Thank you OMY, Brunei Tourism and Royal Brunei Airlines  for making this trip possible.
If you would like to know Brunei better or check out more Royal Brunei Airlines promotions, check out their Facebook page.