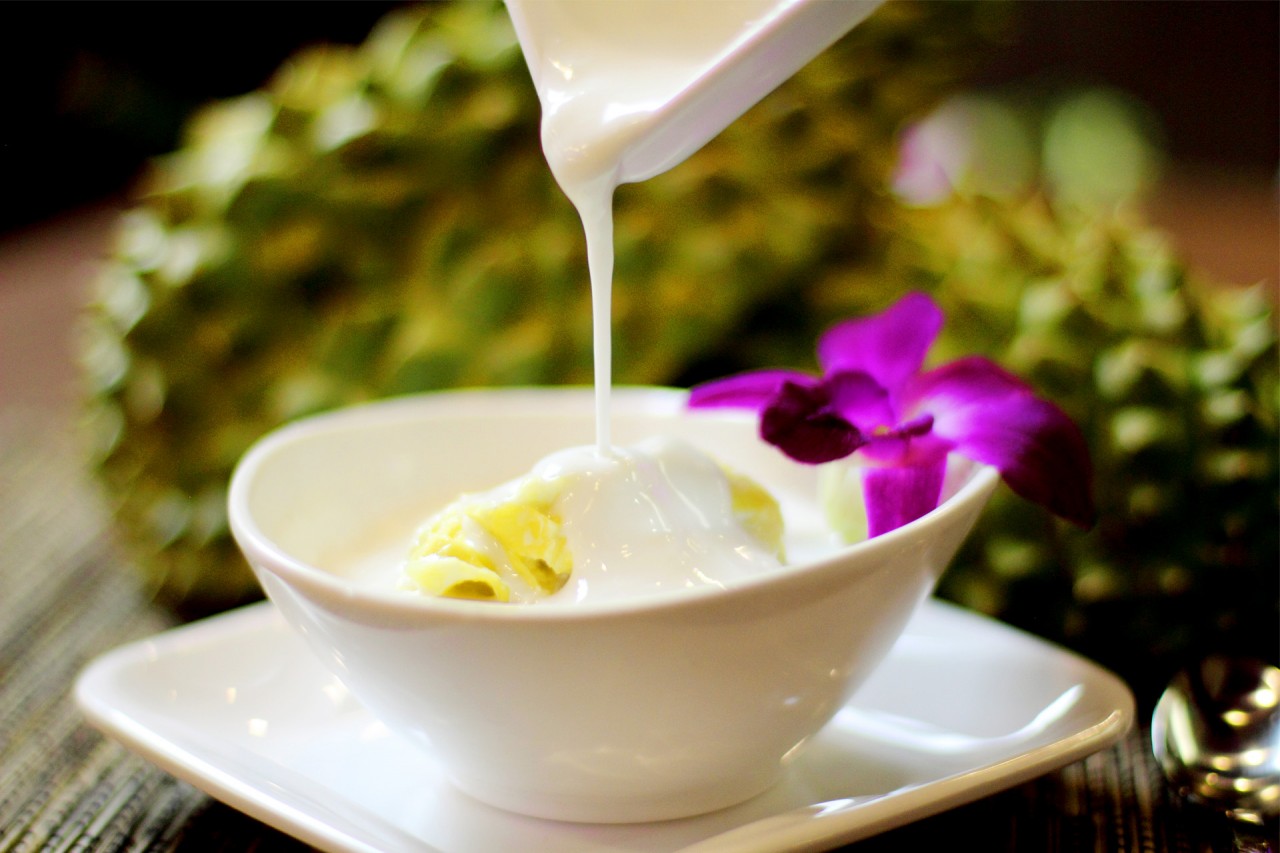 Ever since my Thai foodie trip to Phuket in May, I've been mesmerised by all the Thai delicacies and my taste buds are just craving for more. As a food enthusiast, it is not uncommon for me to have random food cravings for all types of cuisines. Just in time to satisfy my Thai food cravings, Khun Mee Thai had a media tasting event. You'll be happy to know that they serve high quality authentic Thai-Chinese street food using ingredients directly sourced from Thailand!
 The first dish is the delicious Ba Mee Kiao, Moo Dang & Kai Tom, which translates to Egg Noodles with Dumping Char Siew & Lava Egg. Besides being the signature dish of this Thai Noodle Bar, it is also the dish that gave the Thai Noodle Bar its name.
The egg noodles was cooked spectacularly and it fondly reminds me of my favourite noodle shop in Phuket. The Lava Egg and Charshu complemented the egg noodles perfectly. The best part is that the dish contains no artificial ingredients or colourings! If you are one of those who are particular about the richness and tastes of soup broths, you will not be dissapointed with this one. This dish comes with a classic Thai-Chinese soup stock that is deliberately simmered for 6 to 8 hours, bringing out a naturally sweet and flavourful taste.
Next, we were presented with the Ba Mee Kang Keaw Wan Gai (Egg Noodles with Green Curry and Chicken) and Ba Mee Tom Yam with milk (Prawn Tom Yam Egg Noodles with milk).
Both dishes brings back fond memories of my Thai adventures early this year. Khun Aum (founder of Khun Mee Thai) has a unique secret method for cooking the broth of the green curry and the result is that Khun Aum's version of the mee thai showcases a stronger flavour compared to other green curries.
The Kha Moon (Pork Leg) is marinated for 2 hours and braised for 6 hours before it is ready to be served. Derived from Khun Aum's grandmother's age-old recipe, this dish blew my mind away with the very first bite. It was so succulent and tasty, I couldn't resist ordering a second portion of this dish. One just wasn't enough!
  Khor Kai Tod (Fried Chicken Joints) is one of those hit or miss dishes. Although very tasty, the texture of the crunching chicken joints might put some people at bay. Recommended for the adventurous foodies only.
Khao Clook Ga-Pi (Fried Rice with Shrimp Paste) is one of the top favourite dishes voted by the patrons of Khun Mee Thai. The best way to enjoy this dish is to mix all the ingredients together. Unfortunately, I was almost full from the pletora of dishes I had earlier and couldn't eat as much as I wanted to. All of the ingredients complemented the fragrant fried rice well to bring out a wide spectrum of senses and tastes. Even on a full stomach, I appreciated the taste and knew what I would order this again when I return the next time.
No food adventure can be concluded without servings of desserts. Personally, I preferred the Durian Sticky Rice to the Mango Sticky Rice as the mangoes used were not as good as the ones I tried in Thailand. Nevertheless, both desserts were served with tasty pandan-infused glutinous rice which diffused all disappointments.
During the whole food journey, I was gulping down cups of Thai Iced Tea which were very tasty and not overly sweet!
 Khun Aum is such an enjoyable person to be around as she effortlessly explains every dish to all of us together with some of her personal life stories. Do not be afraid to approach her for more information should you spot her at the store.
Khun Mee Thai is located at 799 New Upper Changi Road, #02-32/34 Bedok Point, a mere 7 minutes walk from Bedok MRT station. For Thai food fans who feels that Bedok Point is far, the good news is that owner Khun Aum has plans for further expansion!
Thanks for reading.