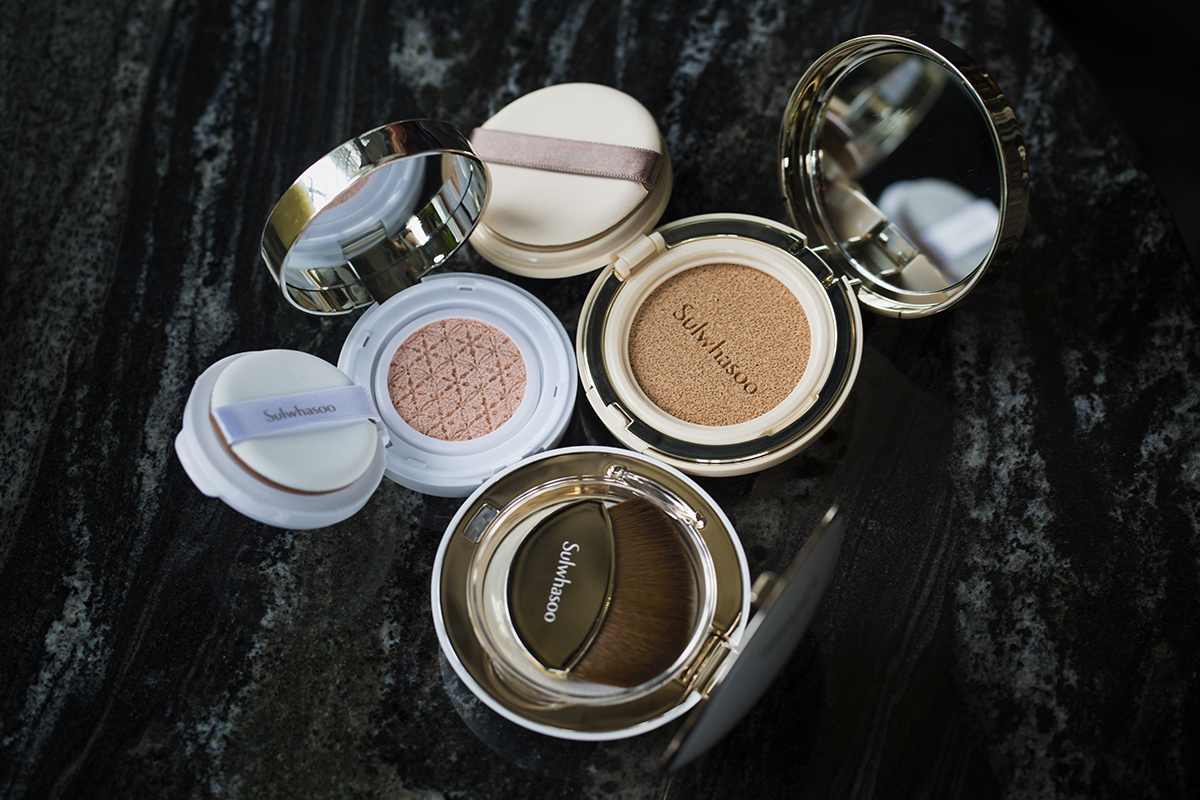 I don't generally like putting on foundation, but when I do, cushion foundations from brands under the Amore Pacific umbrella are my go-to choices. After all, they are the inventors of cushion foundations and the people behind my love for cushion foundations. When I heard that Sulwhasoo was going to launch an improved version of their cult favourite cushion foundation, I was excited! I even journeyed all the way with the Sulwhasoo team to Khao Yai in Thailand to get first-hand dips on the global launch of Sulwhasoo Perfecting Cushion EX. I promise I'll do another post on that (with some Korean makeup tips) real soon, but I'm going to share my reviews of the Sulwhasoo Perfecting Cushion EX, the Multi Cushion Highlighter and Powder for cushion first.
I have gotten my hands on the products before the official launch in Singapore and have tested them in various situations and climates (I've been travelling a lot the past month ) so here are my thoughts.
SULWHASOO PERFECTING CUSHION EX SPF50+/PA+++
Almost all the major brands have a cushion foundation of some sort after the Koreans popularised it. I can't deny that it's an ingenious concept for a fuss-free and spill-free way of handling foundations that are perfect for travel. The Sulwahsoo Perfecting Cushion EX is an upgrade of the brand's current best-seller Perfecting Cushion.
Let's start with the packaging because we all want to have pretty little things in our makeup pouch. The luxurious branding of Sulwhasoo shines through with lovely ivory casing with embossed signature plum blossom motives on the surface and gold trimmings all around. The cushion comes with this super pretty gold emboss patterned seal that tugs at my heart as I rip it out. The new casing provides a better grip and is less bulky than its predecessor even though the volume content is the same.
Each purchase of the Sulwahsoo Perfecting Cushion EX (S$80) comes with the new slim casing that contains the cushion foundation as well as an additional refill cushion.
The new Sulwhasoo Perfecting Cushion EX upped their game with their improved formulation and a more extensive range of shades. There are ten different shades suitable for all skin tones! Seven of the shades are available in the Singapore stores. I usually use shade #21 for Sulwhasoo cushion foundations, but after testing out the new range of shades, I realised that I am better suited to handle shade #15 or shade #17.
This chart might help you to find your perfect shade. If you find that your foundation oxidises readily (depending on how oily your skin is), you might want to get one shade lighter. Using the guide below, you can choose from the pink shades if you're going to improve "yellowness" in the skin tone to create a bright and vibrant look. If you would like to cover redness and prefer a natural finish, choose from the beige tones for a flawless match.
What I love most is how glowy and flawless my skin looks after the application of the Sulwhasoo Perfecting Cushion EX. I use the dab method to apply the thin and lightweight foundation. You don't feel weighed down by makeup even after layering. The coverage is impeccable! I appreciate the additional SPF 50+/PA++ sun protection too. After application, my skin tone is balanced, and skin looks hydrated with my lines appearing softer. You get the dewy look without any stickiness.
The Sulwhasoo unique slim fit high coverage formula disperses the pigments in water rather than oil so there will be no clumping. It adheres so much better to the skin compared to the old formulation.
The cushion contains Beta-Glucan, as extracted from polysaccharide in the Schizophyllum commune (a type of mushroom) which works as a "moisture magnet" to keep skin hydrated while makeup is on. It also contains JAUM Balancing Complex to restore skin balance and keeps the skin comfortable even after hours of wearing the foundation.
SULWHASOO MULTI CUSHION HIGHLIGHTER
Sulwhasoo Multi Cushion Highlighter is one of those brilliant products where I wonder why no one thought of it earlier. If you could create a cushion that delivers foundation so evenly distributed to the skin, why not do a highlighter version so we can all disperse that glow in the most natural way to the parts of our faces that needs definition.
You can use this as a makeup base before the cushion foundation if you want that pearlescent finish but I like using this on specific areas such as on my nose bridge, under my eyes, on my cheekbones and on my chin to add some dimension. It has the same hydrating formulations as the Sulwahsoo Perfecting Cushion EX so you can expect the same level of comfort in the application.
I usually find powdered highlighters a little trickier to apply and blend so this is the perfect solution when I'm short on time and would like a quick fuss-free way to add some touches of luminosity and volume to my makeup.
SULWHASOO POWDER FOR CUSHION
This product is made for those who love using cushion foundations but secretly wish that the finish would look matte instead of dewy. The Sulwhasoo Powder For Cushion is made with skincare components and is as light and airy as air. You can't even feel it when it's applied on top of your foundation, but it does mattify the appearance. It comes with a slanted brush made with a mixture of wavy and straight bristles to pick the right amount of powder for application.
I use this on the edges of my face so that the dewiness of the highlighted areas are more apparent. If you have exceptionally oily areas, you can also layer this on to help your makeup last longer.
Thanks for reading! I'll share more makeup tips I learnt from Sulwhasoo Makeup artists soon.