The last 2 weeks I've been eating nothing but Japanese cuisine. At first it sounds fine or even exciting.
But when I was actually in Tokyo I realized 2 barriers. Firstly… I am allergic to seafood which meant almost 70% of their diet was non-consumable to me unless I wanted to spend the rest of the trip like an itching red baboon.
Secondly, the cost was a killer! The cheapest meals are priced around 500 yen which is currently equivalent to around S$7 which consists of either noodles (soba or udon) or katsu don (chicken cutlet with egg and rice). They can be found in small little outlets all over Tokyo… their tell-tale feature is that they have a little machine outside the store. Put in your money… select the food you want and a piece of paper is generated. Proceed into the store and hand that paper to the counter… in a couple of mins you will hear a holler and dinner's ready =) Pretty efficient! It cuts down miscommunication of orders as well.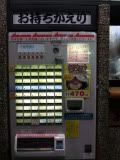 Other cheap options included Japanese burgers or fastfood which still cost more then Singapore. Their normal regular meals are priced around 1000yen (S$14) and above while restaurant dining and buffets can easily be 3000 – 5000 yen (S$40 to S$70) per person.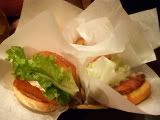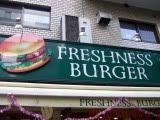 As tourists We had to have our 3 meals a day outdoors and even though we mainly stuck to our 500yen meals… we did still managed a couple of good expensive meals. Alas… due to my dietary restrictions even these begun to bore my pallet… How I missed the spicy… oily and delightful local dishes! Jap food is just way too healthy!
However… their snacks and sweets are definitely nicer and more sinful! I was totally swept away by delicious crepes with cream and fruits…. their sweet pastries… Crisp cookies… richly flavored cakes… their creamy chocolate and custard filled doughnuts as well as the traditional red bean or custard filled pancakes. I bought some from Asakusa which were shaped with traditional Japanese symbols… and some from Tokyo station which were hello kitty shaped. Other shapes include kimono gals… doremon and Disney characters.
I've been back for a day or so and already I've gobbled down curry chicken and char siew & roast pork rice… YUMMY! All at such low affordable prices too! My next cravings are for chicken rice and soya beancurd!
These are some pics of the cheap 500yen food so you get an idea of it easily bored me… I didn't take pics of the food we ate at the fancy places cuz it was just too weird to whip the camera out even if it's for a quick snap!