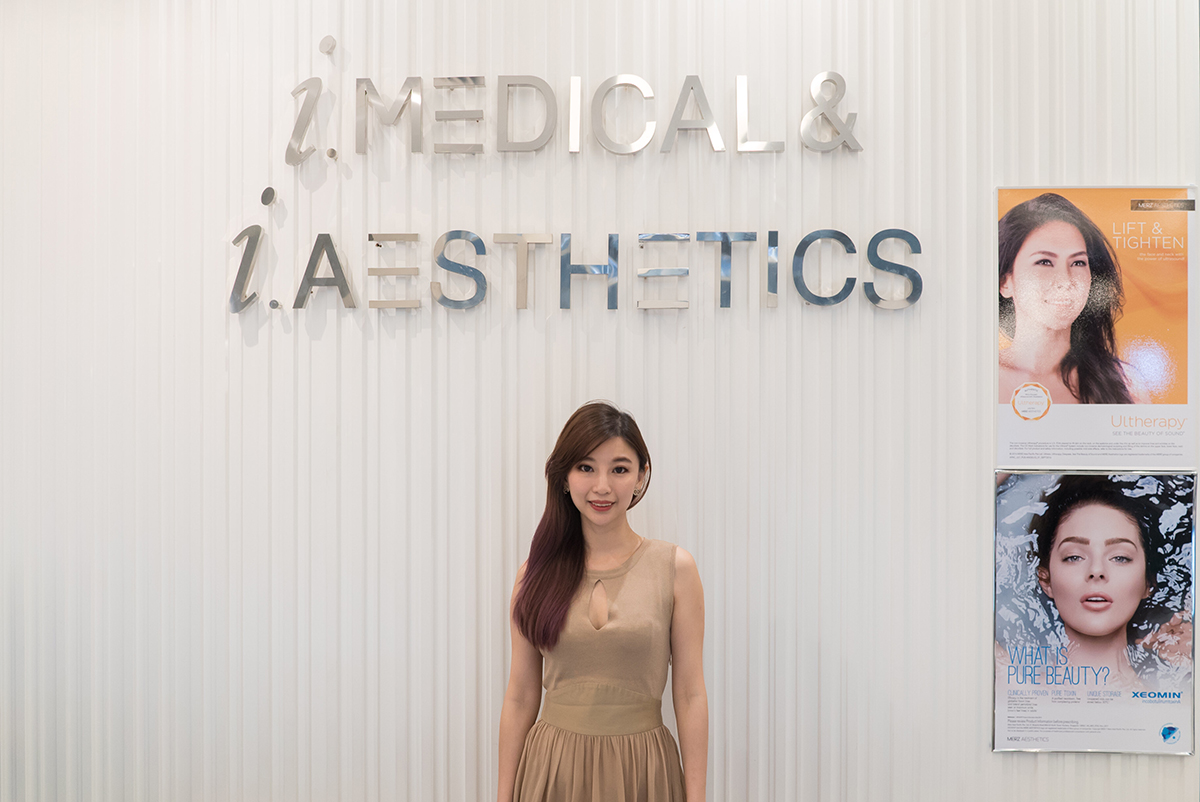 What is Hiko Nose Lift
A visit to the surgeon's office for a nip and tuck may be quite common these days, but if there were alternatives for a less painful, less invasive way of doing things, that would always be my choice. We've all heard about 'liquid nose job' aka, fillers. This time, however, I'm trying another type of non-surgical nose lift method called Hiko Nose Lift.
It utilises surgical grade DPO (polydioxanone) threads that help pull your skin upwards for an instant lift. The threads will be naturally and safely absorbed by the body after some time (similar to the threads surgeons use to stitch up wounds). However, but as they dissolve, the body creates new collagen and tissue fibroblasts in response. The new collagen naturally produced by your own body will result in enhancing the nose's definition and contour from the inside out.
Consult with Dr Louis Loo
I met with Dr Louis Loo of iAesthetics for a consult, and he feels that Hiko Nose Lift is safer than fillers and would give my nose some added definition. He also noticed that I have some dimpling on the skin at my chin. Dr Loo explained that the muscles attached to my skin in the area are too active and tight so it causes the skin surface to have unevenness. He recommended using botulinum to temporary ease my forehead lines and to fix the chin muscle issue. By injecting a little botulinum toxin into the chin muscles, the muscles will relax so the skin will be smooth. This procedure will also give a bit of lengthening effect without any use of any fillers.
Forehead and Chin
The nurses cleansed my face thoroughly before applying the numbing cream on my nose area. After about 15 minutes or so, Dr Loo came in to give me little jabs of botulinum on my forehead and chin. I had to look up to the doctor for him to see my lines and know where best to target. Although no numbing cream was used in this area, the pain was minimal and felt a little like getting ant bites. It's like tweezing hair off your brows. Not the greatest feeling but bearable.
Before Photos
So here are my before photos taken at the clinic.
Hiko Nose Lift procedure
Next, Dr Loo injected some small some local anaesthetics around selected parts of my nose area in preparation for the Hiko threads. This is probably the most uncomfortable part of the whole session for me even though it probably would hardly bother someone else with a higher pain threshold. I'm anxious and nervous when it comes to anything medical, but everyone there in that room with me was so lovely and reassuring.
To be honest, when the threads were inserted in my nose from the bottom, I felt nothing. Maybe I could feel a little tightening on my skin surface but absolutely no pain! This is coming from someone that tears with when I get a pinprick. The number of threads used is a critical assessment that has to be made by the doctor after he assesses your nose, your proportions and requirements.
You see the effects of Hiko Nose Lift immediately which is fantastic. Unlike surgery where you need to wait for months to see results, my nose was lifted in an instant. I love that it only takes one session. Unfortunately, I am one of those that get bruising and swelling as a side effect of the local anaesthetics used. Even then, I would say the healing process was quite minor with minimal downtime. Dr Loo sent me home with some antibiotics and cream. The slight swelling and discolouration was nothing some foundation couldn't cover.
The Video
The whole process of my visit is on video here.
The aftermath
The spoiler here is that unlike most other people who experienced zero downtime with Hiko Nose Lift. I did have a couple of days of a recovery period.
My 'worst' moment was the morning after. It's about 15 hours since the procedure, and I snapped this photo the moment after I woke up (before I even washed my face). My skin looked terrible, and you can see bumps and swells on my nose and around my eyes (making my eyes look uneven). My nose looked pretty crooked because of the swelling.  I called to check with the doctor to see if it was normal and it was. I think I had a reaction to the local anaesthetics. This was the only day I felt like I needed to actually put on a layer of foundation to look presentable enough to head out.

Surprisingly, after the makeup, it looked so much less scary thought the swelling made my face a little distorted. I worked at my cafe that day, served customers, and none of my regulars noticed the swells too much unless I mentioned it.
Day Three
On the third day, I had to go barefaced for a makeover session. The swelling had already subsided by then, but I did have a very slight bluish yellow tinge (from the bruising) on my nose bridge. I don't think my makeup artist noticed it that much and probably brushed it off as common skin colour unevenness.
Here's how I look after the makeover. The makeup artist ( from Hera, who is very good!) did not use any concealer on my nose, just primer and cushion foundation. I out to several events that day feeling much more confident.
The effect is more subtle compared to an actual nose job, but that makes it perfect because it looks so natural. No one even noticed until I whip up before and after photos. The enhancement is there but not so dramatic that people would look at me and say that I don't look like me anymore. The lift lasts for about a year though you can opt to go for a top-up of threads after six months so that the effect will last longer.
In fact, I have a friend who did a nose job a couple of years back who tells me that had she known of Hiko Nose Lift; she might have opted for this instead of going with surgery. If you don't want to deal with complications, downtime, risks of going under the knife or even if you just want a short-term enhancement for a special occasion, Hiko Nose Lift makes for a good alternative.
The botulinum started to show their effectiveness about a week or so after and I see fewer dimpling on my chin and lines on my forehead. My face still expresses itself naturally, so there is no worry of a stiff face if you choose the right doctor to do the procedures.
Two Weeks Later
Here are photos of me completely makeup free (I did not even draw my brows) after two weeks. The nose bridge is more defined and my chin is a lot more relaxed giving me a more V-shaped face. Lines on my forehead is also pretty much smoothened out.
To make an appointment for a consultation, call iAesthetics at +65 62541622.
iAesthetics
1 Northpoint Drive
Northpoint City
#B1-176 (South Wing)
Singapore 768019
Tel: 6254 1622 | Fax: 6254 3367
(Linked to Yishun MRT)
Thank you for reading!