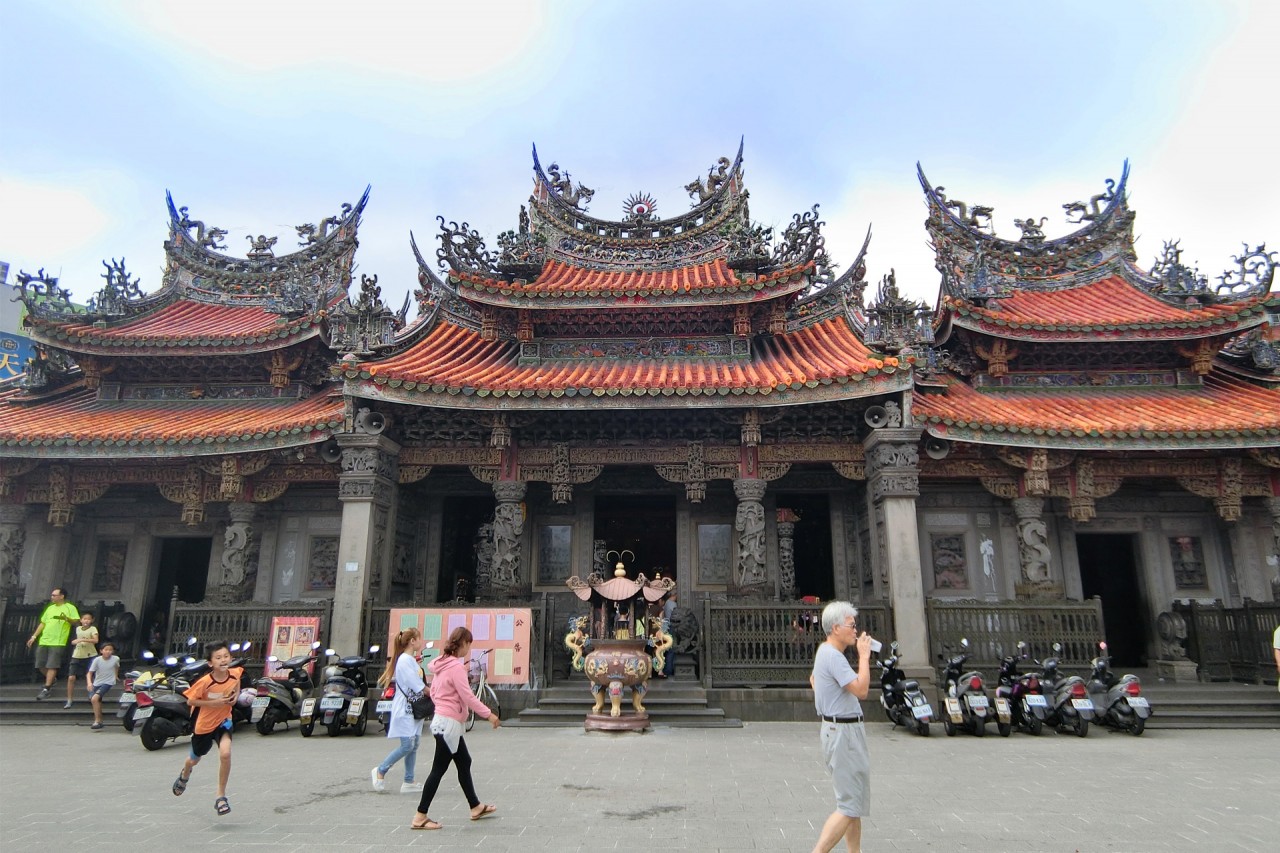 No matter what type of travel personality you might have, there is a city, town or place in New Taipei City for you. I've already introduced Bitan Bitan, Wulai and Yingge in my previous post and in this post, I'll share about Sanxia and The Great Roots Forestry Spa Resort. Read on to find out what to do or look out for in Sanxia.
For places 1 – 3, please read here!
4. SANXIA
三峽
For those considering a day trip to Yingge, you can easily take a 10 mins taxi ride over to Sanxia.  If you are taking a day trip directly from Taipei, you can catch the MRT from Taipei Main Station to MRT Yongning Station 永寧 and then hop onto a bus (number 705 or 706 or 三鶯線先導公車) to  Jiaoxi Li Village (礁溪里) station. After getting off the bus, walk southwest down Zhonghua Road (中華路) about 150-200 meters. At the Family Mart, turn right onto Guangming Road (光明路), and continue until you see a large red Chinese gate. Cross this scenic pedestrian bridge (Zhangfu Bridge, 長福橋) over to Sanxia Old Street.
Sanxia (which means 3 gorges) was originally an important goods distribution town and was famous for their production of camphor, tea, and dyeing of indigo cloth. These days, however, it's more of a tourist hub. The main attraction for travelers to Sanxia is the Sanxia Old Street 三峽老街 which begins at the south section of Minquan Street.
The first thing that struck me as I walked into this short 200m street was the beautiful traditional architecture. The distinctive arched red brick hallways, wooden beams, baroque accents, ancient wooden plaques, and carvings upon the buildings blends in so prettily with the cobbled stone street path. Who would have thought that Minquan Street used to be famous for selling coffins. You no longer find caskets these days. During the Japanese Occupation, the streets were expanded and improvements were done to the  rooftops, walkways and drainage systems.
When I visited the area, the shops are stocked with street food, souvenirs, jade jewellry, handmade soaps and more. There are lots of pastries shops selling delicious fluffy and buttery confectionaries. A common sight is the bull horn pastry which comes in many flavours. 
I was initially excited to try my hands on the famous Indigo Dyeing Workshop 染工坊. Unfortunately, after walking in circles, we realised that it was in another location. It is actually near the history museum so if you are keen check it out and let me know if it's good.
Address: No 3 Lane 20, Zhongshan Road, Sanxia Dist. New Taipei City
Contact number: 886-2-8671-3108
Cultural lovers should not miss out on the famous Qingshui Zushi Temple 清水祖師廟 which is just a 5 minutes walk away from the Old Street. Known locally as Zushi-Gong, this classical taoist temple was first built during the Qing Dynasty in 1767 by Hokkien immigrants. It has been reconstructed three times. Its last reconstruction, started in 1947, is best known for being the masterpiece of renowned Taiwanese artist, Li Meishu (western educated and native to Sanxia). There are so many layers of intricate carvings that covers almost every inch of the temple.
Good for these travel personalities : People Watchers, Take-It-Easy Vacationers, Families, Foodies, History and Cultural Buffs
5. GREAT ROOTS FORESTRY SPA RESORT
大板根森林溫泉渡假村
Relatively near to the township of Sanxia is a unique century old resort that boasts the only low-elevation primitive tropical rain forest in Taiwan.
This luxury estate even includes a vacation villa that was formerly used by the Japanese Royal family.
Stay in hotel rooms or stand alone villas with forest trails leading to rare century-old buttress root trees. Mountain figs, Ficus variegata and tree ferns from the dinosaur age are among the nearly 500 species of plants in the rain forest. The forest is also home to more than 4,000 kinds of insect and over 30 kinds of birds; among them the blue – winged pitta-a globally protected species. In the right months, you could even wander to the edge of the forests to glimpse fireflies dancing in the darkness. Enjoy the carbonic hot springs, explore fishponds, go rock climbing or order an outdoor BBQ. 
The resort restaurant has a great selection of delicious and healthy meals to complete your relaxing stay.
Address: 新北市三峽區插角里80
Contact: 02-2674-9228
Website

Good for these travel personalities : Nature Lovers, Take-It-Easy Vacationers, Hot Spring Connoisseurs, History and Cultural Buffs, Families, Couples, Rock Climbing Enthusiast
Thank you for reading and I hope you are inspired to create your own New Taipei City journey or at least venture out of a day trip from Taipei City the next time you go Taiwan. Read my "11 Incredible Things About My EVA Air Experience" to see how you can get to Taiwan in the best way possible. More interesting places to come soon.
Trip was kindly sponsored by EVA Air and New Taipei City but as usual, all opinions are my own.