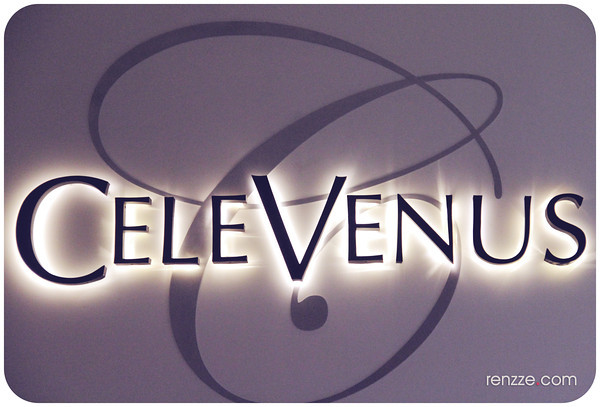 I recently went to CeleVenus to see Dr. Dylan Chau as I had some concerns with lines on my forehead. To be honest, I've had forehead lines since I was a teenager which irked me to no end. I found out that these lines were due to loose muscles in my eye lids that causes my forehead muscles to strain whenever I open my eye wide. Naturally, over time, these lines can only become worse. While the eyelid muscles would require surgery to correct, Dr. Dylan Chau could easily remove my forehead lines in an instant.
Located on in the heart of Orchard Road, CeleVenus is nicely tucked on the 16th floor of Ngee Ann City Tower B. Registration is a breeze with the cheerful and attentive staff on hand to guide you. I enjoyed my consultation with Dr. Dylan Chau as he is direct and honest with his assessments while having the patience in explaining various options in detailed. Dr. Chau is a very experience aesthetic doctor who is always on the forefront of technological advances that can help his patients achieve the effect they want using the most non-invasive and lasting options. It was indeed an extremely informative session for me and various techniques and choice were presented to me.  I decided on the course of action just after one consultation and a separate date was scheduled for my botulinum toxin treatment.
On the day of the appoinment, I promptly arrived at CeleVenus. Just as I finished my cup of tea, I was ushered into one of their many treatment rooms for a face cleansing and application of numbing cream on my forehead. Those who have a high tolerance to pain can even choose to skip this step but I personally preferred to have my forehead numbed to reduce any discomfort.
After about 20 to 30 minutes, the numbing cream is wiped off and I'm ready for the procedure.
Here's my "Before" photo. If I look up, you can see my unsightly forehead lines.
Dr. Chau's relaxed manner and calm voice puts me at ease as the moment he walks in. He talks me through each step he does and shares with me more information about the treatment which soothes any fear I might have. He examines me under a good, bright light so he can see all the small veins under the skin and avoid them.
Wrinkle injection is a very common FDA approved aesthetics procedure. Everyone's getting it and no one is talking about it because it's in our Asian culture to keep anything less than perfect to ourselves. Information is key to choosing the right doctor, the right treatment and getting the right results so not only am I sharing with you the whole procedure but also to share some useful information I've learnt from Dr. Chau so that you can avoid ever ending up with a frozen, no expression face that is just too tight and too artificial.
The truth is that wrinkle injection has come a long way and doctors like Dr. Chau have garnered so much experience that it will be pretty hard for the procedure to go wrong. According to the doctor, the key is to always start small and go for the most minimal amount you might need as you can easily choose to do more on a follow-up session. You definitely don't want to overdo it an look like a plastic doll.
Dysport was chosen as the injectable form of botulinum toxin Type A to be used. Small amounts of the toxin are carefully injected my skin. Dr. Chau explained that the angle of injection is very important as you want to achieve a very superficial injection, just barely under the skin to attain the most natural effect. Superficial injections will also mean you're less likely to see bruising. Any experience doctor will tell you that there are different techniques and angles to injecting botulinum toxin for different parts of your face so don't go to one that treats every part of your face the same way.
 The injections are like ant bites and within an hour, the Dysport causes a localized reduction of muscle activity in the treated area and temporarily stops the contraction of these muscles. Dyspot spreads more easily into muscle tissue so less injections are needed to achieve the same wrinkle reduction effect. Its' ease of spread is an advantage in treating difficult forehead wrinkles.
The whole procedure was fast, simple and I suffered no bruising (just some small ant bite looking marks at the injection spots). Don't touch the area for the first 2-3 hours but otherwise you day goes as normal. Within a day, I can see that the lines on my forehead are gone! The skin is tightest between the 3rd to 5th day and then it starts to ease up. At the low doses that Dr. Chau administered, my forehead still moves normally but my muscles are suitably relaxed enough so it doesn't wrinkle up. The results will last about 4 to 6 months but it really depends on person to person.
To avoid bruising, you should skip the gym for a day or two. Going to the gym doesn't affect the effectiveness of the treatment but it will increase your chance of bruising. Also, don't take blood thinners if you can. Avoid aspirin, Motrin, Aleve, Ibuprofen, fish oil supplements, and omega 3s for a week before coming your appointment date as they all thin your blood, which makes bruising more likely.
I had a lovely experience with CeleVenus so if you would like to look for Dr. Dylan Chau for a consult, here's their contact. You can quote Renzze or Karen for a complimentary consultation 🙂
CeleVenus Wellness & Aesthetic Clinic
391B Orchard Road #16-03/04 Ngee Ann City Tower B
Singapore 238874
E-mail: beauty@celevenus.com.sg
Telephone: +65 6410 9621
Operating Hours:
Monday-Friday – 1030am to 7pm
Sat – 1030am to 3pm
Closed on Sundays & Public Holidays
*Please call for appointment
Thanks for reading!