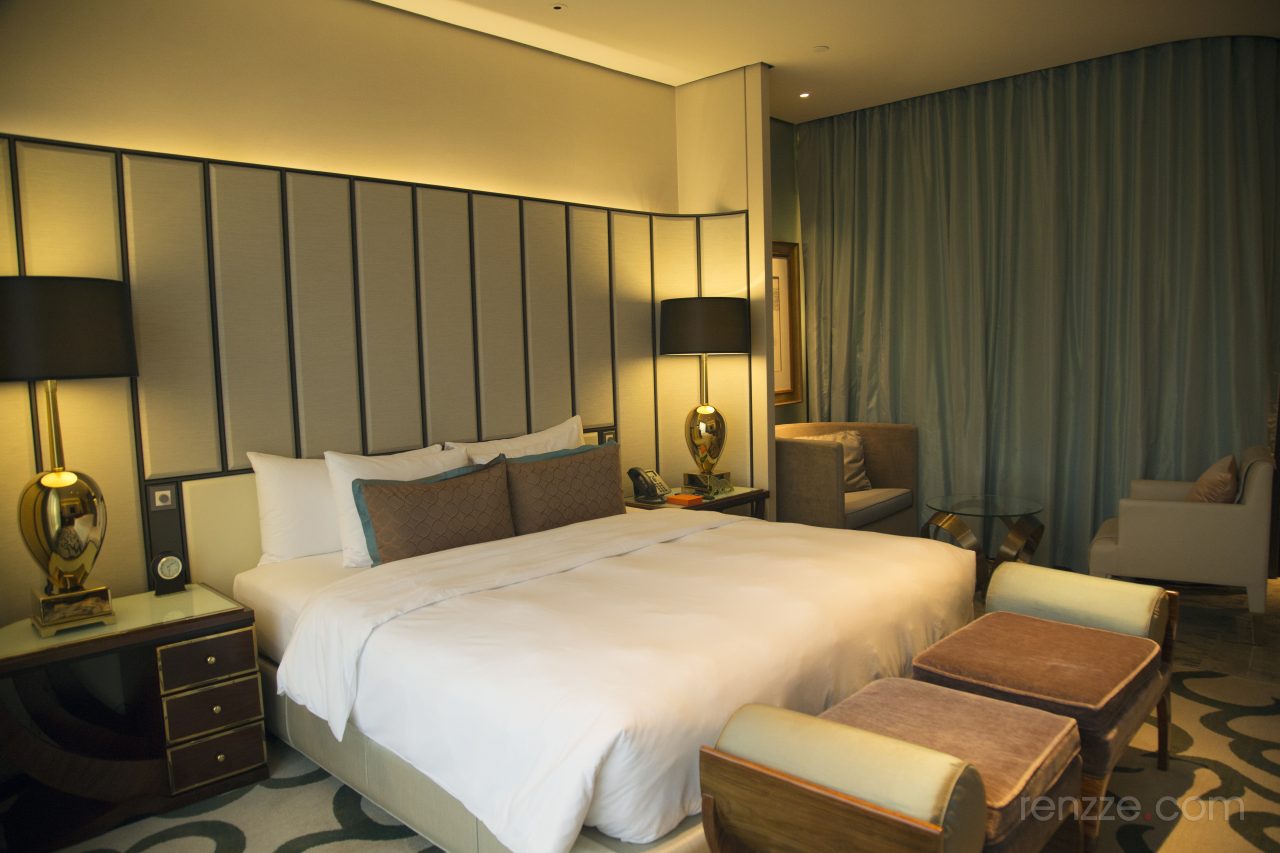 You never run out of things to do in Macao but with so many options available, it's hard to decide where you should stay to bring out the best of your trip! I'm going to give you a run down of 5 entertaining hotels in Macao so that you know where you should stay on your next trip.
1. MGM Grand Hotel
My personal favourite, I had some of my most luxurious sleep here. The bed is amazingly divine and I love how majestic and glamorous the whole hotel feels. With the casino and One Central (for retail therapy) at my fingertips, my only regret was that I didn't have enough time to spend a day at the pool.
This hotel is definitely a choice for art lovers as art is an integral part of MGM design. It not hard to be wowed by the scattering of famous works of arts by acclaimed artists ( such as Salvador Dali's ' Dalian Dancer 'sculpture in the lobby) but I love how they weave the little artistic details ( such asDale Chihuly's delicate hand-blown glass flower Fiori di Paradiso Ceiling ) into their architecture and personality.
Making art accessible for everyone to appreciate, they will regularly host various art exhibitions on the L2 Showcase. When I was there recently, I got explore a rare collection of sculptures, "Figures in Motion" by Degas.
To be honest, I've had the opportunity to admire "The Little Dancer, aged 14" when I was in Denmark previously but being able to view such an impressive collection in Asia where it is closer to home, really drives MGM's message of making art accessible for to all people.
If you get a chance, do pop by the hotel's restaurant "Imperial Court" for a full culinary indulgence.  The traditionally prepared Cantonese dishes have been given a slight modern spin without compromising their quality and taste.
MGM MACAO
Avenida Dr. Sun Yat Sen, NAPE, Macao
Contact: +853 8802 8888
Website: https://www.mgm.mo/en
Facebook: https://www.facebook.com/MGMMACAU
2. The Parisian Macao
One of the newest hotel in Macao, it aims to bring a piece of France to every one of its guest. The most distinctive landmark would be the huge replica (1: 2) of the iconic Eiffel Tower! If you like you can buy tickets to head up to the observation decks on the 7th and 37th floors for a romantic evening with your love one accompanied by a dazzling light show.
I was pretty impressed by the Versailles-inspired lobby and wasn't hard imagining that I was strolling down Champs Elysees, past Place Vendôme in Paris. Before I realised, I started shopping at the Sands Shoppe! The hotel is very new and the rooms are elegant, modern, spacious. All designed with a contemporary French flair.
A great place for families, kids will have endless choices of play while in this hotel. The Aqua World  is filled with fabulous water features and pools.  Kids (and the young at heart) can vie for a turn at the water guns on the huge pirate ship water park. With water slides and wading pools, you'll have fun being wet!
A dry alternative for kids is Qube Kingdom. Measuring over 20,000 sqft (1,858sqm), it covers both indoor and outdoor play areas. There are fun slides, ball pens and outdoors there is even a chic Parisian carousel.
THE PARISIAN MACAO
Estrada do Istmo, Lote 3, Cotai Strip, Macao SAR, P.R. China
Contact: +853 2882 8833
Website: https://www.parisianmacao.com/macau-hotel/attractions/eiffel-tower.html
Facebook: https://www.facebook.com/TheParisianMacao
3. Studio City
Staying at Studio City is like staying in the entertainment capital, Hollywood. If you constantly need to be amused and charmed, you can't find a better place. It is Asia's first leisure resort to integrate television and film production facilities, retail, gaming and hotels.
The most outstanding architecture design in Studio City is the Golden Reel, the world's first figure-8 ferris wheel. Boarding at the hotel's 23rd floor, the wheel features 17 steam punk themed cabins holding up to 10 passengers each. Not for those with height phobias, the 15-minute ride will take guests to a height of 130 meters for a bird's-eye view of the area.
Batman fans should not miss out on trying out Batman Dark Flight, a pulse-racing adventure on DC Comics' first Batman 4D flight simulation ride.
Magic lovers, you are in for a treat! The House of Magic by the world-famous illusionist, Franz Harary promises to offer thrills that will last a lifetime. Enter the 3 theatre arena and let the world's greatest magicians lead you on a spellbinding journey of magical entertainment. I loved every illusion and mind bending tricks that was offered up to me, happily trying to decipher ( to no avail) the various trickery!
To complete your magical day, dine at Shanghai Magic (just next door) which combines even more immersive magic with Shanghainese cuisine. I'm not going to spoil any surprises but gals, if you do dine there, there is a surprise waiting for you at the first mirror (nearest to the door) in the ladies.
STUDIO CITY
Estrada do Istmo, Cotai, Macau
Contact: +853 8865 8888
Website: http://www.studiocity-macau.com
Facebook: https://www.facebook.com/studiocitymacau
4. Wynn Palace
Another new hotel to look out for in Wynn Palace which opened in August 2016. The theme of this hotel is flowers and you can see floral motifs in the tiles and the decor everywhere you look. Impressive large-scale floral sculptures custom-designed for Wynn Palace by world-renowned designer Preston Bailey are not to be missed!
A  luxury hotel with 1,700 rooms, everywhere has been anointed some way in gold, including hotel amenities such as golden combs and golden shavers! With 507-thread-count sheets of Egyptian cotton, Italian-marble bathroom and a room that is unusually spacious, you'll find that even the standard room doesn't feel standard.
After your win at the Casino, you can spend your time shopping at Wynn Esplanade. There you have a selection of more than 50 of the world's finest designer labels – iconic names that include Chanel, Hermès, Cartier, Prada, Graff, Gucci and more.
One of the key highlights of Wynn Palace is the 8-acre performance lake which is best viewed in the evening as graceful plumes of water dance a romantic ballet or soar into the sky with power and precision. The music, lights and sight combines to give a rather mesmerizing effect. A spectacular way of enjoying the performance lake is by taking the Skycab, which is a cable car that takes you around the lake outside the hotel.
Among the many dining choices, we decided to have dinner at Café Fontana and I was overwhelmed by the buffet choice especially the huge spread of desserts!
Before you leave do stop by The Flower Shop for pretty blooms to take home! I almost bought this gorgeous rose that would stay everlasting for  3 years or more!!! How's that for a unique gift.
WYNN PALACE
Av. da Nave Desportiva, Macao
Contact: +853 8889 8889
Website: http://www.wynnpalace.com/en
Facebook: https://www.facebook.com/wynnpalace/
Thank you for reading and I hope I've given you some awesome choices to stay at when you next visit Macao!
PS: This post was written in collaboration with Macao Government Tourism Office.
Facebook: https://www.facebook.com/ExperienceMacao.SG
Instagram: www.instagram.com/experiencemacao.sg