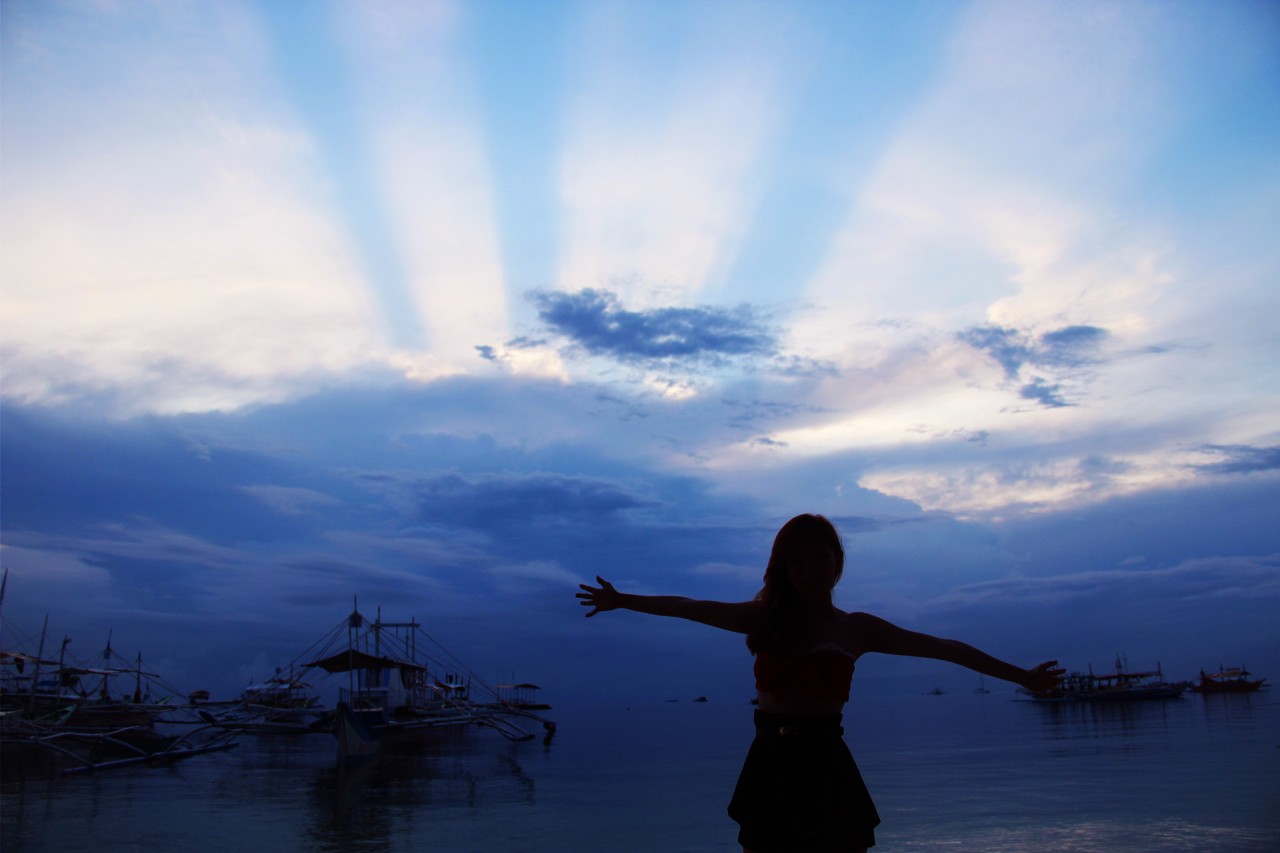 I was determined to catch at least one sunrise in Boracay even though the sun rises much earlier than we are used to in Singapore. The sunrise is usually around 5am so we had to wake up at about 4am to get ready to head out.
We were told that the best beach to catch the rising sun is the east facing Bulabog Beach instead of the White Beach where we were located. Paying for a small little trike, Jerome, William, Clara and I ventured out in the darkness to the beach.  When we got there, the huge rain clouds signaled that it wasn't going to be a pretty sunrise. But still we waited.
I even managed to catch the flashes of lightning to show the discord and electrifying tensions that the huge rain cloud held.
The sun had started to rise and we could only see the pretty orange colors from a far distance to the side. But not all was lost because soon after, pretty rays started peeking out from our huge and looming thundercloud.

I think it just goes to show that most things in life won't go as you had planned but that doesn't mean that it's going to be good. I've taken many orange and pink sunrises before but this was the first time I had lovely powerful rays peeking out of the clouds. It's just a different sort of beauty.
Despite waking up so early and sleeping so little the night before, I was pretty energized by the rays.
One of the interesting transformations I failed to capture with my camera is how the colors of the waters started to come to lift once light hit them. It started with darkness and slowly but surely, you could see the blues and the greens of the famous Boracay waters.
Even though Bulabog beach is filled with boats, the waters here are still very clear. Below is a photo of my feet as I pointed my camera downwards to take a shot while I was in the waters.
It's so clear that you can't even tell if my feet was submerged in water or not.
I did a couple more outfit shots while I was there because the morning was perfect and I really liked the red bikini I wore. Much thanks goes to @adreamyshop for that. I love how I could just put a pair of shorts over and the bikini worked really well as a bandeau top as well.
After our little morning excursion, we headed back to Boracay Regency Resort for our breakfast at Christina Restaurant. I've mentioned about their lovely breakfast offerings before in my Boracay post about helmet dives, banana boat and snorkeling. This time I ordered a traditional Filipino breakfast. I'm not a fan of Filipino cuisine and usually try to avoid eating it, even when I'm in Boracay, Philippines but this traditional breakfast was good. It was good enough for me to wonder if the reason why I don't like Filipino cuisine is because I've not tried their best.
The day was just beginning with a full breakfast. Boracay had so much to offer I can't fit them all in just one post. Look out for my next post to see what the most thrilling experience I had in Boracay is. Of course, if you had viewed my Boracay Trip Sneak Peek Video previously, you might already had a glimpse of what it is.